There's a new closed-end fund (CEF) on the market, and it comes from one of the biggest CEF issuers in the space: BlackRock.
It's big—with $4.5 billion in assets under management. You can tell that straight from the ticker symbol: BIGZ. The fund's full name: the BlackRock Innovation and Growth Trust (BIGZ).
So we know it's got heft—and it's got BlackRock's deep bench of talent behind it (remember that BlackRock is the world's biggest investment firm, with $7 trillion under management). But does BIGZ have a place in your portfolio? That's the question we're going to tackle today.
BIGZ got its start in March, and it's currently trading flat from its inception and trailing the tech-heavy NASDAQ, which is the best benchmark for the tech-heavy BIGZ.
A Low-Key Start for the New Kid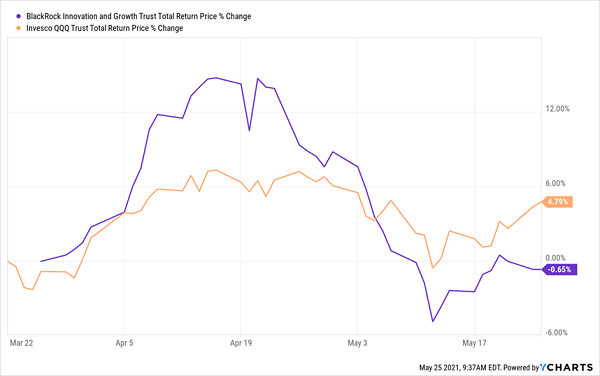 That's not a great start, obviously—and it's particularly concerning when you look at BIGZ's portfolio.

Source: BlackRock
If you haven't heard of these companies, you're not alone. Vroom (VRM) held its IPO in mid-2020 as one of the SPAC-bubble darlings, and it's only recently climbed back up to be about flat from when it started trading publicly.
As a website for buying and selling used cars, it's hard to say Vroom is particularly exciting as a tech company (we've been buying and selling used cars online for years). The fact that this is a top holding of BIGZ demonstrates that its portfolio is much riskier than the NASDAQ 100, which is topped by giants Amazon.com (AMZN), Apple (AAPL) and Google (GOOG, GOOGL), which have much better cash flows and market positions.
Still, BIGZ's portfolio does have some bright spots. No. 2 holding Amyris (AMRS) is a high-tech company in the renewables and biotechnology world, and it has done well this year.
BIGZ's Second-Biggest Holding Doubles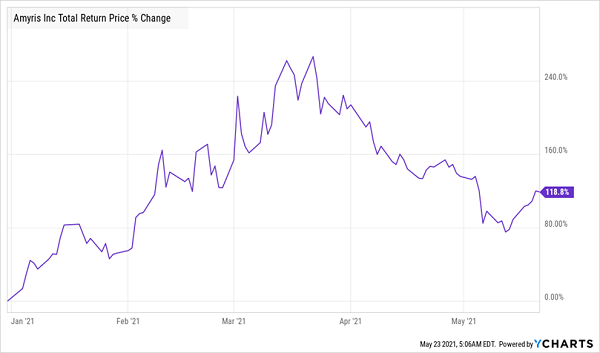 However, since BIGZ went public in March, it probably bought Amyris when the stock was already pretty high, so it may be a bit too late to the party here.
Regardless, none of this has stopped investors from being drawn to BIGZ:
BIGZ Goes for 10% Over Asking

Since its IPO, BIGZ has consistently traded at a premium, and that premium has pretty much gone steadily upward, save for a quick drop last month. Despite little movement in the NAV, BIGZ has been attracting interest because investors think its best days are ahead of it, and there are two reasons why they think that.
2 Other BlackRock Tech CEFs Have Outperformed. Will BIGZ Be No. 3?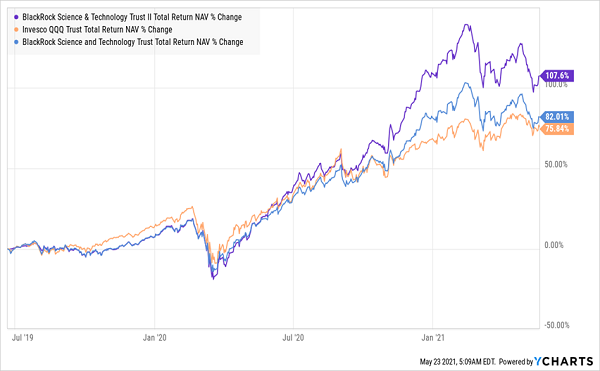 Since their IPOs, two of BlackRock's tech-focused CEFs, the BlackRock Science and Technology Trust (BST) and BlackRock Science and Technology Trust II (BSTZ)—a holding of our CEF Insider service—have been beating the NASDAQ by a healthy margin. While it looks like BST is behind, the above chart starts at BSTZ's later IPO. If we look at BST's returns since its inception, it's similarly impressive:
BST Easily Beats the NASDAQ Since Inception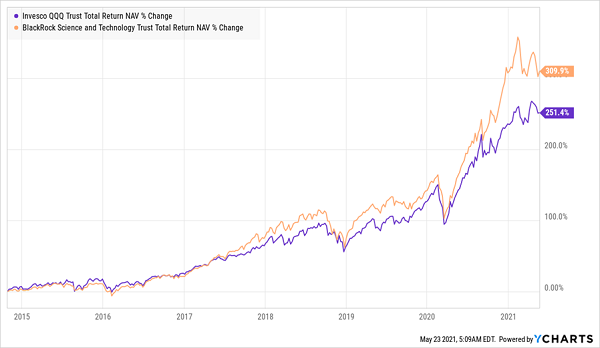 Now investors are hoping BlackRock will strike gold again with BIGZ and replicate what it's done with its other tech CEFs. And it might; as mentioned, it's a massive company with some of the best fund managers in the world and access to some of the best market intelligence and data out there. Beating the market should be easy for the firm.
And there's one other thing: dividends.
While BIGZ hasn't paid a dividend yet, BST and BSTZ yield around 5% each and have increased their payouts as their net asset values have surged. A similar payout may be in the cards for BIGZ (BlackRock hasn't yet announced payouts for this fund, but I imagine it will soon). That means it could be a great option for investors looking to get big returns and a big income stream, too.
These 5 Funds Are the Next Big CEF Bargains (7.1% Dividends, 20%+ Upside Ahead)
BIGZ is a well-managed fund, no doubt about it. But there's simply no reason to overpay for it now. Let's wait till it flips to a discount before we consider adding it to our short list.
Meantime, I've got 5 other CEFs for you that trade at bizarre discounts now—even in this overbought market. In fact, their discounts are so out of line with their historical averages that I'm calling for 20%+ price upside from these five funds in the next 12 months!
Not only that, you'll also grab a nice 7.1% average dividend (with one of these funds paying a gaudy 8.6%!) to go along with your upside, too.
Taken together, you could be looking at a 27% total return in the next 12 months here, with dividends included!
There's never been a better time to get into CEFs—or add to your holdings if you're already a CEF investor. History has shown these funds to be a sure and steady way to build wealth (and pocket 7%+ dividends) over the long haul.
Full details on my top 5 CEF picks are waiting for you. Go right here and I'll share my complete research on all five of them with you now: names, tickers, complete dividend histories and everything else you need to know.