Today I'm going to show you 4 REITs with high—and growing—yields that are bargains now. But you've only got weeks to act here, and likely less.
Why?
Because real estate investment trusts have underperformed the broader market by a lot in the last six weeks … but a proven contrarian signal is about to send the best ones straight back up—and higher still.
More on that, and 4 those terrific REITs to jump on now, in a moment.
First, check out how the Vanguard REIT ETF (VNQ), shown in the blue line below, has performed since hitting a six-month high on September 11, compared to the rest of the market:
VNQ: The Market's Ugly Stepsister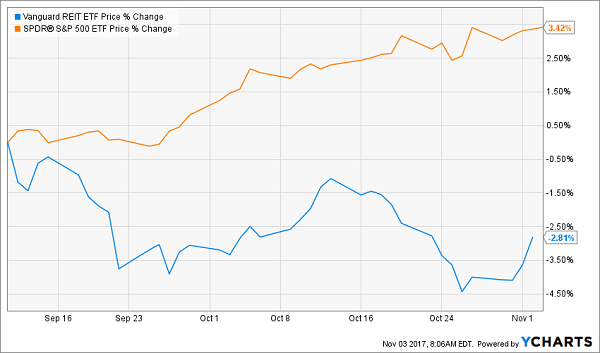 They're mirror reflections of each other!…
Read more