One of the great things about closed-end funds (CEFs) is that there's one out there we can use to tap just about any trend—and turn it into a nice 7.1%+ dividend payout.
Take the surge in retail we saw last month. Despite the pandemic, Americans are hitting the stores again (with many doing so online):
Retail Sales Surge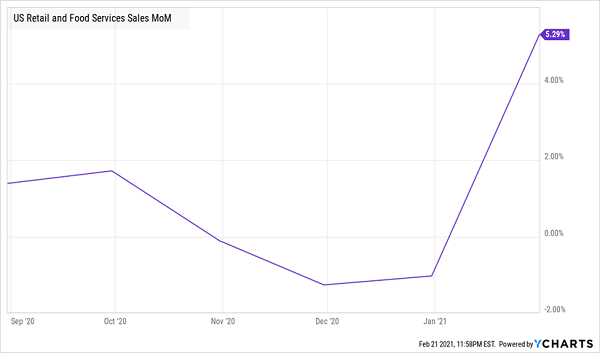 In January, retail sales jumped 5.3%, far ahead of economists' expectations of 1.2% gains. This was helped by a 0.7% sales drop in December, but it's undoubtedly the result of the latest round of stimulus checks.
Retail ETF Soars, But Its Dividend Leaves Much to Be Desired
That's great news for retailers because it proves that consumers are spending their COVID aid money instead of hoarding it.… Read more