Fact: When interest rates rise, you need to be in dividend-growth stocks.
Proof: They've handily beaten the S&P 500 in the 17 months since the Federal Reserve put the zero-interest-rate era on ice.
In just a moment, I'll show you 2 terrific off-the-radar dividend-growth plays to snap up now—and 2 surprising blue chips you'll want to keep well away from your nest egg.
First, take a look at how the iShares Core Dividend-Growth ETF (DGRO) has performed vs. the SPDR S&P 500 ETF (SPY) on a total-return basis since December 16, 2015, the day Janet Yellen raised rates for the first time in nine years.
The Dividend-Growth Edge in 1 Chart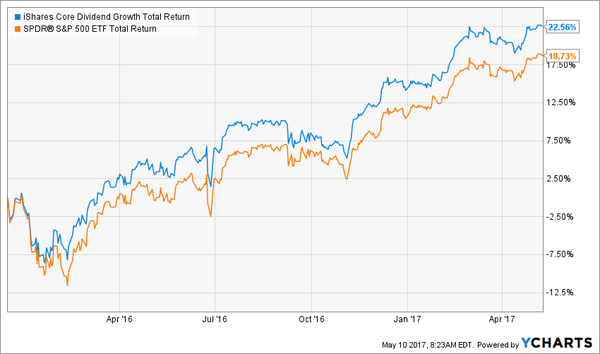 This is exactly why dividend-growers must hold pride of place in your portfolio: …
Read more