Something wonderful happened last week: one of the municipal-bond CEFs I recommended to ContrarianOutlook.com readers more than two months ago raised its dividend.
The Pioneer Municipal High-Income Advantage Trust (MAV) hiked its payout by over 5%, giving the fund a 5.3% yield.
The stock price caught a lift on the news, bringing it to a 4.3% total return in a little more than two months, outperforming the municipal-bond fund benchmark iShares National Municipal Bond Total Return Fund (MUB) and the SPDR S&P 500 ETF (SPY).
Trouncing Munis and Stocks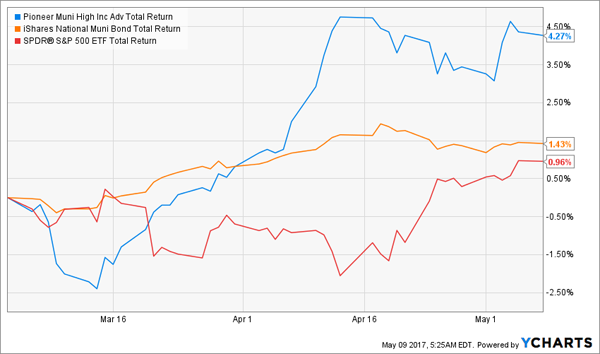 The hike came after a series of dividend cuts dragged down the fund's share price over the last few years:
Falling Yields and Prices
…
Read more