2020 is finally in the books, and many REITs (real estate investment trusts) remain in the bargain bin. Is it time to buy these generous dividend payers and bet on a 2021 rebound?
Savvy contrarians that we are, we're focusing on REITs because they are the one part of the market that was left behind as everyone rushed back into stocks in the back half of 2020.
Normally, REITs more or less track the blue-chip index, but when COVID-19 crushed these landlords' tenants, that changed in a big way: investors sold REITs—and they're still on the mat.
REITs Fall Behind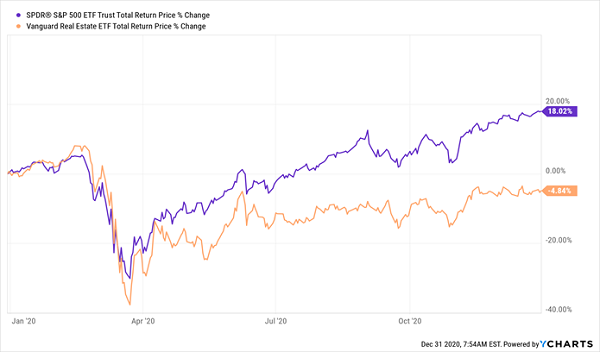 That orange line is the price return of the benchmark Vanguard Real Estate ETF (VNQ), which yields 4% today—a massive payout in today's zero-point-nothing interest-rate world.… Read more