Mid-cap dividend stocks are the best bargain on the board right now. I love them because lame income investors don't consider them. They fixate on:
Large-cap stocks: For dividend safety.
Small-cap stocks: For dividend growth.
Meanwhile many great under-the-radar mid-cap stocks sit between $2 billion and $10 billion in market capitalization. They sit in a "sweet spot" that accommodates dividend safety and growth.
Which is why they generate big returns.
Touchstone Investments reports that, when looking at 20-year rolling returns, mid-caps have experienced "typically higher absolute returns during the last 42 years":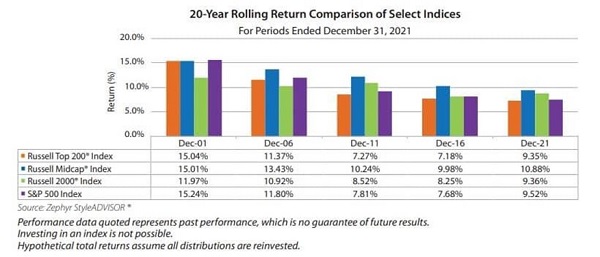 Source: Touchstone Investments
It's easy to overlook these names—the media doesn't talk about them as much, and they tend to have far less analyst coverage than the Apples (AAPL) and Microsofts (MSFT) of the world.… Read more