No doubt, there is a lot to be worried about right now in the financial world. Fortunately, there is finally a lot of worrying happening.
We contrarians welcome unease. Broader discomfort means dividend deals.
Investor sentiment is at last falling back to earth after months in the clouds. Sometimes these emotional drops are drawn out. Or the breakup can be short and swift.
Last September and October, too-cheery bulls got splashed with cold water. Their wake-up call, fittingly, came just weeks after we chatted about their "over the top" sentiment. We specifically discussed the likelihood of a 10% pullback given the extreme levels of investor cheer.
Weeks later, the S&P 500 was down nearly 10%. The tech-heavy NASDAQ took it on the chin worse, shedding almost 13%.
Fast Fix for Investor Confidence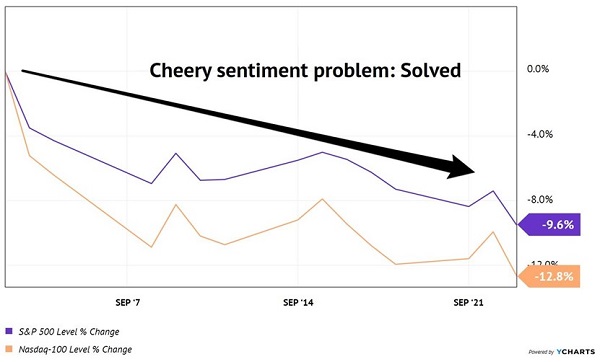 As recently as February, the bulls were back! High investor spirits meant high stock prices and fewer dividend deals for us. Selfishly speaking, we needed something bad to happen to reset the odds in our favor again.
Well, that "something bad" was not a 10% plunge. It was instead a lurching mess of a market. Up one day, down the next. A good old-fashioned roller coaster to upset the riders who told themselves that stocks only went up.
Today, the "Dumb Money"—investors who are always late to the party—are as skittish as they've been in many months. Our friend, sentiment guru Jason Goepfert at SentimenTrader, plots their cheer against stock prices on a daily basis. (He kindly lets us republish his work on occasion here.)
As you can see in the chart below, extreme levels of Dumb Money Confidence (red line) are concerning because they tend to correlate to peaks in the S&P 500. This worry then becomes a bearish reality when confidence falters and these buyers turn into sellers. (See, September and October 2020.)
Dumb Money Finally Starts to Worry Again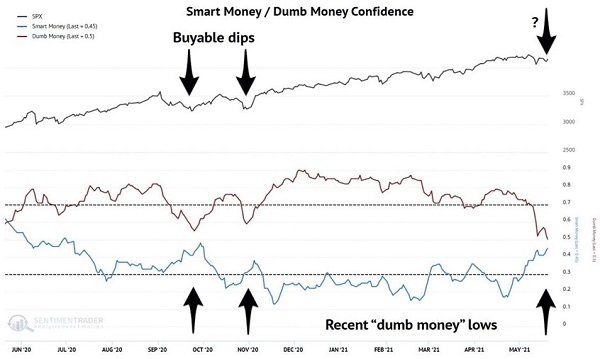 Source: SentimenTrader
The Dumb Money is selling for the first time since October. Their previous panic represented an excellent opportunity to buy the dip. (My Dividend Swing Trader subscribers will recall that we backed up our trading truck then as broader fear surged. And soon banked fast 25% dividend-powered gains on our trades.) Will we dividend investors (and traders) soon have another bargain so obvious?
In uptrending markets like this one, sentiment gauges rarely wash out. Therefore, today's level of caution should be enough to make us feel good about going dividend shopping again.
CNN's Fear & Greed Index (FGI) is looking better as well. This is our other favorite sentiment reading as it tends to reflect the confidence of money managers—the "Smart Money"—themselves. The FGI considers factors like junk bond demand and option trading to see how sophisticated market players are behaving.
Last week, the FGI fell to just 35 out of a possible 100 score. This indicates a general level of "Fear" in the market. (Though not yet "Extreme Fear," a sub-25 reading.)
With "first-level" investors becoming fearful, we can finally start to be greedy again. In the weeks and months ahead, we'll be cherry picking the best payers in the bargain bin. Stay tuned for some well-deserved dividend deals.
Specifically, I'm talking about stocks that will 4X your current retirement income.
Sick of holding blue chips that only yield 2%? It's easy enough to replace them with high-quality stocks that pay 6%, 7% and even 8%. Without increasing your risk, either.
In fact, by buying these "perfect" dividend deals when investor sentiment is fearful—as it is right now—we can actually secure yields up to 8% with less risk than we'd have holding a popular yet pricey "Dividend Aristocrat."
These deals won't last long, though. Think back to October. The markets turned in November, to everybody's surprise, and it was off to the races. This is what happens when the Federal Reserve prints a boatload of money.
Don't be stuck in cash for another year while the market takes off again. Use this opportunity to build a Perfect Income Portfolio while the headlines are still bearish. Click here to learn more.