Right now we've got a terrific setup happening in Treasuries—and we're going to use it to "flip" the near-4% yield the 10-year pays into a gaudy 7.9%+, paid monthly, to boot.
And there's more: we're going to give ourselves a rare "double discount" on our bond buys.
We'll do it by taking already-discounted bonds (thanks to Jay Powell's Dirty Harry act on rates) and applying a second discount by purchasing through two closed-end funds (CEFs) we'll talk about in a bit.
The window to use this strategy is now open. Take a look at this chart to see what I'm getting at here:
The 10-Year Rate Bounces Off Its 4% Ceiling (Again)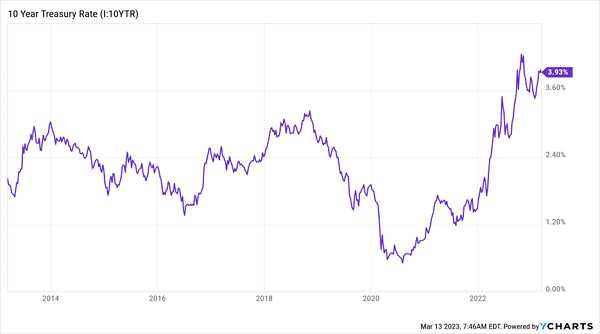 Over the past 15 years, the yield on the 10-year has zoomed higher plenty of times, until it smacks into the 4% "ceiling."… Read more