The stock market's up, so yields are down. And while there are still some generous payers available, be careful – some are paper tigers that will probably suffer this year.
That's exactly the danger that's facing four enticing high-yielders (yielding up to 20%!) that I'll discuss with you shortly.
Since stock prices generally follow their payouts higher, it's important to remember the opposite also happens. When dividends get cut, shares get crushed.
I've warned readers about Frontier Communications (FTR) and its dangerous dividend for years now. Hopefully investors listened to me, because those that didn't lost "two ways" – they lost their yield and they lost their capital:
The Danger of Dividend Cuts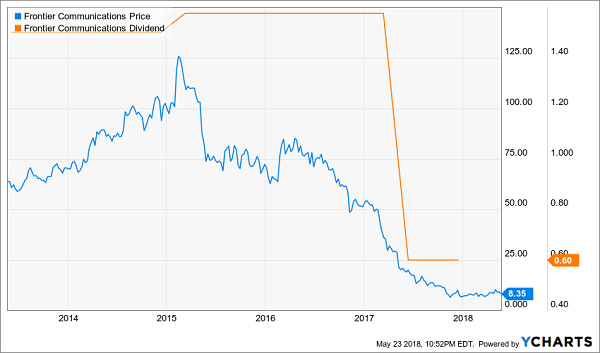 Frontier's 2017 dividend cut – as well as its 2018 dividend suspension – are just one cautionary tale.…
Read more