Dividend deals are lining up for us across the board—and they're likely to get better as September unfolds. It's time to make our shopping lists!
We'll start with three unloved corners of the market sporting the very best bargains. Then we'll dive into three specific names and tickers.
"Growth utilities," which are primed for upside as rates top out and roll over, cutting their borrowing costs—and "rate competition" from Treasuries and other fixed-income plays.
Cell-Tower Landlords, which run one of the most recession-resistant businesses out there.
Industrial real estate investment trusts (REITs), which can't build and buy warehouses and factories fast enough to meet surging demand.
Many of these stocks are still off recent highs, thanks to the August correction. And we could see even better prices in the coming weeks, as September is typically the worst month for stocks. But there's really no need to wait with these three companies; they're all great deals now.
Dividend Deal No. 1: A Cell-Tower REIT With a Growing 6.5% Payout
We love cell-tower real estate investment trusts (REITs) because they have pricing power in spades, Heck, there are really only three main players: American Tower (AMT), Crown Castle International (CCI) and SBA Communications (SBAC), all three of which, at one time or another, have been recommendations of my Hidden Yields dividend-growth advisory.
This trio has been washed out as the same investors who typically buy them were lured away by "safe" fixed-income plays. That's our "in" here, especially as our cell-tower mavens yield as much as they ever have.
CCI leads with a 6.5% payout that rises yearly. That growth has pulled its stock higher—until last year, when the rate panic hit CCI shares (and all REITs) hard, yanking shares below their "Dividend Magnet":
CCI's Price Drops the Call—for Now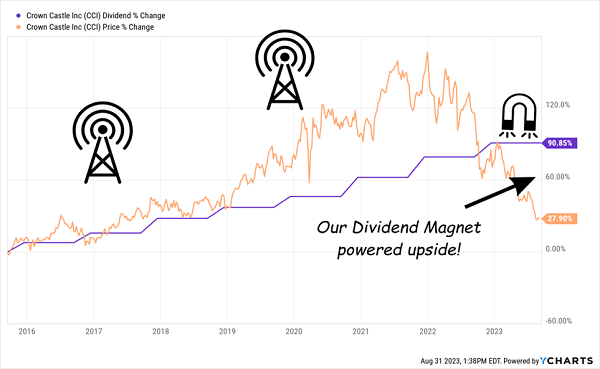 When a gap like this opens up with a stock—especially when it's caused by external factors like rising rates—it's a smart time to buy for some nice "snap-back" upside.
And even though CCI's big telco "tenants," like Verizon Communications (VZ), AT&T (T) and T-Mobile US (TMUS), are spending less on network expansion these days, CCI is still in a solid position, thanks to its long-term contracts. It's also forecasting double-digit sales growth thanks to its backlog of 60,000 small cells, a cost-effective way to boost network coverage and capacity.
That will let it keep its payout growing, putting upward pressure on the stock. And if we get a recession, that's okay, too, as rates will likely fall further—and Americans are NOT giving up their smartphones, no matter what the economy does.
Dividend Deal No. 2: A Growth Utility With a Powerful Dividend Magnet
WEC Energy Group (WEC) has 4.6 million power and gas customers in Wisconsin, Illinois, Michigan and Minnesota. It's also making big moves into renewable power. As I write, it has nearly 3,500 megawatts' worth in the pipeline.
The stock yields 3.6%, a hair under its five-year peak. That's a nice entry point, as WEC has a history of fast dividend hikes that pull its stock up with its payout. As with CCI, we can see that the rate panic has separated the share price from the dividend, suggesting strong gains as the situation rights itself:
WEC's Share Price Primed to Vault Above Its Payout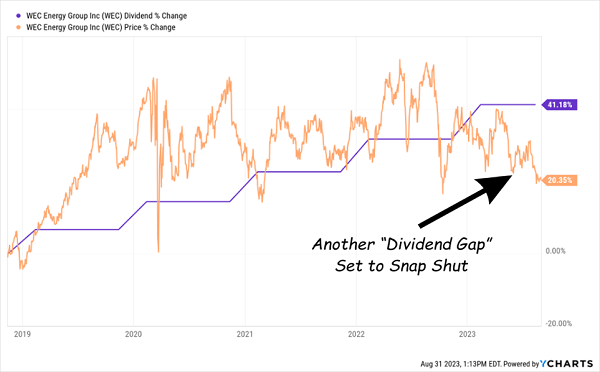 WEC hiked its dividend by 7.2% in January—its 20th straight year of hikes, powered by earnings that are about as consistent as they come:
WEC's Stable Profit Growth


Source: WEC August 2023 Investor Book
The payout is well-supported, too, accounting for 68% of the midpoint of its forecast 2023 profits, plenty safe for a utility with predictable revenue. And with management forecasting 6.5% to 7% yearly EPS growth, we can expect more hikes, too.
Dividend Deal No. 3: A 4%-Yielder That Pays Dividends Monthly
STAG Industrial (STAG) is profiting from the relentless march of US companies back home, driving up demand for warehouse and factory space as they do. This trend will roll on, recession or no.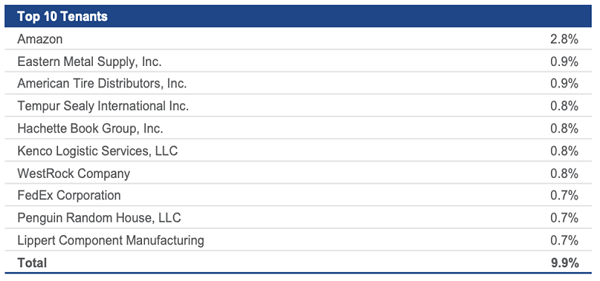 Source: STAG Industrial Summer 2023 investor presentation
Meantime, STAG has put on a masterclass on risk management, making sure no tenant accounts for more than 3% of annualized base rent. STAG is also picky about who it rents to: 84% of tenants have revenue above $100 million, with 59% over $1 billion.
Then there's the dividend, which yields 4% and is one of a handful paid monthly. The fact that management has the swagger to offer a monthly payout is a great sign of dividend safety. Another: the dividend occupies 65% of the midpoint of STAG's 2023 FFO forecast—very safe for a REIT.
To be sure, STAG's dividend doesn't move much—up 11% in the last nine years—but that's a fair trade for a reliable monthly payout and potential upside from the "onshoring" trend.
And the company has more than made up for that in price gains: in the last decade, STAG has tripled investors' money, compared to a "meh" total return for REITs as a whole.
STAG Stomps on Other REITs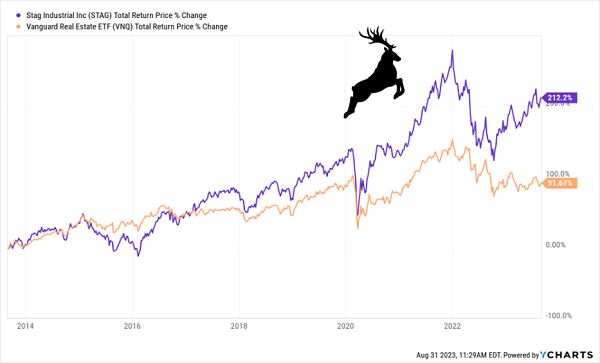 With a 98% occupancy rate, strong rent increases on new and renewing leases (a 26.5% weighted average increase, on a cash basis, this year) and just 11% of leases expiring next year, the company's outlook is solid.
And when rates stabilize (and likely decline), that 4% monthly dividend will look very sweet to income-seekers—making now a good time to front-run the crowd.
The Dividend Magnet Drove Fast Gains of 61%, 83% and More. Get the Next 5 Winners Here
Of course, we all love dividends. But the truth is, they're simply not enough on their own to sustain you through your golden years. You need strong price gains to build your portfolio over time, too.
That's where the Dividend Magnet comes in, because here's what most people don't realize: a growing dividend is the No. 1 driver of share prices.
Over at Hidden Yields, we've ridden surging payouts to total returns like 83% in two years on TD Synnex (SNX) and 61% on Puerto Rican bank Popular (BPOP) in just under 2 years!
The Dividend Magnet just highlighted 5 MORE stocks I expect to perform even better than these two, and I want to share those with you now. Click here and I'll take you on a guided tour of my Dividend Magnet strategy, show you how you can use it yourself—and give you the chance to download a free Special Report naming its next 5 picks.