Don't buy Jay Powell's tough-guy act. This rate-hike cycle is on its last legs. And that's opening up an opportunity for us to grab high—and growing—cash payouts in a "sleepy" corner of the dividend world.
As rates roll over and we enter a recession, the unsung stocks we're going to discuss today will gain. That growth will compress their dividend yields (as yields and prices move in opposite directions). So our best play is to get in now, before that happens.
I'm talking about utilities.
Most people don't think of utilities as growth plays. But the stars are aligning for our favorite "utes" to do just that as Powell steps to the side. A pause, and then a decline, in Fed rate hikes will drive down bond yields and send investors into the next best thing: utilities, particularly the "growth utilities" we focus on in my Hidden Yields dividend-growth service.
Not many folks know about this "rates down, utilities up" pattern, but it's happened many times in the past. Look at the 10-year Treasury rate (in orange below) and the utility benchmark Utilities Select Sector SPDR ETF (XLU), in purple, over the last five years.
10-Year Zigs, Utilities Zag (and "Utes" Are Now Primed to Bounce)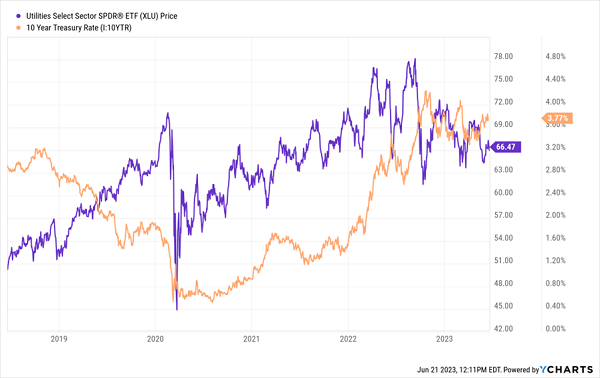 It's clear what's going on here: as bond yields dropped and stayed on the mat during the first couple years of the pandemic, utilities soared as investors sought out higher yields. Then rates peaked and utilities dipped, setting up our buy window now.
How are we going to play this latest drop? Let's talk tickers.
A Rare Chance to Buy This Renewable-Power Champ—Cheap!
I mentioned NextEra Energy (NEE) in last Wednesday's article, but it's worth another hat tip here because it's rarely as cheap as it is now.
There's a good reason why NEE is usually pricey: everyone knows it's a great stock! Its NextEra Energy division is one of the world's biggest renewable-power investors, with 67 gigawatts in operation. NEE's regulated Florida Power and Light subsidiary is also bulking up its renewable portfolio—a smart move now that solar is the cheapest form of energy in Florida.
But even NEE has been caught in this latest pullback, which has knocked its price-to-earnings (P/E) ratio down to 22.5. That doesn't sound cheap, but the company's average P/E over the past five years has been 39.8!
NEE is also ignored because its current yield is just 2.5%. But that masks the company's dividend growth, which has ticked along at a near 10% annual clip in the last 15 years—and it's accelerating:

Source: NextEra Energy May 2023 investor presentation
The company can expect continued strong demand thanks to Florida's exploding population (up 1.9% between 2021 and 2022, leading all other states). The state's unemployment rate was also just 2.6% in May, far below the 3.7% national average.
All of this points to continued revenue, earnings and dividend growth for NEE. The fact that we can pick it up at a rare bargain seals the deal.
A Little-Known Midwestern Utility With "Dividend-Powered" Upside
WEC Energy Group (WEC) is another utility I've written about often: it has 4.6 million electricity and gas customers in Wisconsin, Illinois, Michigan and Minnesota. It's also making big moves into renewable power—and tapping the healthy tax breaks in the Biden Administration's Inflation Reduction Act to do so. As I write, it has nearly 3,500 megawatts of renewable power in the pipeline.
Let's talk dividends: The stock yields 3.5% today—around what it yielded in 2018, when the Fed was also in the late stages of a rate-hike cycle. That 3.5% yield is a nice entry point, as WEC has a history of fast dividend hikes that pull its stock up with its payout.
WEC's "Dividend Magnet" Hits Full Power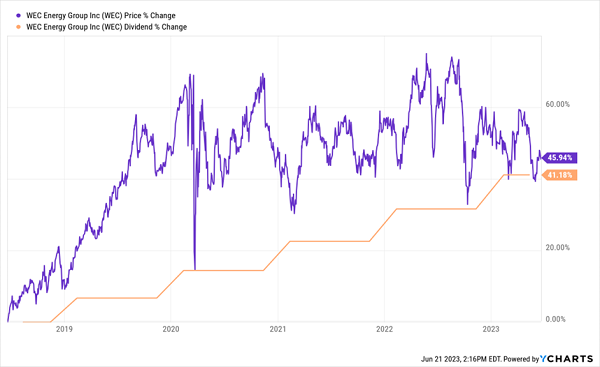 WEC announced a 7.2% dividend hike in late 2022, marking its 20th straight year of increases, as the company gives back a healthy slice of a yearly earnings stream that's about as consistent as they come:
WEC's Earnings March Higher—Through All Economic Weather


Source: WEC June 2023 Investor Book
Note the right-hand side of that chart, showing WEC's projected earnings per share this year. Right now, its $3.12 in yearly dividends amounts to 68% of the midpoint of that range, reasonable for a utility with predictable revenue. Further payout growth is also backstopped by management's call for 6.5% to 7% yearly EPS growth in the long term.
Beyond Electricity: A Telco Set to Bounce On a Rate-Hike Reprieve
Utilities, of course, go well beyond power producers. Some real estate investment trusts (REITs) earn the label, too—like those that provide the backbone of our digital lives.
Crown Castle International (CCI) is a good example: it's a cell-tower operator that Hidden Yields members will recognize. CCI is a "landlord" for mobile-phone traffic, collecting "rents" via its 40,000 towers from carriers such as AT&T (T) and Verizon Communications (VZ).
CCI starts us off with the highest current yield of our trio, at 4.8%. And it takes on all utility comers in the dividend-growth category, having hiked its payout nearly 350% in the last decade:
CCI Dials Up a Surging Payout

CCI's high yield and strong payout growth will make it a magnet for income seekers as rates cool down.
The stock's dividend growth is supported by profits. CCI is on track to raise its adjusted funds from operations (AFFO—the main measure of REIT performance) by another 4% this year, to $7.63 a share (the midpoint of CCI's range of $7.58 to $7.68).
Finally, we can buy the stock now, ahead of the coming interest-rate rollover, for just 14.7-times that figure. Cheap!
5 More Urgent Buys to Profit From the Looming "Rate Rollover"
Our "rate rollover" opportunity won't last long, so we need to act now to take full advantage. These 3 utilities are a great start, but they're just that—a start.
To get us maximum profit (and dividend) potential, I've put together an in-depth Special Report naming my top 5 undervalued dividend growers to buy now. They're primed to return 15%+ on an annualized basis for years to come, and they could triple your dividend income in short order, thanks to their high—and growing—payouts.
Now is the perfect time to buy them.
Click here and I'll tell you more about these 5 "recession-resistant" picks. AND I'll give you the opportunity to download that Special Report I mentioned a second ago, revealing these 5 stocks names, tickers, yields, dividend-growth histories and more.