Please keep this between you and me. I don't want to have to explain this again to every vanilla income investor out there.
But it's important. And timely, thanks to the current revival in volatility.
Dividend stocks, at times like these, can do more than simply dish out income. They can make us filthy rich, too.
Yeah, I know. The promise of price gains can be "over the top" here in Dividendland. Most of us are content to grind, grind, grind. Send us our payouts and keep our portfolios intact.
If you're a current Contrarian Income Report subscriber, you are well versed in this approach—and better than most! While fellow "first-level" investing friends fawn over 4% Treasury yields, we are banking 8.1% average dividends in CIR.
Put a million dollars into these picks, and we're projected to receive $80,870.77 in dividend payments over the next 12 months. Nice.
12 Month Projected Income for Balanced CIR Portfolio


Source: Income Calendar
But what if we don't have a million dollars? Or what if we have a million and don't need the income today?
In this case, we're in luck. We can apply my favorite "get-rich safe wealth building" strategy for bigger gains.
Is extra risk required? Not really. We're still buying dividend payers. We're simply shifting our focus to favor upside over current income.
Hidden Yields stocks are the safest, surest way to retire rich. Our priority here is price gains. We buy dividend stocks that are likely to gain in value.
Obvious, sure—to us! But let's remember that most income investors mentally cap their own returns to the yields that they are buying.
They'll buy a 3% yield hoping for 3% returns. Or a 5% payer aiming for 5% yearly gains.
"Just pay me my dividend and don't slash it," they say!
At HY, we aspire to more. We forego a bit of dividend cash today for the sake of larger price gains tomorrow.
Don't worry, we're not ignoring payouts. Dividends are an important fundamental driver for stock prices. In fact, they are the driver. We take advantage of this "dividend magnet" phenomenon to achieve gains that are even greater.
The magnet is a play on payouts and prices. Over the long run (years), stocks follow their dividends—for better and worse! (Divvy up, stock up. Divvy down…) Fundamentals drive prices, and there's nothing more fundamental than a regular dividend payment.
Over the short run of weeks and months, however, stocks can go anywhere. Beautiful insanity! We take advantage, buy low, and wait for the dividend magnet to work its magic.
It may not be a get-rich-quick plan, but it builds wealth soon enough. Here's an example.
In April, life insurer Lincoln National Corp (LNC) was about as cheap a stock as we'll ever see. The company was on track to earn $8.33 per share this year.
But the stock traded for just $21. Which means the P/E ratio was below three!
That wasn't all. On a free cash flow (FCF) basis, believe it or not, the stock is even cheaper. Over the past 12 months, LNC has generated $23.24 in FCF. It trades for less than its yearly cash flow.
Why so cheap? LNC ran into some liquidity problems in late 2022. But I correctly believed the issues were clearly transitory. The company raised money by issuing preferred shares, and lemme tell ya, no one buys preferred shares of a company in trouble. The stock was way too cheap.
It would likely sail once the spring financial panic subsided, because its "dividend magnet" was due. LNC boosted its payout 36% in the past five years. Its stock, meanwhile, had sunk about as low as it could go. The higher dividend was a great catalyst for this beaten down stock:
LNC's Dividend Magnet was Due…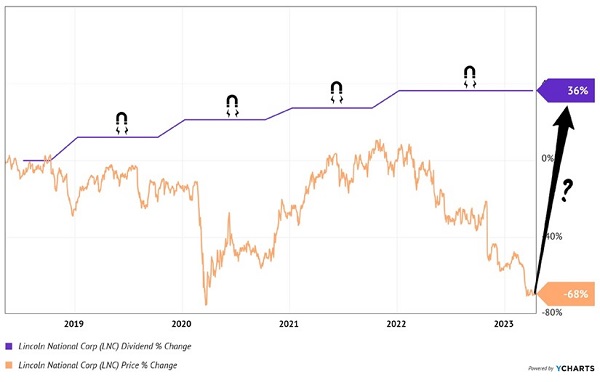 And oh, by the way, LNC's yield was 8.4% at the time. Fantastic! So, I "pounded the table" for HY readers to buy:
These dirt-cheap shares could snap back in a hurry. Let's lock in this 8.4% initial yield and potential for a "dividend magnet double" now.
If you're a savvy HY reader who did, congrats on your outstanding trade! You're sitting on 34% total returns. These gains annualize to 113%!
And LNC's Dividend Magnet Delivered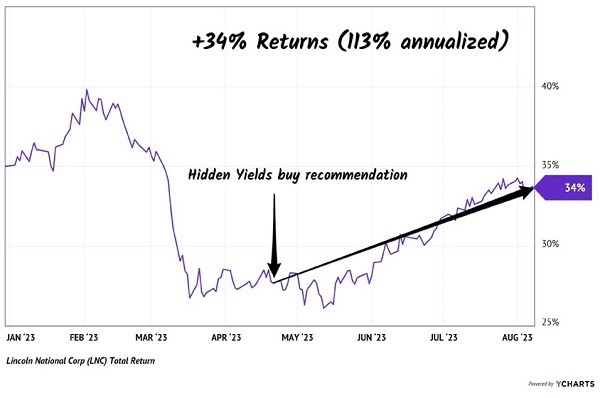 Over the past decade, August and September have been awful for stocks. Given August's inauspicious start, we seem to be right on track.
'Tis the season to build wealth safely with dividend stocks!
Unfortunately, I'm seeing that you don't have a current HY subscription. Fortunately, I have a quick fix for you. Click here to activate your risk-free trial and make sure you receive a heads up on dividend deals like LNC.