A favorite exercise of mine is to take a look at the board and see what assets are not participating in strong rallies on days like today.  And it looks like there were a few noticeable absentees in the commodity sector that did not make it for today's raging campfire of a good time!
(Ed. note: And in case you missed it, yesterday, we took at look at the role commodities were playing as a potential leading indicator of the stock market.)
The base metals certainly were not behaving well, on concerns that China is not yet right.  Dr. Copper, the metal with the famed PhD in economics, thanks to its forward looking reputation, hit a two week low.  Nickel, not to be outdone, hit a four-month low, and zinc hit its lowest levels since September 2009. (Source: Business Standard).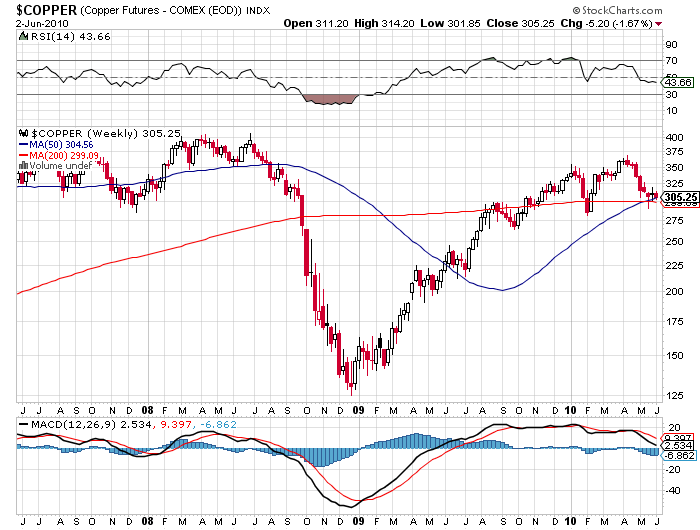 Copper came roaring back from it's 2008 crash – but it's teetering once again. (Source: StockCharts.com)
If Dr. Copper trips up and falls below his February lows, it could be the confirmation of what's shaping up to be one helluva potential tumble.
Already, copper is significantly off its April highs – which coincidentally preceded the launch of an ETF focused on Copper Miners (COPX).
Just for fun – how's COPX done since launch?  Not too great…
Another classic example that shows when the Wall Street goofs are launching new ETFs, it's a great opportunity for you to be shorting them!
Bottom Line: We still have a hard time picturing a sustainable global economic recovery that China does not fully participate in.  And right now, the markets – most notably copper and Chinese stocks – don't appear to be indicating that a healthy, roaring Chinese economy is in our immediate future.
Related Reading: