If you're like many investors these days, you're warily eyeing your portfolio, wondering where the next dividend cut will come from.
Fear of dividend cuts is reasonable, even if you hold the Dividend Aristocrats—the 63 S&P 500 firms that have raised their payouts for 25 years (or more). This club includes well-known names like McDonald's (MCD), Lowe's (LOW), Kimberly-Clark (KMB) and Procter & Gamble (PG), as well as less familiar firms, like Sysco (SYY), VF Corporation (VFC) and Linde (LIN).
For many folks, the Aristocrats are sacred cows. But the crisis will inevitably force some of these companies to cut payouts in the weeks and months ahead. And since many dividend investors depend on these firms' dividends, a serious selloff could follow.
That, in turn, could trigger a big move into corners of the market investors have often downplayed, like reliable closed-end funds (CEFs) paying out 8%+ dividends. It's a rotation I expect to start soon, meaning now is our chance to get in early (more on this below).
Human Managers Have the Edge
The popularity of the Dividend Aristocrats makes sense in good times. Even in these trying times, many of these firms, like Kimberly-Clark and Procter & Gamble, are positioned to weather, and even benefit from, the crisis. Others, such as McDonald's, Sysco (which depends on restaurants) and Realty Income (O)—a REIT with many retailers as tenants—may not do so well. Obviously, the stock picker who can sift through the winners and losers among these stocks will prosper.
And, to a certain extent, the risk of dividend cuts among this group is already priced in. If we look at the ProShares S&P 500 Dividend Aristocrats ETF (NOBL), which tracks these stocks, we see that it's trailing the S&P 500 by a wide margin this year.
Aristocrats Lag the Market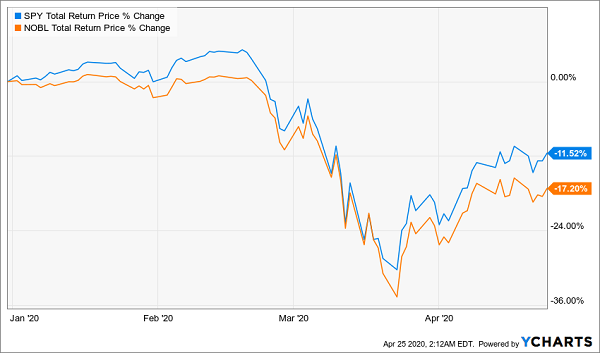 We can also see that this selloff is, generally speaking, rational: comparing Procter & Gamble to Realty Income, we see that the retail-dependent REIT is well behind the consumer-staples conglomerate.
Crisis Risks Look Priced In …

But you won't find this rationality across the board. If we look at Procter & Gamble and AT&T (T), another aristocrat, things get more complicated.
… But Not Everywhere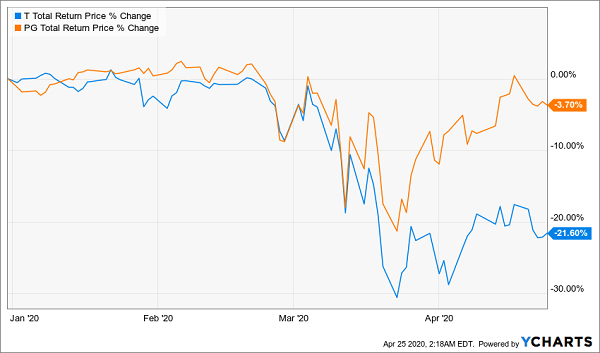 Not only is AT&T vastly underperforming P&G, it's also underperforming the average Dividend Aristocrat and the market as a whole. While AT&T's balance sheet is far from spotless, its investments in HBO and cellphone infrastructure have made it essential these days. Should it really be underperforming restaurants like McDonald's and Chipotle Mexican Grill (CMG)?
This comparison tells us there's some irrational selling amid the panic in the dividend-growth corner of the market. The best way to profit? Through CEFs run by the savviest stock pickers out there. Here are three reasons why CEFs make a lot of sense now. We'll also look at two specific funds more than worthy of your attention.
CEF Advantage No. 1: Activists Can Pick the Oversold Winners
One fund with a knack for finding value is the Gabelli Dividend & Income Fund (GDV), with an 8.1% dividend yield. GDV recently boosted its financial-sector holdings after these stocks fell too far in the panic. This move helped push GDV's total NAV return—or the performance of its portfolio, including dividends—ahead of the S&P 500 in the past few weeks.
GDV Pulls Ahead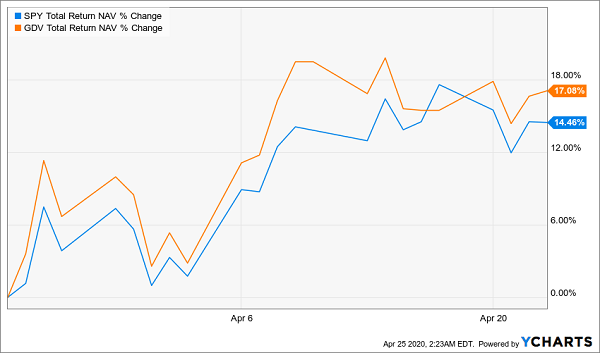 GDV focuses on dividend payers, so it can profit from investors panic-selling the wrong stocks. And, of course, GDV holders are collecting that 8.1% income stream to go with their upside.
CEF Advantage No. 2: Cash From Many Different Sources
The best thing about GDV's high, steady income stream is that it's broad-based: by combining payouts from capital gains and dividend income, as well as expertly timing their buys and sells, the best CEFs can pay investors and protect their NAV at the same time.
There's another trick many CEFs have up their sleeve: using a mix of bonds and other financial instruments to earn income. This diversification provides stability that translates into more reliable payouts for investors.
There are even CEFs that ignore dividends in their stock-picking entirely, like the Columbia Seligman Premium Tech Growth Fund (STK), which pays a 9.5% dividend funded entirely by a rotating portfolio of growth stocks. This focus has helped the fund crush the index for years.
No Need for Dividends to Get 9.5% Income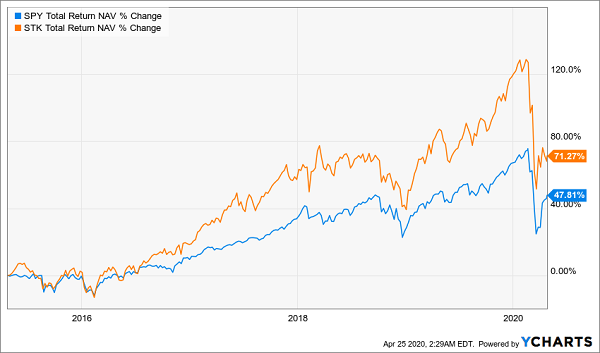 CEF Advantage No. 3: Income Hunters Are Set to Climb Aboard
Finally, and perhaps most compellingly, is what will happen as investors sell off their Dividend Aristocrats following payout cuts. They will suddenly be left with no income stream at all—but their need for income won't disappear. So where will they go?
As I mentioned off the top, I believe many of them will discover CEFs, and these funds' potential to pay consistent, broad-based 8%+ dividends. That will drive a swing from popular (but low-paying) stocks to CEFs helping drive these funds' prices higher in the process.
4 Urgent Buys for 8% Dividends and 20% Upside (Bull or Bear)
You just might have some reservations about buying funds like ATK and GDV now, with their 8%+ dividends. After all, other high-yield plays, like REITs, were hammered in the selloff.
But CEFs are completely different animals—especially the 4 other CEFs I want to show you now.
These 4 funds—my very best picks in the CEF space—have a vital layer of protection in these scary times: they trade at massive discounts to net asset value (NAV). This means they're trading for less than the combined value of the stocks in their portfolios!
This is basically free money! And these markdowns are so ridiculously deep that I'm calling for 20%+ price upside from this stout group of funds in the next 12 months, no matter what happens to the economy! Plus, you'll be pocketing a steady 8.4% average dividend payout while you wait.
The truth is, that shift into CEFs I talked about above has already started to happen, as more retirees discover the safe dividends and tremendous upside waiting for them in these funds. Look at this chart, showing CEF discounts slamming shut since the market bottom in late March: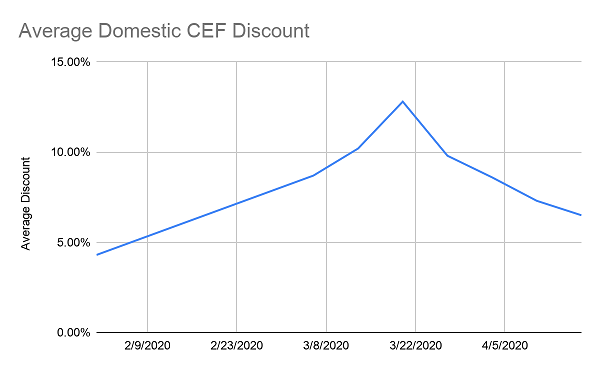 CEF deals are getting scarcer! You need to act now!
That's where my 4 favorite CEFs come in. Their massive discounts are still there, but I don't expect that to last, as these funds' incredible 8.4% payouts tempt more regular folks in.
Don't miss out. Click here for full details on these 4 amazing 8.4%-paying funds: names, tickers, buy-under prices, complete dividend histories and everything else you need to know.