TV personality Suze Orman has bad news for anyone hoping to escape the rat race: they'll probably have to wait until they're over 70.
In a recent interview, the host of the Suze Orman Show splashed cold water on the idea that anyone can enjoy their golden years without clocking in at the office. "Stop this 'Oh, I'm going to retire at 60. I'm going to start claiming Social Security at 62!'" she proclaimed to viewers.
The reason Orman is adamant most people don't have enough money to retire, and won't until they've hit 70? She says the 4% rule—a cornerstone of retirement planning for decades—is "dangerous," and no one should "be using the 4% rule on any level."
Sound a bit extreme? I mean, by that logic, Orman is suggesting that if you have $100 million a year and take $4 million out for annual expenses, you aren't ready to retire. Even if you're 70 and expect to live to 80 (which is actually above the average life expectancy in America).
The inventor of the 4% rule, Bill Bengen, was a financial advisor when he published his famous study in the 1990s showing that 4% can be safely withdrawn from a portfolio per year without the retiree running out of money.
He's gone further recently. His original analysis was based on a theoretical portfolio consisting of large cap stocks and intermediate-term Treasury bonds. Since then he's said that if you add small cap stocks, you could potentially withdraw up to 4.5% a year.
That sounds good. But if you buy my favorite high-yield assets, closed-end funds (CEFs), you could potentially do something neither Bengen nor Orman would say is possible: safely withdraw 7% or more every year. Not only that, but several years into your retirement, you could wind up with a bigger nest egg than you started with.
The Secret to Living (Well!) on a Retirement Portfolio That Grows
To see what I'm getting at, let's imagine it's 2002 and an investor we'll call Mr. Smith has just retired. He doesn't know it, of course, but he's done so just a few years before the worst recession in a century, and his retirement will also include the COVID pandemic and last year's inflation-driven market crash.
Let's assume for the sake of this scenario that he's put all of his money in the Adams Diversified Equity Fund (ADX), a CEF.
(Note that I don't recommend this—even though ADX is a great equity fund, you're best to spread your money across CEFs from various asset classes. The portfolio of my CEF Insider service is a great place to go looking for these funds—it provides a diversified collection of CEFs yielding up to 12.7%. Below I'll show you how to get instant access to this portfolio today.)
That said, let's see how Mr. Smith is doing today, 21 years later. Here's how his income and profits break down.
Big Income and Profits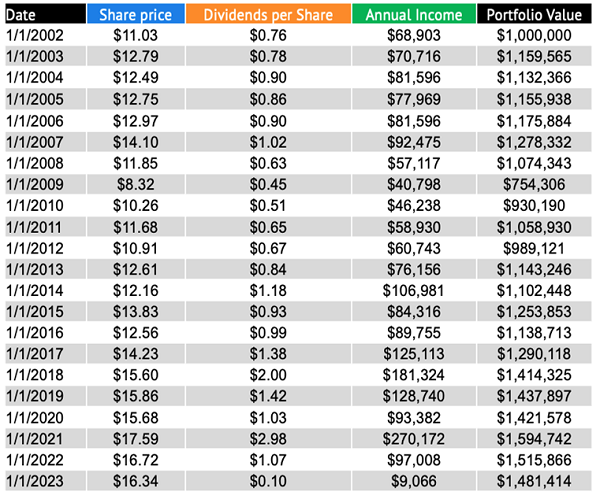 Mr. Smith retired with about 90,600 shares of ADX worth $1 million and has gotten an income stream of $94,763 on average over the 21 years to the start of 2023. That's a withdrawal rate of 9.5%!
That is a lot higher than the $68,903 annual income he got in his first year, with the $97,008 during last year's downturn being modest compared to $270,172 annual payments in 2021.
Because ADX pays out most of its income at the end of the year in one large dividend payment, it's too early to see if 2023 will be closer to $97,000 or $270,000, but it's not going to be less than $68,903! (This, by the way, is why ADX's payout for 2023 is low—it's only paid two small dividends so far this year, with the big year-ender still to come.)
In other words, our hypothetical investor did what Ms. Orman said was impossible and something that would make Mr. Bengen uneasy. ADX's portfolio is full of large cap value stocks like Microsoft (MSFT) and UnitedHealth Group (UNH), and it translates these stocks' dividends and their price gains, after management sells them, into income for investors.
ADX's management churns the portfolio to ensure cash flows keep going to shareholders, eliminating the need for US Treasuries (which Bengen includes in his model for liquidity purposes). ADX's big profits and high income stream have kept Mr. Smith happily retired with a huge income stream throughout his 21-year retirement.
And if Mr. Smith lives longer, he has nothing to worry about. His portfolio is now worth nearly $1.5 million, above what he started with, even after he's collected $2 million in income!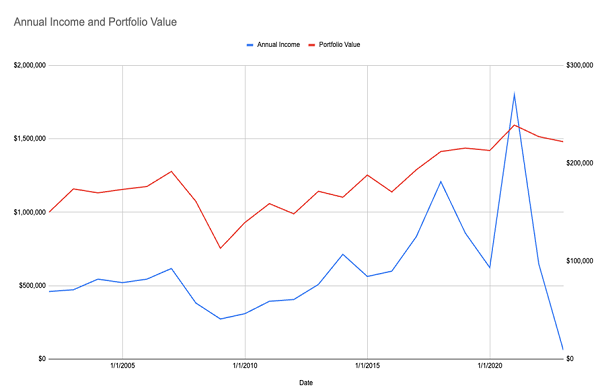 Source: CEF Insider
Mr. Smith may be hypothetical, but this story is not. I've met many early retirees in my career covering CEFs, and they can attest to how powerful these investments are. On a personal note, these funds have also changed my life, letting me give up my rat-race job years ago. With a growing portfolio, I've been able to buy a beach house and work from there, too. This is the kind of freedom CEFs offer.
Do This Now to Kickstart Your Own (Monthly Paid!) 9% CEF Income Stream
Helping regular folks fund more of their lives with dividends is exactly why I started CEF Insider. And right now I want to invite you to "road test" the service for 60 days with no risk and no obligation.
When you do, you'll get instant access to the portfolio, which boasts steady dividends yielding up to 12.7%—and most pay out every single month, too.
Simply click on the link below and I'll lay out my full strategy for finding the very best monthly paying CEFs. I'll also give you access to a Special Report naming my top 5 monthly dividend CEFs to buy now (average yield: 9 %) and, yes, let you kick off your no-risk 60-day trial to CEF Insider, too.
Go right here to learn more and get the full income-investing package, including your Special Report and your 60-day trial to CEF Insider.