You and I both know that dividends just don't get much respect from most folks.
But most folks have it all wrong. I'll show you why in a moment (I'll also reveal 2 "accelerating" dividends to put on your buy list now).
First, it's easy to see why dividends are (way too often) an afterthought: it's tough to get excited about them when the typical S&P 500 name dribbles out the measly 1.9% yield it does today.
It gets worse when you look at the US inflation rate: 2.1% as of March.
So at best, you can hope your dividends offset inflation, while you hope the underlying stock price soars. The problem with "buy-and-hope" is that every so often you get a period like this:
"Buy and Hope" Flunks the Test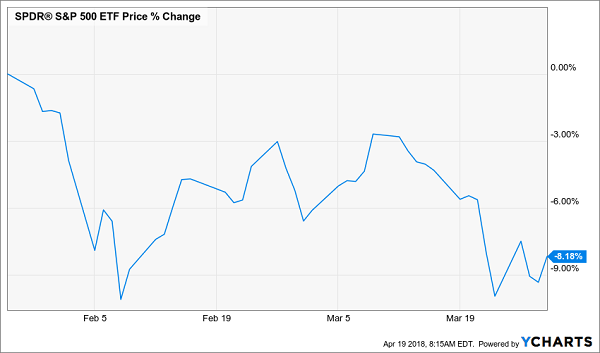 But don't worry, there's a safer way to grab rising income and gains in stocks. And it all comes back to the unloved dividend.
The Key to Lasting Wealth
Here's what most folks overlook: dividends are, in fact, the key to getting rich in the stock market.
But it's not the current dividend yield we need to look at; it's dividend growth. Because here's something that may surprise you: a rising dividend is the No. 1 driver of share prices.
3M's 100%-Predictable Dividend Afterburner
If you don't believe me, consider 3M (MMM), a "stodgy" company with a ho-hum 2.5% yield. So once inflation bites, you're left with a pathetic 0.4% in income!
But don't forget that 3M is a charter member of the Dividend Aristocrats, having hiked its payout for 60 straight years. The connection between its rising dividend and its rising share price is unmistakable.
Check out how the payout drives up the share price at almost exactly the same rate over just about any time period you can imagine, starting with 3 years:
Dividend Up 33%, Shares Up 36%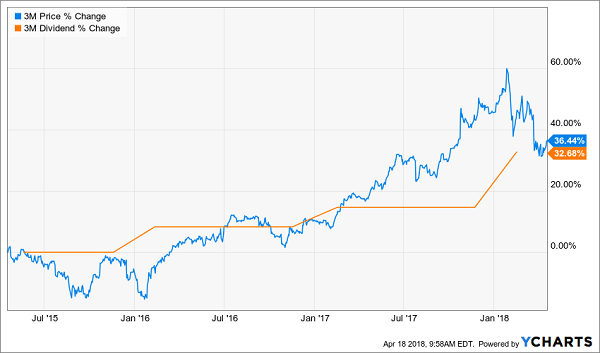 And then 5 years:
Dividend Up 114%, Shares Up 109%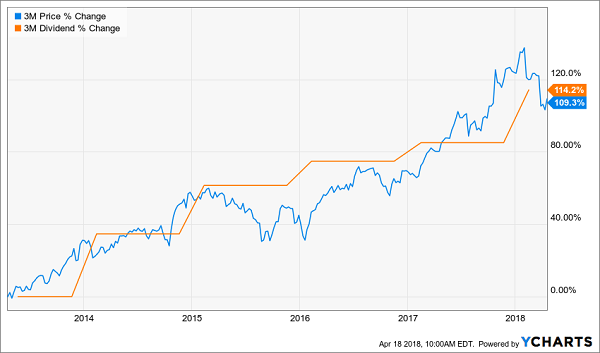 10 years:
Dividend Up 172%, Shares Up 173%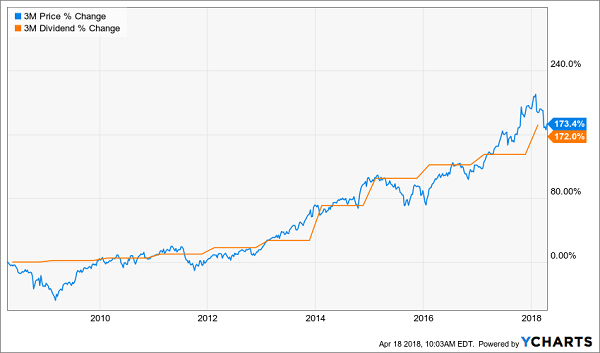 And finally, the longest timeline we can get:
Dividend Up 1,110%, Shares Up 1,960%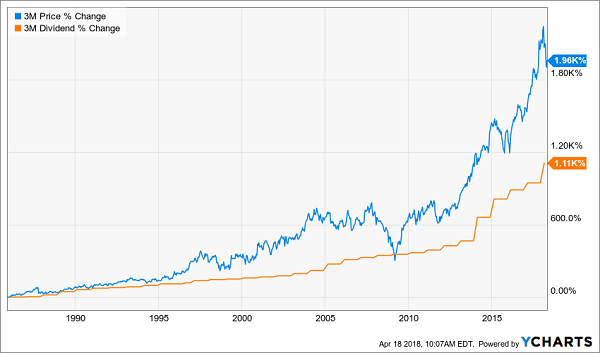 There's simply no arguing with that pattern! And I can point you to dozens of stocks whose surging payouts are driving their share prices higher in the same way (including the two I'll reveal in a second).
Now you could simply jump on 3M's dividend train today, and you'll likely see similar results over the long haul—but there is just one little thing that gives me pause about the stock: the payout ratio.
3M pays out 58% of its last 12 months of free cash flow (FCF) as dividends, and while that's reasonably safe (just over the 50% I demand in stocks I recommend in my Hidden Yields service), it's near historic highs—and trending higher.
That could crimp the payout's growth, and its ability to pry the stock higher, if sales skid:
A Tightening Noose?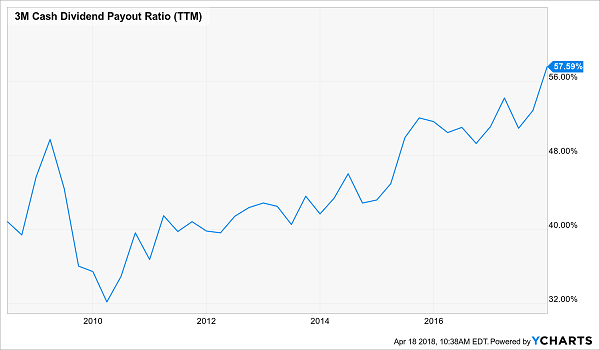 So what's our strategy here? Simple. We'll go on the hunt for stocks with share prices that have fallen behind their dividend growth, plus boast a safe payout ratio that can keep fueling that dividend higher.
That way we can buy as the stock price races to catch up! Which brings me around to the 2 names I want to show you today.
Buy Wyndham as Its Dividend "Splits"
Wyndham Worldwide (WYN): You can see that the hotel operator's share price was keeping pace with the dividend until early 2016:
"Dividend Gap" Opens

But as you can also see, it's not because Wyndham's share price fell off (the stock has actually soared since it broke pace with the dividend in late 2015)—it's that management pumped up the dividend even faster!
This is an unusual situation that can't last, for two reasons.
First, Airbnb or no, travelers are booking Wyndham's hotels, resorts and timeshares at a rapid clip: in the fourth quarter, revenue per available room—a vital hotel metric—jumped 4.5%; overall revenue rose 4.4%; and adjusted earnings per share (EPS) surged 10%.
And the dividend is safe, eating up a minuscule 29% of FCF—and falling.
Second, Wyndham is getting to set to spin off its hotel business into a new publicly traded company, while hanging on to its timeshare and vacation-rental operations.
As I wrote in January, buying a spinoff stock that's cranking up its dividend—and making your move either just before or just after a split—is a strategy I've seen deliver market-beating gains time and time again.
Plus you could end up with two income streams instead of one!
The kicker? Wyndham is cheap, at just 15.5 times forward earnings, which throws a floor under the share price while amplifying our upside.
Amex: Overdue for a Payout-Powered Surge
American Express (AXP): You may think you missed out on this one after it surged last week on strong earnings. But Amex's comeback is still young.
The stock is all but locked in for one more lurch later this summer, when I expect it to unveil its next big dividend hike. Let's unpack why, starting with this:
The Dividend Star Wall Street Missed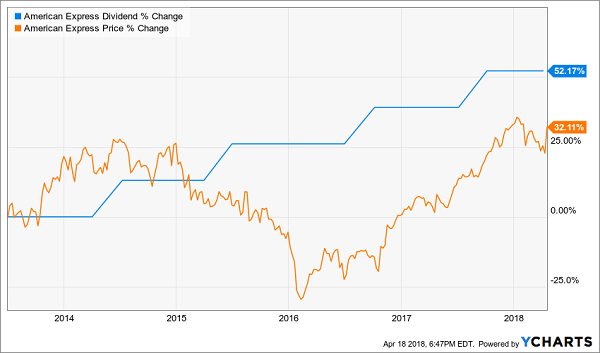 That's right: even though Amex is clearly turning the corner after losing its exclusive deal with Costco back in 2016, the market remains in deep denial. And consider this: Even with this latest bump, AXP still trades at just 14.1 times forward earnings.
That's ridiculous for a company whose Q1 EPS soared 38%, crushing the Street's forecast. Revenue surged 12%. The main reason? Cardholder spending spiked 12%, and Amex added 3.5 million new members.
Add in the fact that Amex's clients are mainly wealthy folks—a group that's growing—and a paltry 10% of FCF heads out the door as dividends, and you get a recipe for a big payout hike and upside as the stock races to catch up!
3 More 100%+ Dividend-Growth Picks—Yours Free
Just days ago, I held a free live webinar in which I released 2 more dividend-growth picks, and you can get both of them when you click here to watch a complete rebroadcast now.
Here are the details on the 2 companies I'll tell you about in this tight, 60-minute webinar:
This ignored stock boosted its payout 3 times in the last 7 quarters, and its payout is surging 20% a year. And this one already pays a princely 4.5% current yield!
This bank is a cash gusher! It just dropped a 67% payout hike on its lucky investors, and management is poised to DOUBLE the dividend again in less than 2 years!
And that's not all … you'll also get a chance to get a THIRD pick I released on Friday.
My proven Dividend Velocity System (which I'll also spill the beans on in this unique webinar) says this one will do even better than the 2 stocks I reveal in the rebroadcast. But space is limited to get onboard before this unsung stock takes off.
Don't miss out on the chance to grab these 3 terrific stock picks! Turn up your computer's speakers (or put on a pair of headphones) and watch this free webinar rebroadcast now. It could be the best investment move you make all year!