Stocks are floating higher daily—and I'm hearing from a lot of readers wondering when they should sell a winning income pick, and when they should let it run.
You're probably sitting on some nice capital gains these days, too, and have been asking yourself the same question.
So today I'm going to give you the three-step indicator I use when making buy/sell decisions for my Hidden Yields dividend-growth advisory. It's a simple "traffic light" setup, with green being buy, yellow telling us to watch a stock we own closely and finally red, when we sell and take profits.
Green: When the Dividend Outruns the Share Price, We Buy
If you're a regular reader of my columns on Contrarian Outlook, what I'm about to say won't surprise you: dividend growth is the No. 1 driver of share prices.
I've seen it time and time again. Just look at this chart of Starbucks (SBUX), which has hiked its payout 592% in the last decade. It's hard to argue that the company's explosive payout growth hasn't affected its share price—the stock is up almost the same amount—and the dividend-up, share-price-up pattern is clear.
Starbucks' Dividend Jolts Its Stock

We can work this pattern for quick gains by buying when the share price breaks south of the dividend and then holding on as it catches up. This is the dynamic I saw setting up with Starbucks in September 2020.
Starbucks' Shares Lagged Its Dividend …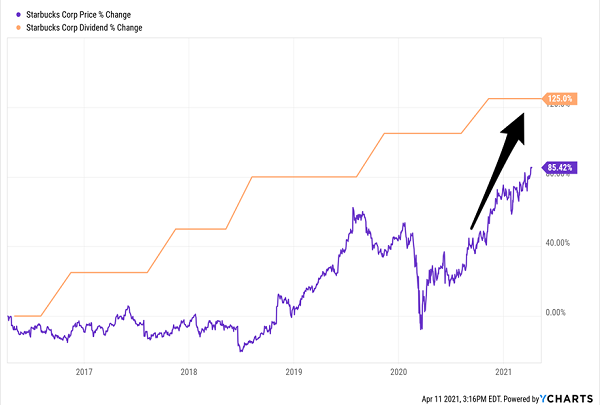 That prompted me to issue a buy call on the stock in the September 2020 issue of Hidden Yields. Right on cue, SBUX began to close its "dividend gap," delivering us a market-crushing 34% total return in just seven months.
… And Then Bounce Back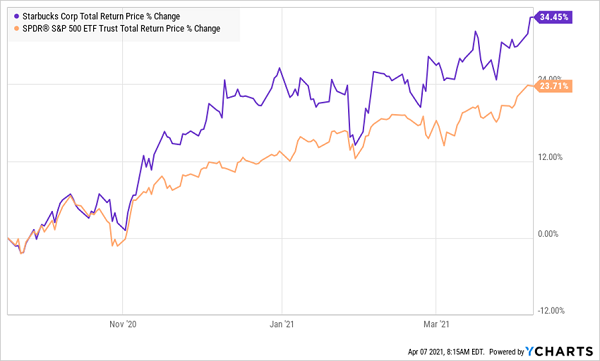 Now that we've covered our dividend-driven buy indicator, let's turn this strategy on its head and use it to tell us when it's time to sell and take profits.
Yellow: When the Dividend Falls Behind the Share Price, We Stay Alert
For this step, let's take a look at insurer Assurant (AIZ), which we sold in Hidden Yields in December 2019 for a 90% total return in just over four years.
During our holding period, Assurant shares continued to mostly track the company's dividend, while jumping ahead from time to time. We were happy with this trajectory—though I did keep a close eye on it—so we let the stock run.
But the shares really took off in the last six months of 2019, as you can see below—and it quickly became clear that Assurant didn't have the payout growth to support that leap:
AIZ Buries Its Dividend … and We Check Out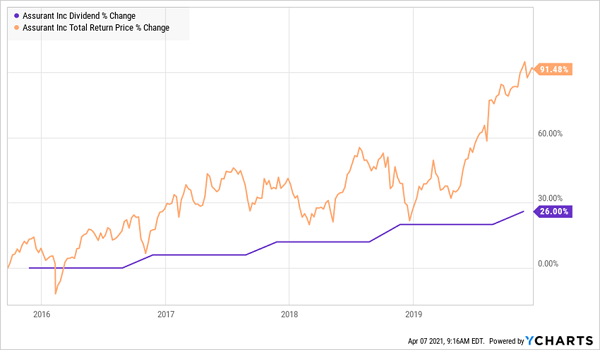 That huge gulf was a clear sell signal, so we took our 90% total return off the table. And as expected, Assurant has only posted a modest 9% price gain in the months since, while the market bounced 26%:
Our "Dividend Indicator" Proves Its Value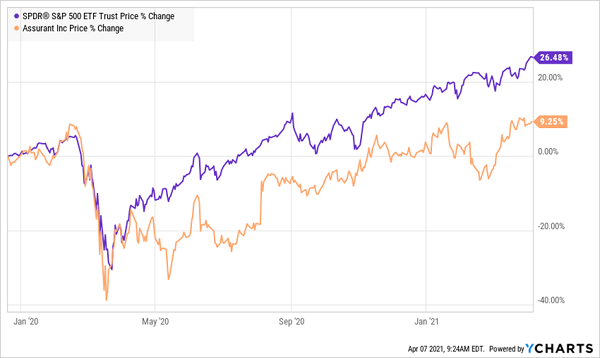 Now let's move on to our final sell indicator.
Red: When a Stock Breaks Through Key Support Levels, We Sell
Another key signal I rely on is a stock's movement in relation to previous support levels. When the price breaks through them, it's time to sell.
That happened in the last few weeks with Zoetis (ZTS), a maker of medication for pets and livestock. I recommended Zoetis in April 2020, and we've enjoyed 23% total returns (including dividends) since then.
We liked—and still like—Zoetis's positioning for the boom in pet adoption that we'll continue to see post-COVID, as well as its growing dividend. Heck, I personally supported Zoetis by purchasing its tummy meds for my old-lady pup Bianca. (Her upset stomach, of course, being the side effect of other pills. Ah, the medication treadmill.)
Most of all, we liked the long-term uptrend the stock kicked off in April 2020.
That uptrend has wavered in the last few months, however, and in the last few weeks, Zoetis took out previous support levels, which means the buyers that were previously there at that price were no longer present. This tips the risk/reward balance against us, making it a good time to take our 20% profits:
Time to Flip This Pup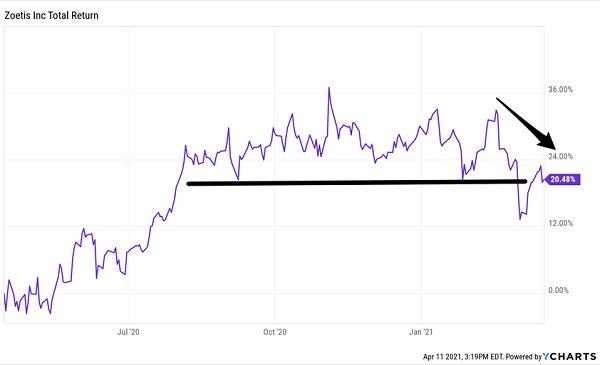 What do we do with our gains? Easy! We go back to step 1, zero in on stocks whose dividends have outrun their share prices … and buy.
These 7 Stocks Are My Top Buys for the Early 2020s
Right now I'm pounding the table on 7 stocks whose dividends are soundly outrunning their share prices, setting us up for 15% yearly returns—and likely much more—as we move further into the 2020s.
Think about that for a second: at a 15% yearly return, you're doubling the market's historical average and you're on pace to double your investment every five years!
Then there are the dividends: at the rate these 7 stocks are hiking payouts, you'll triple the dividend income you get from them every five years, too.
I don't want you to miss out on these 7 "recession-proof" stocks, so I've prepared an exclusive investor report that gives you full details on each one of them.
VIP Access to My Exclusive Dividend-Growth Service
Plus I want to give you a chance to sample my Hidden Yields service for 60 days! Through Hidden Yields, I monitor each of the 7 stocks in my exclusive report (and, of course, our entire Hidden Yields portfolio!) for our members 24/7 and let them know exactly when to sell and lock in maximum profits. AND I roll out new picks with accelerating dividend growth in our monthly Hidden Yields issues, too.
Now you can get access to Hidden Yields for 60 days and get my 7 best dividend growers for the early 2020s with no obligation whatsoever.
It's all waiting for you. Click here to grab your 60-day trial and get everything you need to start banking these 7 stocks' 15%+ yearly returns today.