Subscribers to my CEF Insider service are asking me a lot about corporate bonds these days, so today we're going to take a close look at it—and what it means for bond funds.
First, let's talk about interest rates, which are plunging.
Debt Getting Cheaper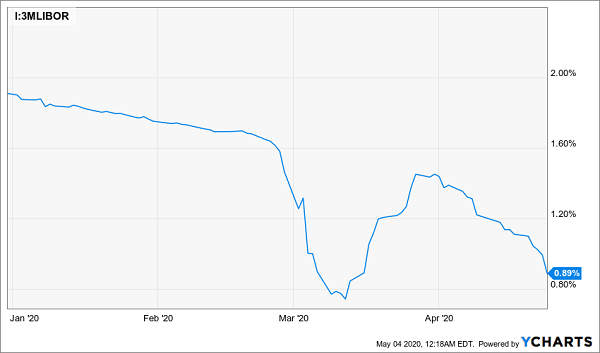 This means companies pay a lower rate than ever when they issue bonds. When rates fall, it can make sense to take on more debt, because you can use that debt to raise cash. If you don't need that cash, you can pay off the debt later at a low cost because, again, rates are so low.
There's another reason to issue debt: it's become a lot easier to raise cash in the bond markets, because the Federal Reserve has said it will buy corporate bonds if no one else will. At the end of March, the Fed said it would start buying these bonds to guarantee that companies in need of cash can get it. That announcement caused corporate-bond prices to recover, almost immediately, as we can see from recent moves in the iShares iBoxx $ Investment Grade Corporate Bond ETF (LQD):
Bond Market Gets a Lifeline

In short, corporations have a guaranteed buyer of their bonds and access to near record-low interest rates. That makes now the perfect time to issue bonds.
Debt Downgrades Aren't What They Used to Be
Not everything is roses for bonds, though.
One of the biggest issues is that, since a lot of companies can't operate at full capacity, they're burning through cash. While government bailouts help, this cash burn has prompted ratings agencies to begin downgrading companies' debt. And since bond values go down when ratings go down, shouldn't we be worried?
Again, the Fed comes to the rescue. Last month, the central bank announced it would ignore ratings downgrades from late March onward in its purchasing activity, and the market has been weird since. Now, when companies' bonds are downgraded, their price doesn't fall immediately to reflect that. As it shouldn't, because the market knows the Fed is there to buy these bonds.
But the Fed isn't buying all of these bonds—there's one industry the central bank isn't helping: oil and gas, which is stuck with this nightmare:
Oil Collapse: Will It Ever Stop?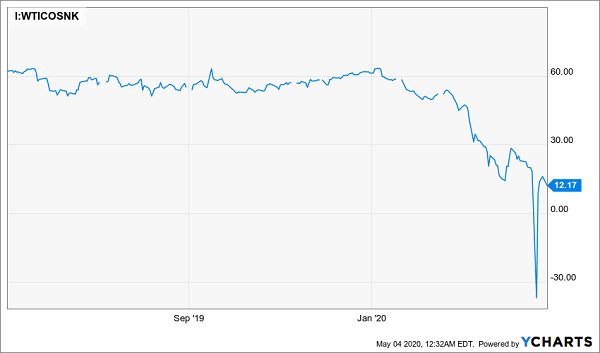 With oil falling to a negative price at the end of April, only to recover to $12 a barrel (its lowest level in over 20 years), there's no way to sugarcoat it: oil companies are facing armageddon.
In my April 9 article, I warned that oil prices would go negative in mid-April, because that trend had already begun in a few obscure parts of the market, and there was reason to think it could go further.
Worst off in this situation are oil companies with a lot of debt, or those in need of cash. While the corporate-bond market has become safer, the energy part of that market has not, and it's a corner of the market many junk-bond funds depend on. It's why, although LQD has recovered, junk-bond fund SPDR Bloomberg Barclays High Yield Bond ETF (JNK) has fared worse.
Popular Junk-Bond ETF Still on the Mat

Bottom Line: Stick With Corporate Bonds for Now
Today, you should hold on to your corporate-bond holdings but be wary of the junk-bond market—and don't be lured in by the higher yields—like JNK's 5.7%—these ETFs pay.
But you can easily get JNK's yield while sticking to corporate bonds if you choose the right corporate-bond fund, like the Nuveen High Income November 2021 Target Term Fund (JHB), which focuses on higher-rated corporate bonds and yields 5.2%. It also trades at a 4.1% discount. JHB is just one of many closed-end funds (CEFs) trading below the true value of its portfolio while paying a high yield and avoiding the junk-bond calamity caused by the oil crash.
4 Crisis-Ready Buys Yielding 8.4%+
My favorite corporate-bond fund yields an amazing 8% today, and it's so cheap that I'm calling for 20%+ price upside in the next 12 months!
It's part of a new portfolio of high-yield CEFs perfectly suited for this crisis. These cash-rich funds come from across the economy, giving you exposure to top-quality corporate bonds, US tech stocks, healthcare stocks and international stocks.
These 4 ironclad funds yield 8.4%, on average, with the highest payer yielding an amazing 10.8%. In other words, if you put $100K into this fund today, you'd get $10,800 in dividend cash back in your pocket every year. A little over nine years later and you'll have recouped your entire upfront investment in dividend cash alone!
In a time like this, when dividend cuts are announced seemingly every day, these 4 solid payouts have never been more important to own. Click here and I'll share everything I have on these 4 funds—names, tickers, dividend histories, my complete take on management and much more.