In a second, I'm going to reveal three real estate stocks that are much better than buying rental property of your own.
Why? Because this trio:
Pays a 9.3% dividend, on average—with one yielding an incredible 11%. I think you'll agree that this is a pretty tough return for most "real" landlords to get.
Takes zero work—you just buy these property-focused stocks and collect your dividends (and price upside!), and …
Gets you way more diversification than your typical basement apartment, semi-detached or "box in the sky" condo ever could.
You may have caught on that I'm talking about real estate investment trusts (REITs).
REITs own a portfolio of properties—everything from cell towers to senior-care centers. There are two reasons why they pay you big dividends, like the 7%+ cash streams we'll dive into shortly:
REITs are exempt from tax at the corporate level, but …
To keep that tax exemption, they must pay 90% of their taxable income to shareholders as dividends.
Perhaps the biggest advantage REITs have over your typical rental abode is that they can be bought and sold on the open market, like any stock, at your usual trading (typically low, for online brokerages) fee. Rental property, on the other hand, may not sell as fast as you'd like, and closing costs easily run into five figures.
Now let's dive into the three REITs I have for you today, starting with …
Preferred Apartment Communities (APTS) owns the same kind of real estate most regular folks do. But the scale, of course, is much larger: APTS owns or invests in apartment properties across the south, northeast and eastern seaboard. That gives it diversification your typical individual landlord doesn't have and helps insulate it from a downturn in any one market.
What's more, APTS, which yields 7.4% today, has a long history of outperformance.
Choose Your Index—APTS Beats It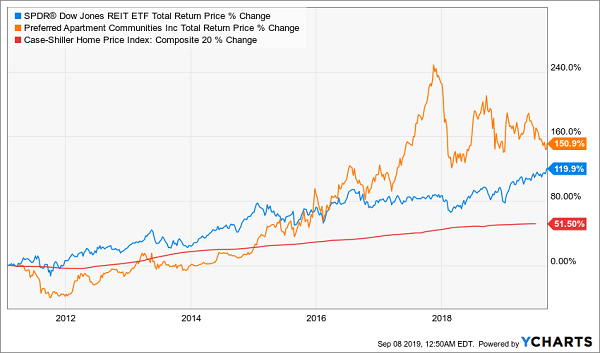 As you can see above, APTS (in orange) has posted a 150.9% total return in the last decade, beating the SPDR Dow Jones REIT ETF (RWR)—in blue—an index fund that passively follows the REIT sector, by a huge margin. But here's the twist: APTS has also beaten average home-price growth, as measured by the Case-Shiller Home Price Index (in red), by a lot more.
Plus, APTS has its payouts well covered, thanks to a 133.5% dividend-coverage ratio, while income as measured by adjusted funds from operations (AFFO, a better measure for REITs than earnings per share) has been rising, thanks to more tenants and higher rents.
You can add commercial property to your apartment holdings with a REIT like Tanger Factory Outlet Centers (SKT), landlord to over 2,600 different shops. Tanger has succeeded in avoiding plunging retail sales caused by e-commerce, thanks to its focus on its niche of outlet stores that haven't faced as much online competition.
Tanger's shares have pulled back in the last couple years, after the company's massive dividend growth (the payout is up 85% in the past decade) caused investors to get ahead of themselves and give it a huge valuation far above its competitors.
But today, Tanger is more in tune with the rest of the market, making it worth any income investor's attention. What's more, its revenues are still rising, and earnings results (based on FFO) have beaten expectations in 11 out of the last 12 quarters (and met expectations in that 12th quarter).
The REIT's dividend now yields 9.4% and is still growing, with the latest hike just this past April. And there's likely more to come, with Tanger's dividend-coverage ratio checking in at 180%, a figure far beyond what most REITs can boast.
Finally, you can get deeper into commercial real estate with a REIT like Global Net Lease (GNL), which focuses on industrial and office properties. GNL has geographic diversification in spades, with properties in both the US and Europe.
A Global Real Estate Titan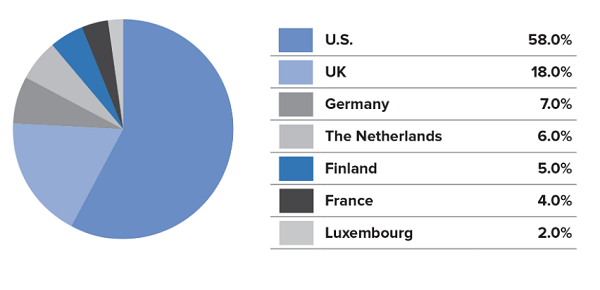 Source: Global Net Lease
That diversification is in part behind GNL's reliable dividend growth from 2015 to now, which is a gift for income investors: the REIT's yield is now 11%, making it one of the biggest-yielding property REITs in the world.
Put all three of these REITs together and you have a diversified real-estate portfolio covering thousands of properties internationally, with a big average yield of 9.3%. That's impossible to get renting out a single house or condo—and it comes with far fewer headaches, too.
My Top REIT Pick Revealed: a Growing 7.4% Dividend (for 11% Off!)
Here's something that may surprise you: my favorite REIT now isn't Global Net Lease, Tanger or Preferred Apartment Communities.
It's actually a REIT-focused closed-end fund (CEF) that gives us three big benefits no individual REIT can:
"1-click" diversification: My pick's portfolio is flush with apartment, data-center, senior-care and office REITs from across the US.
A rock-steady 7.4% dividend, and …
An 11% discount! Due to a quirk in the CEF structure, this fund actually trades for less than the value of the REITs in its portfolio! At $0.89 on the dollar, this is basically free money.
That makes this fund the antidote if you feel you've missed out on the REIT rally this year. Because even though my pick (in blue below) has crushed the REIT benchmark and the S&P 500 …
No. 1 REIT Pick Dominates—While Paying 7.4%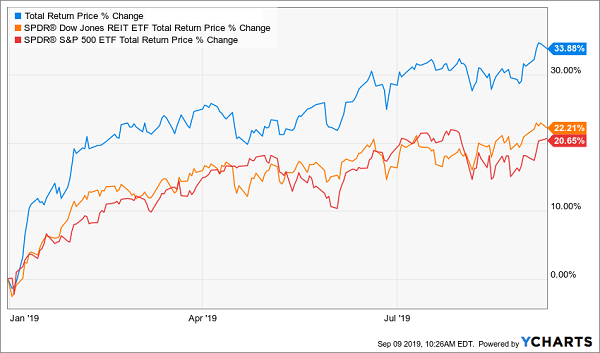 … it's still a screaming bargain, thanks to that discount between the fund's price and its "true" value (known as the discount to NAV in CEF-speak).
The bottom line? That massive 34% gain is just Act 1!
The name of this fund is waiting for you now: just click right here and I'll set you up with a no-risk 60-day trial to my CEF Insider service. You'll find this income wonder in the service's 18-fund portfolio, which yields 7% on average, and boasts CEFs yielding as high as 10.8%).
That's not all: you'll also get a FREE Special Report outlining my 4 very best CEF picks for your portfolio now. Each of these 4 dynamic funds yields 5 TIMES more than your typical S&P 500 stock and is poised for 20%+ price gains in the next year, thanks to their incredible discounts to NAV.
Click here to get this entire wealth-building package: your FREE Special Report with my 4 top CEF picks now, my top REIT CEF pick and your no-risk 60-day trial to CEF Insider.