On Tuesday, Seeking Alpha published a "timely" piece that I penned entitled 3 Reasons This Rally Is Toast – just in time to see markets rally over 2% on the day!
The article generated a significant amount of buzz on the site – in fact, as I write this Wednesday afternoon, it's currently the second most popular article on the entire site.
My short term predictive powers appear to have wowed a lot of readers, as it garnered 74 comments and counting – many from folks who took the opportunity to tell me what an idiot I am. 

They may be right – I'm just a guy who follows, writes, and muses about the markets for fun.  Then I got to thinking – there were A LOT of commenters who said I was a complete moron for shorting this market because it's still a bull market.  I wondered – exactly how many?
So, I totaled it up.  Out of 74 comments, there were some repeats, and some off-topic comments – but at quick count, about 34 unique personalities that weighed in about whether or not they agreed with my short term market prognosis.
The results?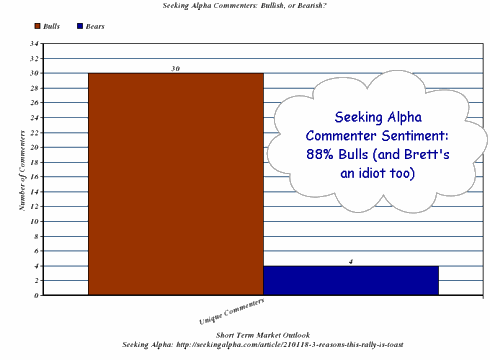 Out of 34 unique comments, an even 30 disagreed with my short term bearish stance – so we are clocking in at 88% Seeking Alpha bulls!
Might this be a contrary indicator of extreme short term bullishness?