The Nasdaq Composite and S&P 500 indexes set new record highs on Tuesday, as first-quarter earnings continued to exceed low expectations this week. The rally this week completed a sharp 25% comeback in the S&P 500 that started when U.S. markets bottomed during the last week of December.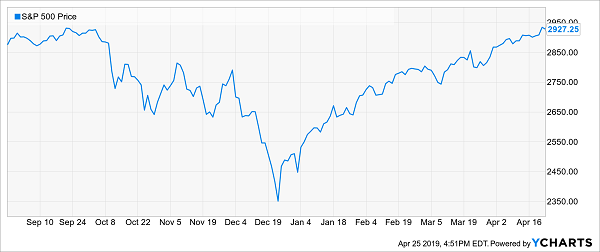 There was strong economic data reported in the U.S. this week, highlighted by a blowout first-quarter GDP reading on Friday. We experienced 3.2% growth in the domestic economy last quarter, which smashed the estimate of 2.5%.
New home sales were another beacon of light on Tuesday, showing a 3% increase for March. The print exceeded expectations and marked the highest level in 17 months.
78% of companies in the S&P 500 have exceeded profits expectations so far this quarter, which is above the historical average. The best growth has been from the financial sector, while energy names have been a drag on overall growth.
While estimates going into earnings season called for overall profits to fall 3% to 4% this quarter, the above-average "beat rate" now has many strategists calling for fractional earnings growth in the first quarter.
Quarterly Reports Driving Big Moves
Xilinx (XLNX) was a big earnings-related loser this week, falling 17% a day after missing profit expectations. 3M (MMM) also lost 13% following its own earnings miss and guidance cut. 3M's decline single-handedly hit the price-weighted Dow Jones Industrial Average by more than 190 points on Thursday.
On the other hand, Twitter (TWTR) and Hasbro (HAS) gained 15% and 14% respectively, the day after posting strong quarterly results this week.
As busy as this week was for earnings reports, even more S&P 500 companies are scheduled to announce results next week, highlighted by the following names: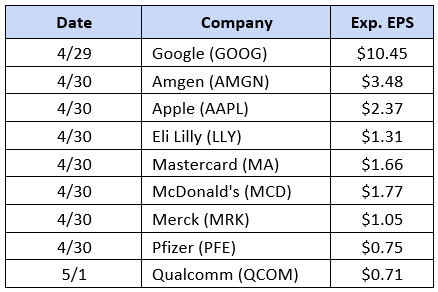 FOMC and Jobs On Deck
On the economic front next week, we'll get the next interest rate decision from the FOMC on May 1.  There's no change in interest rates expected this time around, but Fed funds futures continue to price in a 57% probability of a rate cut before the end of the year.

Source: CME Group
Friday offers a look at the April jobs report. Elsewhere, trade talks between the U.S. and China are expected to resume in Beijing next week.
U.S. stocks are back up at record highs, having rebounded 25% from the December lows, as some economic measures are running red hot. At the same time, earnings have been coming in ahead of expectations this quarter, but are on track for a flattish result at best.
This environment creates a lot of questions for investors:
Namely, what's left to buy now?
If I put cash to work here, how do I avoid landmines like 3M and Xilinx that lost as much in one day this week, as they pay in several years of dividends?
On the other side of the coin, is 2019 a year that we should simply "sell in May and go away?"
Fortunately, there's a better way:
My colleague Brett Owens has devised a strategy that removes the worry of trying to time the market. Better yet, he's composed a portfolio that generates an 8% annual yield, paying steady dividends each and every month!
8% is an impressive clip, when banks, bonds and vaunted Dividend Aristocrats are currently paying 2% or 3% at best. For every $500,000 you've saved up, Brett's 8% Monthly Payer Portfolio will generate $40,000 a year of income.
Most companies pay dividends quarterly, but this portfolio is structured for monthly payouts. That works out to $3,333 a month, every month, whether the broader stock market averages are up 10% one year or down 10% the next.
$3,333 is a nice chunk of change. It pays a lot of bills each month if you're retired… or is a nice supplemental income, if you're sick of having earned next-to-nothing in "safe" investments over the past decade.
You don't have to settle for just $40,000 a year, or $3,333 a month of dividends. If you have a cool million to invest, you could just as well generate $80,000 of income annually, or $6,666 each month!
Plus, a lot of the names in the portfolio have up to 10% upside potential. You can actually grow your nest egg, while these dividends are rolling in each month!
In order to get started, Brett will share his favorite monthly payers with you today, along with the name, ticker, and buy price for these stocks. Click here to get a full copy of our research on Monthly Dividend Superstars: 8% Annual Yields with 10% Price Upside, Too!