The third quarter is ending soon, so we need to talk about earnings—and especially how this soaring market can hand us a fat 10% cash dividend (and upside), starting today.
Earnings have been an obsession of mine this year, because a lot of investors are ignoring terrific news. If you follow them, you can easily miss out on big profits.
For instance, remember when trade-war threats and tensions with North Korea did this to the S&P 500?
First-Level Investors Took a Hit …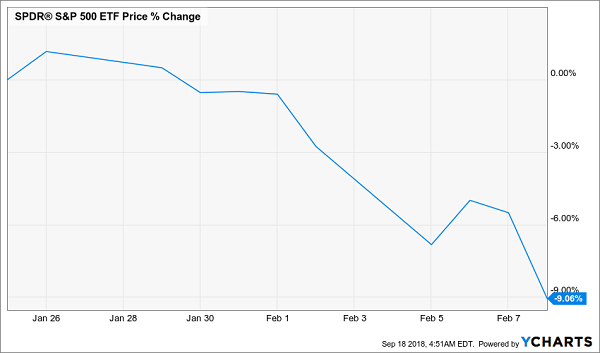 Anyone reading the headlines who panicked and sold into this mini-correction lost a lot of money—in total, billions of dollars of wealth disappeared in a matter of days.
Except for the contrarians who kept their cool, of course. Those savvy investors saw a profit in just a few months:
… But Second-Level Thinkers Racked Up Steady Gains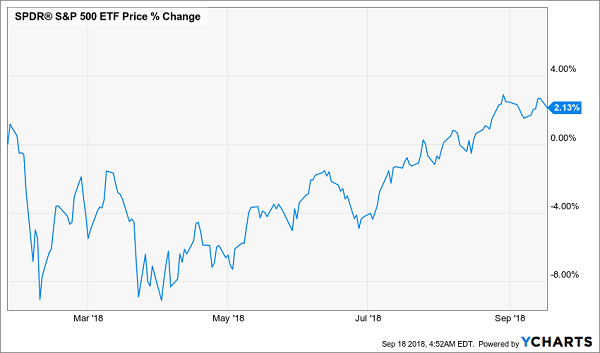 But how did these folks know to hold? Simple: by focusing on the fundamentals.
That brings us to today's very strong fundamentals—and, just a little further on, I'll show you a discounted fund with a staggering 10% yield that's riding the rising earnings tide to serious upside, too.
Ignore the Naysayers: The Future Is Bright
First, let's look at why those fundamentals are so strong, and why we can expect good news to keep coming on the earnings front.
Here's how great things look now: on average, the S&P 500 reported 25% earnings growth in the second quarter of 2018—the highest rate since the third quarter of 2010, when companies were just beginning to recover from the Great Recession.
But what's more incredible is that analysts had expected a slowdown from the first quarter's 22% earnings growth, meaning this accelerated rate is far above expectations.
In fact, beating estimates has become a cliché in 2018, even after a couple years where upside surprises were rarer. In the second quarter, 80% of S&P 500 companies beat estimates—the most in recorded history, according to FactSet.
Earnings Surprises Hit an All-Time High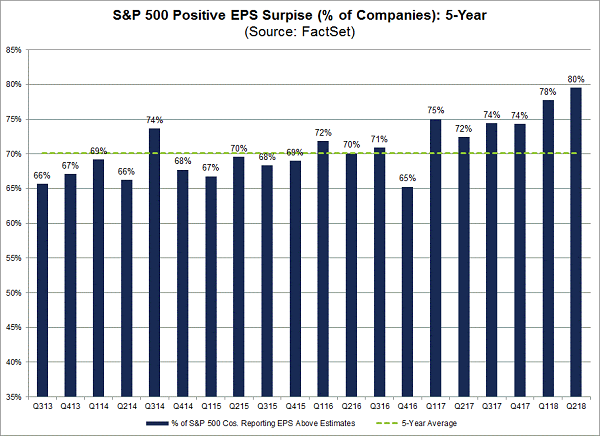 There's no sign this bonanza is slowing down, either. Estimates put third-quarter growth at 19.9%, which would still be one of the highest rates in the last decade. And estimates have also trended upward in the last few weeks.
Stocks Are Still Cheap
So is all this good news priced in?
Thanks to that February decline, which the market has only begun to recover from, the answer is no. The S&P 500's forward P/E ratio is just 16.8, only a bit above the average of the last five years (which was 16.3) and far below the danger level of 20 that most analysts warn about.
The bottom line? If you aren't bullish on stocks in light of all this data, chances are you'll never be. And that means you'll miss out on tremendous gains—like the doomsayers who lost out on 218% gains in the last decade.
A 10%-Paying Fund With Lots of Room to Run
That 218% number didn't come out of thin air. It's the total return investors got from the pick I want to show you today, the Liberty All-Star Equity Fund (USA):
10%-Paying Fund Explodes Higher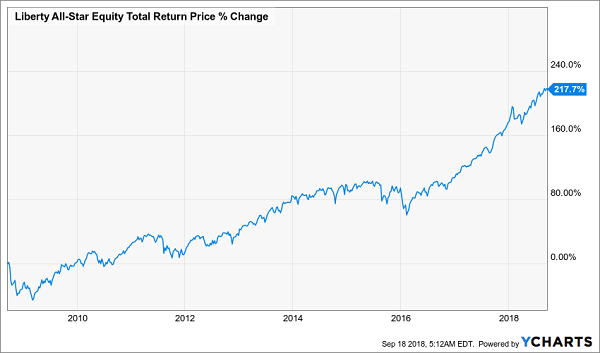 The reason for this fund's strong outperformance is simple: its management team uses a meticulous process to find both value and growth stocks that have strong earnings that are set to go even higher.
That isn't even the best part.
Because USA's 10.2% dividend yield is one of the highest among equity funds and is also one of the most sustainable, since the fund's total NAV return (or the rise in the stocks it owns) has exceeded that yield over the last decade.
And USA delivers something else truly rare for a high-yield fund: dividend growth.
A Soaring Income Stream

With payouts rising 70% over the last decade, and a major raise last year, USA shareholders have a lot to be happy about. Yet USA actually trades for less than its actual market value—shares are selling at a 3.6% discount to NAV!
So why isn't this fund trading at a premium, considering its amazing return and huge income stream? Because its real returns are hiding in plain sight.
Your average investor is going to look at USA on a site like Yahoo Finance, which shows the fund's price returns without dividends. And that chart is nowhere near as impressive, displaying just a 16.1% return over 10 years:
A Misleadingly Meager Return


Source: Yahoo Finance
It's also wrong, because it excludes that growing double-digit dividend—meaning that the real profits, delivered largely in cash, USA shareholders have gotten over a decade are invisible to a lot of investors.
But the herd is getting smarter, which is why USA has been getting a lot of buy-in lately. That 3.6% discount to NAV was as much as 15% a little over a year ago, when I urged readers to buy USA hand over fist. And with the stock market continuing to soar, I expect more investors to discover USA and buy in, bringing its pricing to a premium while its NAV keeps soaring.
16 More Massive Cash Dividends (average yield: 7.0%!) Ripe for Buying Now
My CEF Insider service holds 16 off-the-radar buys that are my very best picks for any investor's portfolio—no matter what happens with interest rates, the markets—or on the trade-war front, for that matter.
Each one of these 16 all-stars is poised for fast double-digit gains. PLUS they throw off average yields of 7.0% … including 2 cash-rich buys throwing off giant cash payouts upwards of 9%!
Just imagine what income like that—along with USA's massive 10% dividend—could do for your portfolio.
Better yet, these 16 funds are all cheaper than USA, with its narrow 3.6% discount. That puts them on the launch pad for bigger gains as the earnings party rolls on.
And all you have to do is CLICK HERE to "kick the tires" on CEF Insider and get immediate access to this standout portfolio with no risk and no obligation.
That's not all.
Because your no-risk trial also comes with my latest FREE Special Report, which reveals my 5 "Best Buy" funds now.
These "unicorns" are the best of the best, boasting dividends of 8.5%, on average! Best of all, I'm expecting strong dividend growth here, too, so you'll easily be yielding 10%+ on this 5-fund "mini-portfolio" in short order.
The kicker?
Thanks to their ridiculously cheap discounts, these 5 funds are poised for 20%+ price gains in the next 12 months (or sooner)!
Your Special Report, the entire CEF Insider portfolio and all the other benefits of membership are waiting for you now.
Don't miss out. CLICK HERE to get instant access to the CEF Insider portfolio, your Special Report and the complete service with no risk whatsoever!