Back in February 2016, I wrote an article titled "4 Reasons to Buy This 9.2% Yielding Equity Fund". That fund was the AGIC Equity and Convertible Income Fund (NIE).
Since then, NIE has done this:
Almost 50% Gains in a Year and a Half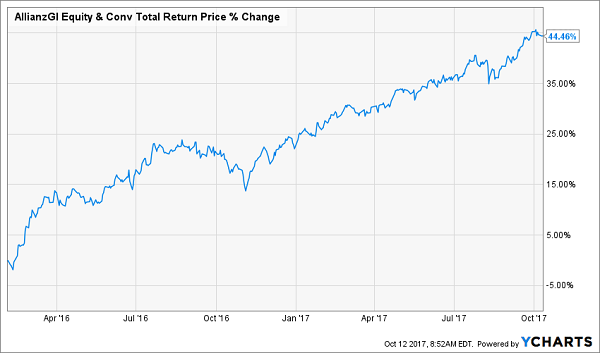 Oh, and did I mention that NIE pays a 7.4% dividend? That's right: $100,000 in this fund gives you $616 per month in cash.
Despite the conventional wisdom about dividend yields, that high yield doesn't come with high risks. Not only has NIE been growing its dividend since 2009, but that income stream is well covered by the fund's investments—again, thanks to its big returns, as we see in the chart above.
What drove those monstrous gains?
As you can see from the chart, the returns were mostly pretty stable, save for the massive spike at the start of the period and a slight correction just before the presidential election. Then the fund quickly reverted back to its upward trend line.
But the real story is how NIE delivered those gains—and understanding that is key to getting a grip on what many folks get wrong about the stock market.
A Great Portfolio
Let's start with the basics—NIE invests in really good companies.
This has always been the case—it puts its assets in household-name blue chips like Apple (AAPL), Facebook (FB), Microsoft (MSFT) and Alphabet (GOOG), among others: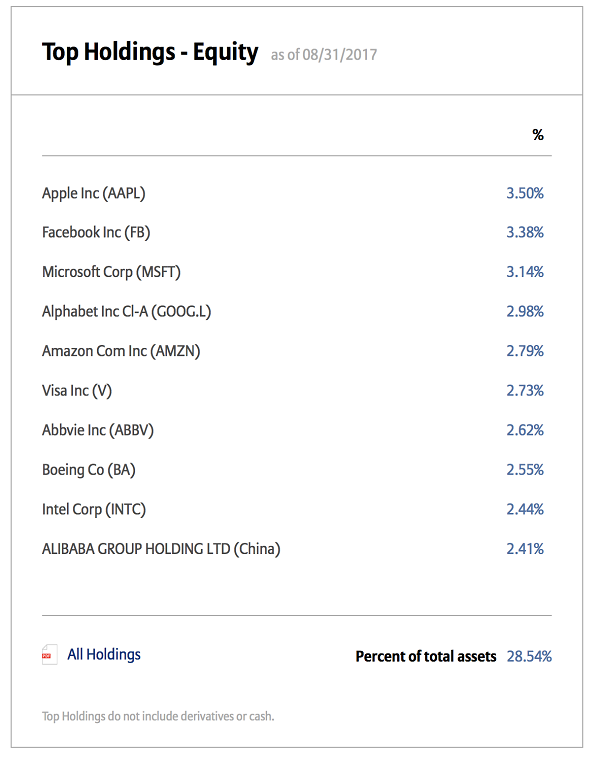 Now look at how NIE's top 5 investments have done since February of last year: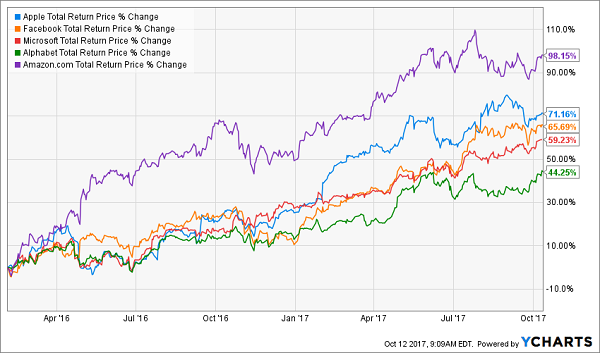 With its top holdings up over 67% on average, it's no surprise that NIE's total returns have been obscenely good. But what's really magical about this fund is how it squeezes cash out of these holdings.
Remember, NIE is paying you a 7.4% income stream per year. How much income do these stocks give you on their own?
Not much. In fact, only two of them pay dividends, and neither yields more than 2.5%! Which brings me back to the plight of our everyday stock investor.
In a desperate attempt to get more income, many people reach for yield by buying lackluster companies that also pay bigger dividends. These investors end up with lackluster returns because they invest in tired dividend aristocrats or firms with challenged or outdated business models, such as Altria Group (MO) and Realty Income (O).
When they do that, they end up with returns like this:
The Downside of Blindly Chasing Yield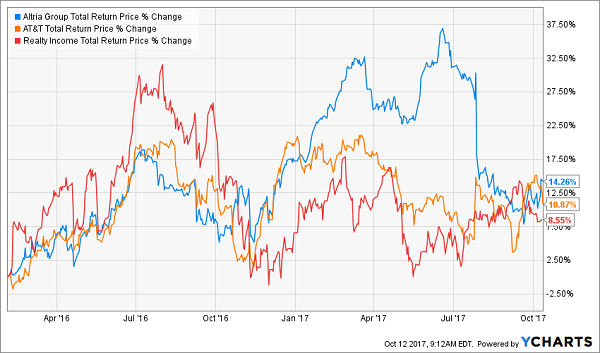 Sure, an 11% average gain is okay, but it doesn't hold a candle to NIE's performance. And a portfolio with these three stocks still pays a lower dividend yield than you get with NIE: just 4.5%.
Bigger gains and bigger dividends—how does NIE do it?
The Power of the Pros
The answer lies in the fund's sophisticated investment strategy. While most people stick with a buy-and-hope approach, big investors like NIE's management company, Allianz Global Investors, have a lot more tools in their belt.
With NIE, one of the things Allianz does is buy convertible bonds on top of common stocks in the companies it holds. Convertible bonds are hybrid assets that pay a much higher income stream while also giving bondholders the option to convert their holding from a debt to an equity.
Confused? Don't' worry. Many are—convertible bonds are complicated and difficult to invest in, which is why most people simply don't!
However, NIE's managers are pros, and they can use their expertise and full-time focus on financial markets to invest in the right convertible bonds at the right time. Here, NIE invests in companies whose businesses are slightly more volatile but still boast impressive track records, like Wells Fargo (WFC), Priceline (PCLN) and Micron Technology (MU).
Why does NIE invest in bonds here, instead of stocks? Simple: to diversify the portfolio, provide greater income and cut its risk.
The lower risk stems from the fact that these bonds fluctuate a lot less in value than stocks, so while a company like WFC saw its stock price seesaw enough to give shareholders whiplash during the fake-account scandal last year, the convertible bonds barely budged.
Meanwhile, these bonds all pay nice cash payments to NIE on a regular basis; the fund can then pool that cash together and give it to shareholders.
The Power of Income
We all know how powerful a cash flow can be. Having a reliable source of cash coming in regularly gives you the flexibility to avoid being forced to sell during a market downturn. That's why we rely on paychecks instead of throwing every cent we own into an asset that can be difficult to sell, like a house.
Companies work the same way. They need cash coming in steadily to keep the lights on, pay their workers and make more products. Funds like NIE use a mix of stock and bond investments to harness the power of income to provide superior returns to investors—while also giving them a nice cash flow at the same time.
With a strong past performance and a high income stream, NIE has a lot to offer investors—including the possibility of another 44% gain in the near future.
Get VIP Access to My 11 Top Funds for Yields Up to 9.5%
My CEF Insider service holds 11 off-the-radar picks I see as the very best fund picks right now—poised for fast double-digit gains and throwing off SAFE yields up to 9.5%.
All you have to do is CLICK HERE to road test CEF Insider and get immediate access to this incredible portfolio with no risk and no obligation whatsoever.
That's not all.
Your no-risk trial comes with my latest FREE Special Report, which reveals my 4 "Best Buy" CEFs now.
These "unicorns" boast 7.4% CASH payouts, on average! AND I'm expecting strong dividend growth here, too, so you'll be pocketing 10% or more in short order.
The kicker? Thanks to their ridiculously cheap discounts, they're also on the launchpad for 20%+ price gains in the next 12 months (or sooner)!
Your Special Report, the entire CEF Insider portfolio and all the other benefits of membership are waiting for you now.
But I must warn you: we can only let 500 people take advantage of this offer to try CEF Insider—and 400 have already snapped up trial memberships. With thousands of investors likely reading this now, I expect those remaining spots to go FAST!
Don't wait. CLICK HERE to get instant access to the CEF Insider portfolio and the complete service with no risk whatsoever!