Let's cut through the thousands of market predictions out there and dive into what's really ahead for your dividends in 2020. We'll also discuss two things that should be high on your "must have" list for any dividend stock you buy this year.
In fact, these two easy-to-spot indicators handed one group of investors a 91.6% return, with less volatility than your typical investor saw. I'll show you how they did it shortly. First, let's talk about my outlook for the year ahead.
My 2020 Outlook 
Here's why most market predictions miss the mark: the pundits simply look at what happened in the past year and spit out a forecast based on that.
And let's face it, when you look at what stocks did in 2019, you're very likely to think: "crash ahead!"
2019 Up … 2020 Down?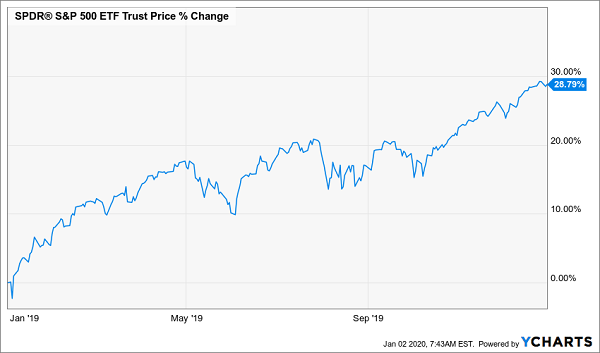 Of course, we always need to be on alert for a pullback. But I'll never take the lazy way out and base anything I do—a stock pick, a forecast, whatever—on one set of numbers, particularly from just one year.
This calls for a deeper "second level" analysis. And this tells us there are good reasons to expect continued gains in 2020. Consider:
2019's rise is mostly a mirage: As my colleague, closed-end fund "professor" Michael Foster wrote yesterday, most of the 2019 gain was a "snap back" from the late-2018 correction. Stocks are up 10% from late September 2018, when that pullback started, close to their historical return.
Strong years often lead to … strong years: According to Dow Jones Market Data quoted in Barron's, in the year following a year in which it returns 20% or more, the market tends to rise 75% of the time. The average gain? 8.9%.
The presidential election: as I wrote on December 10, according to the Stock Trader's Almanac, since 1952, the market has risen 10.1%, on average, during election years when the incumbent is running for a second term. And stocks have only tumbled four times in election years dating back to 1928!
And finally …
The share-buyback trend continues: According to a report from Société Générale, S&P 500 firms will buy $570 billion of their stock in 2020, adding to the 22% of the index's market cap they've repurchased in the last decade.
Here's why that last point matters: buybacks cut the number of shares outstanding, driving per-share measures like earnings per share (EPS) higher. And since stock prices tend to follow EPS, this can spur a rise in the stock. This is why buybacks are the first "must have" we'll look for in 2020.
When you mix them with our other "must have," strong dividend growth, you'll give yourself a better shot at gaining market-beating returns, with less downside risk.
I know this simple two-step works because it's helped power my Hidden Yields dividend-growth service to an 18.8% annualized total return since we launched in September 2015, well ahead of the 14.8% the S&P 500 delivered in that time.
And just a couple weeks ago, we sold one of the stocks we recommended in that very first issue—insurer Assurant (AIZ)—locking in that blockbuster 91.6% return I mentioned earlier.
I mention this now because Assurant is a textbook example of how dividend growth and buybacks can combine to set you up for market-beating returns, a bigger income stream and lower volatility.
Let me show you how we did it—and how these two ingredients can help you find the next Assurant for your own portfolio. (Or better yet, let me do it for you with my 7 very best dividend-growth stocks for 2020, which I'll give you instant access to at the end of this article.)
The first thing that grabbed my attention about AIZ in 2015: buybacks. Management had jumped on AIZ's cheap valuation and repurchased shares, slashing the share count by 37% in the preceding five years, inspiring a stock that rallied 87% in tandem.
Over the five years we held AIZ, management took another 9.2% of its shares off the market, helping fuel our 91.6% total return.
There was more.
Because here's where step 2—dividend growth—came in. I've written before about how a rising dividend acts like a magnet on the share price. And you can see how AIZ's stock tracked its payout upward during our holding period:
Surging Payout Ignites AIZ—and Gives Us Our Exit Cue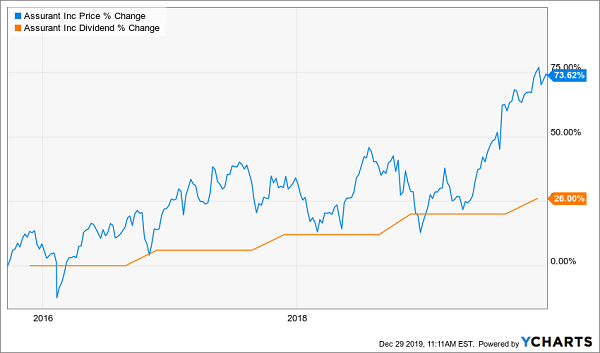 Here's another great thing about dividend growth: it helps you answer the tough question of when to sell, too. As you can see, starting in mid-2019, AIZ started running ahead of its dividend. By December, that gap had gotten extreme. We could no longer count on the payout to keep pulling up the shares.
It was time to head for the exit.
Let me leave you with this: while its dividend rose and its share count shrank, AIZ got less volatile during the time we owned it. As you can see below, the stock's beta rating (a volatility measure: a stock with a beta of 1 is as volatile as the S&P 500; below 1 is less volatile) declined:
A Steady Grower Gets Steadier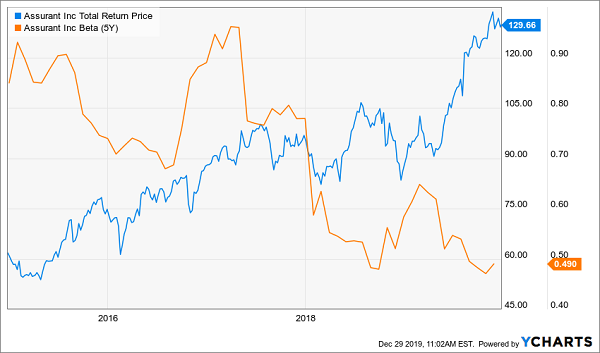 The takeaway here is clear: dividend growers with smart buyback plans are the perfect play for 2020. If the bull keeps running, they'll give you a good chance of outpacing it. And if a correction does hit, they likely won't fall as far as the market—and will likely rebound faster.
My Top 7 "Dividend Doublers" for 2020 (bull or bear)
Look, I'm not going to spend this whole column rehashing past calls—so let's look to your future—and dive into the 7 dividend-growth picks I have for you now.
These 7 stout dividend plays are sitting on cash piles they can't send out the door fast enough! And there are plenty of bargains in this bunch, with share prices badly trailing their surging payouts.
It's only a matter of time before they race to catch up—nicely positioning you for double-digit upside as they do!
As of now, I've got each of these 7 solid dividend growers pegged to return 20% in dividends and gains, year in and year out, on average. That's enough to double your nest egg every four years!
Don't be left behind as other investors grab these 7 stocks and start building their income streams (and account balances!). Discover everything you need to know about all 7 of these "dividend doublers" now: names, tickers, best-buy prices, full dividend histories (and my payout predictions)—literally every bit of research I have.