I want to let you in on a shocking secret about Vanguard: they're great active investors.
That's right. The people almost everyone looks to for low-fee index funds are, in fact, top-flight stock pickers.
Take the actively managed Vanguard Windsor Fund Investor Shares (VWNDX): since inception way back in 1958, it's returned an annualized 11.4%, despite being long only large cap value stocks (and avoiding more volatile small caps entirely).
Compare that to the passive Vanguard Total Stock Market Fund (VTSAX). Despite the index fund's lower fees (which first-level investors love and Vanguard touts as a key to superior returns), VWNDX has crushed VTSAX since the latter's launch in the early 2000s:
Index Investors Get What They Pay For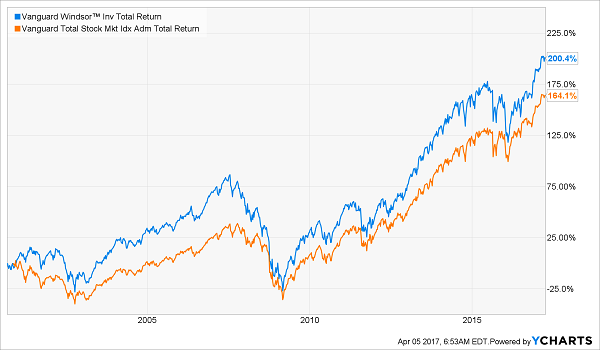 The Vanguard Windsor Fund has been so successful that it spawned a second fund in 1985, the Vanguard Windsor II Fund Investor Shares (VWNFX), which went on to post a 10.7% average annual return.
Vanguard has a lot of these outperforming active funds, such as the recently closed Vanguard PRIMECAP Core Fund (VPCCX) and the Vanguard Morgan Growth Fund (VMRGX), the latter of which has returned 10.3% annually since debuting in 1968.
It turns out, if you're talking about the long term, Vanguard's best funds are actually all actively managed.
But if you just focus on the short run, you could easily miss this fact about the fund giant.
For instance, if you look at the PRIMECAP Core Fund, the Morgan Growth Fund and the Vanguard Total Stock Market Fund, it looks like the index fund beat the Morgan Fund very slightly (although the PRIMECAP fund did clobber it):
How Vanguard's Secret Stays Hidden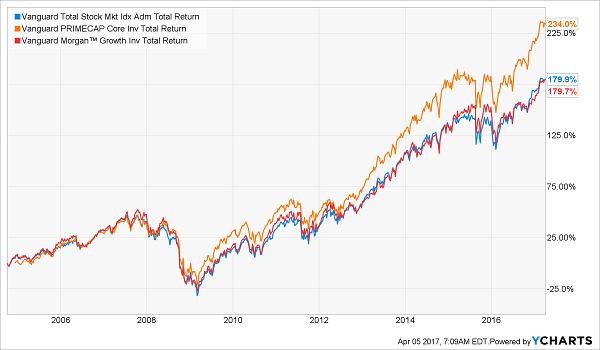 In fact, if you look at an even shorter time horizon, the story gets more puzzling.
There are a ton of passive funds that have been crushing it in recent years, including the Vanguard International High Dividend Yield Index Admiral Shares Fund (VIHAX), which debuted in 2016; the Vanguard Small Cap Value Index Admiral Fund (VSIAX), which was launched in 2011; and the Vanguard Mid Cap Value Index Admiral Fund (VMVAX), which debuted in 2011. These have all returned over 17% annually since inception.
Why is this?
Well, one of the pearls of wisdom from Jack Bogle, the grandfather of passive investing, is that active funds tend to underperform the index over a longer time horizon. Short-term outperformance based on "luck" can make lucky people look like geniuses, says Bogle, but the market will eventually win out.
Could it be that the opposite is true, that passive investing has outperformed active investing in the short term due to luck?
Not really. Because the outperformance we've seen among passive funds since 2009 has nothing to do with luck—and everything to do with the Federal Reserve.
The Fed's quantitative easing programs caused a massive increase in the money supply, and that cash had to go somewhere, so much of it ended up in stocks. Then you had QE in Japan and Europe, adding trillions more dollars to global money supplies. That money also had to go somewhere—and some of it also went into stocks.
This doesn't mean a crash is imminent, although the more paranoid fear mongers out there would like you to think so. What it does mean is that the days when all stocks within an index would rise, regardless of their fundamental value, are over.
In fact, this has already started to happen. Take a look at this chart, starting from the first QE actions in early 2009 until today. The Federal Reserve stopped QE in December 2013 and began raising interest rates in late 2015:
QE Stops, Volatility Starts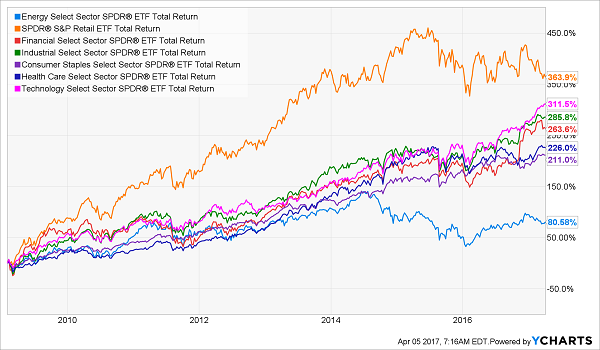 Before the middle of 2014, it was easy to make a killing in the stock market by just being long, well, pretty much anything. Sadly, those days ended in 2014 due to the end of QE. While most sectors continued to go up, they weren't going up as sharply and as steadily as before, while retail and energy were flat or down.
In other words, starting in the middle of 2014, it suddenly got a lot easier for active investors to beat the index—just pull away from energy and financials.
But now we're in a world where QE isn't only over, but we're going to see a lot of interest rate hikes. That underperformance in retail and energy may repeat itself in other sectors, and some stocks within those sectors will significantly underperform their peers as fundamentals become more important than the Fed's latest move.
The bottom line: active investors like us are going to have to get picky. But those who do there are going to be rewarded with much bigger returns. And this is why I'm pounding the table in favor of active investing now.
Which brings me back to Vanguard. The company's active funds are good, but they're just the start, because it doesn't even have the best active funds out there. There are literally hundreds of others boasting far higher dividend yields and much more upside potential.
My 3 favorites are closed-end funds (CEFs) that pay gaudy yields of 8.2% to 10.1% now.
If you haven't heard of CEFs, don't worry. There are only 600 or so of these dividend machines in existence, compared to more than 1,800 ETFs, so many folks have no clue about them.
But CEFs are one of my favorite wealth-building tools for one simple reason: unlike mutual funds and ETFs, CEFs can't issue a single share after their IPO, which means many trade at ridiculous discounts to the value of their holdings. And my 3 favorites now boast absurd markdowns of 10 to 15%.
That's our cue to strike.
Because even if the market takes a tumble, these funds' big discounts mean they'll simply trade flat, and we'll happily pocket their 8.2% to 10.1% payouts. More likely, these 3 funds will soar as their strange discount windows slam shut!
This is precisely why we've made these 3 unsung funds the heart of our "8.0% No-Withdrawal portfolio."
It's a unique collection of investments that draws from many corners of the high-yield universe—CEFs, real estate investment trusts (REITs) and preferred shares among them—to let you quietly collect a $40,000 income stream on every $500,000 you invest.
I'm ready to share the names of all 6 of these "steady Eddies" with you—including our 3 favorite CEFs for double-digit yields and price upside—now. Click here to get our full retirement plan and the names of the 6 cash machines that make it work.