This time last week, we talked about my favorite dividend stock for 2021. The stock yielded 6% as recently as June, but it (deservedly) gained a following among income investors in recent months.
These newcomers bid its price up (again, deservedly). In doing so, its yield shrank below 4%, and I recently found myself apologizing to my Contrarian Income Report subscribers for discussing a stock that paid so little by our admittedly lofty standards.
Well, I'm glad I brought it up to them and to you in these pages last week, because Synovus (SNV) soared 11% over the next three days. If the market always rewarded us this quickly, we might be tempted to overlook dividends. After all, why "settle" for a 4% annual yield when we can bank a fast 11%?
A Dividend-Powered Party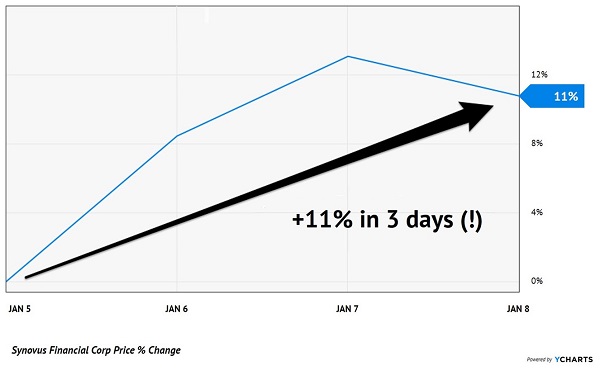 Ditching dividends would be a disastrous mistake, however! The reason this stock is soaring is that it's racing to "catch up" with its payout. Here's the discrepancy that savvy income investors have taken advantage of:
SNV has hiked its dividend by 175% over the past five years, yet
Even when including its recent moonshot action, its stock price has barely moved (+19% over the same time period).
Over the long haul, stock prices are attracted to their dividends like magnets. Sure, they may bounce higher, or lower, but as the years pass, the two always seem to find each other.
We'll return to SNV—and other promising 2021 stocks—in a moment. But first, let's talk about this magnet, because it's "to blame" for most of the gains that successful income investors enjoy.
Take a blue chip like Pfizer (PFE). It's in the news for its vaccine, but PFE was flat last year. The potential shot news didn't move the stock. Its dividend did, and always has. PFE's payout has nearly doubled over the past decade, and as the dividend grows, so does its stock price:
PFE's Dividend Magnet Worked Pre-Vaccine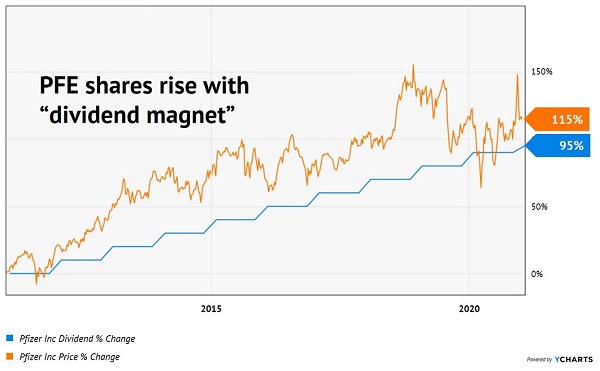 AT&T (T), meanwhile, recently caught flack for freezing its dividend. This came as no surprise to us contrarians. We knew its payout was already frozen.
Through the years, our "beef" with T as an income idea is that the firm only dishes token raises. Let's call it 2% per year, for a dividend that is just 20% higher than it was decades ago. (That's not much. Remember, PFE's is 95% higher.)
A sideways dividend leads to a sideways stock price. Sure, it can bounce higher or lower for a bit, but over time it's moving with the payout. And, in T's case, that's nowhere:
Why T Never Moves Higher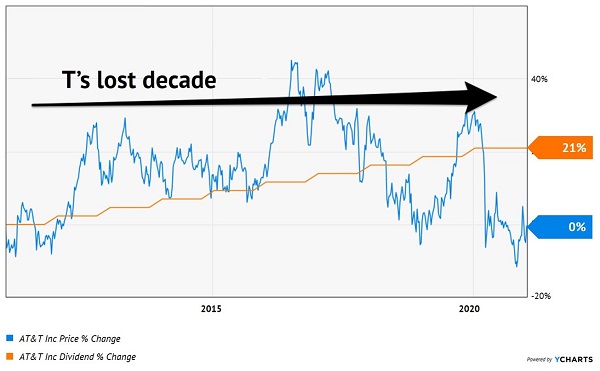 Now let's get back to SNV. This little-known bank is a generous dividend raiser. Over the past decades, it's hiked its payout by an amazing 371%. And it didn't even kick off the payout party until 2014. Its dividend trajectory has put T and even PFE to shame.
Pay attention to the right-side of the chart below. In 2018, SNV's price began to lag behind its payout, and shares only recently began to catch up. This is the key to the stock's recent gains. It's rallied by a remarkable 107% since we added it to the CIR portfolio in April, and really, it was all about the magnet:
SNV Was Due to Soar All Along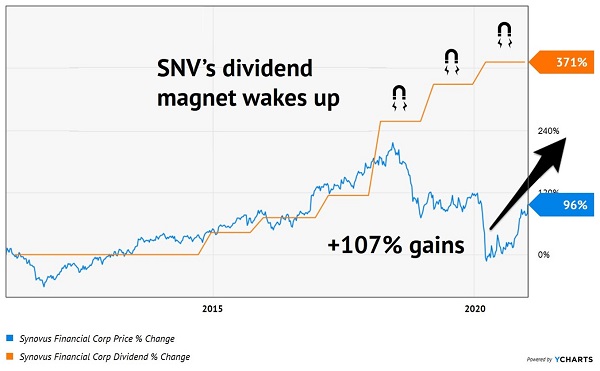 As you can see, the magnet has more work to do. So, for readers who are sitting on these sweet 107% gains, I'm recommending a Hold on SNV. More upside ahead, sure, but the stock has come pretty far, pretty fast lately.
Let's enjoy the ride and consider buying more on a potential pullback. Which, by the way, could come soon if rates on the 10-year Treasury take a breather. Banks borrow short, lend long and make money on the "spread" between the two. The recent rebound in rates has been quite the catalyst for bank shares, but it is important for us to remember that these trends can reverse at any moment, even if only temporarily.
So, what would I buy right now for a shot at 107% gains between today and this December? I'm glad you asked…
I'm wrapping up the research on my best dividend growth idea for 2021 in your January issue of Hidden Yields. It's a brand-new stock that few income investors are watching (like SNV back in April). And like SNV, it's got some serious rally potential.
Actually, check that—according to our records, we don't have your subscription to Hidden Yields as current. Would you like to add it?
If so, I'll be able to send you my latest research—and favorite dividend growth play for 2021—this Friday. I'll also be able to send you (right away!) the rest of my "top 8" for this year. Please click here to learn more.