If I can give you just one piece of advice to start 2023, it's this: do not trust your dividend income to ETFs!
It's one of the biggest mistakes I see people make—especially with the market's gains this year. These first-level players (wrongly!) think that in a rising market, they can buy pretty well anything and be A-OK.
Not so.
In fact, a rising market when you're most likely to buy low-quality investments, puts your portfolio in danger in the next downturn. Just ask anyone who bought crypto or profitless tech in 2021!
And dividend ETFs are at the very top of our list of assets to avoid, not only now but always. This is why we panned the Schwab US Dividend Equity ETF (SCHD) last August. It was just too packed with blue chips whose dividends were growing at a glacial pace.
Today we're going to dive into two other popular dividend ETFs: the Vanguard Dividend Appreciation ETF (VIG) and the ProShares S&P 500 Dividend Aristocrats ETF (NOBL).
This duo are dividend mainstays for many folks because, like SCHD, they focus on large cap US stocks that regularly grow their payouts. Names like Johnson & Johnson (JNJ), PepsiCo (PEP) and 3M (MMM) populate these two funds' portfolios.
Sounds pretty safe, right?
NOBL goes one better—as the name says, it holds the Dividend Aristocrats, the S&P 500 companies that have grown their payouts for 25 years or more. Throw in low fees (just 0.06% for VIG and 0.35% for NOBL) and, well, what's not to like?
Lots, actually.
For one, both of these funds should have a built-in advantage because a growing dividend is the No. 1 driver of share prices. This is why we always target dividends that are not only growing but accelerating in the picks we make at my Hidden Yields advisory. These stocks' "Dividend Magnets" pull their share prices higher over time!
You can see how a surging payout lifted shares of Hidden Yields holding Reliance Steel & Aluminum (RS) over the last decade. In that time, RS's dividend soared 192%. The share price followed, rising 252% and easily outrunning VIG and NOBL. You can see RS's payout pacing its stock higher, point for point, below:
RS's Payout-Powered Price Gain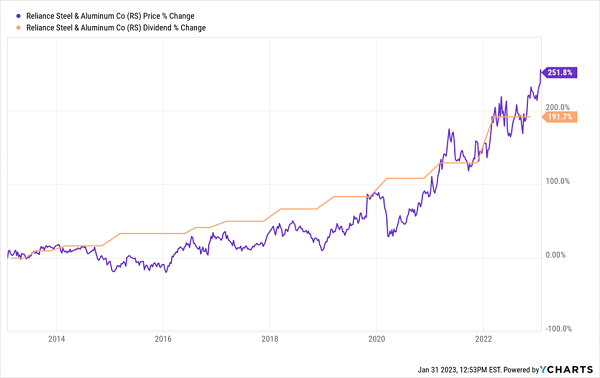 Note also that the company's rising dividend helped grow its share price through the 2022 meltdown. That's because, even in a falling market, it's tough for investors to ignore a 27% dividend hike like the one RS announced in February 2022.
"Dividend-Growth" ETFs' Underpowered Payouts Drag Them Down
But back to our dividend-growth ETFs. Given the emphasis they put on rising payouts, beating the market should be a cinch for them, right?
Wrong. As you can see below, VIG and NOBL lagged the S&P 500—shown in purple by the performance of the SPDR S&P 500 ETF Trust (SPY)—over the last decade, despite their rising payouts. And unlike Reliance, this pair sagged last year, with the rest of the market.
What's the Point of a Dividend ETF Again?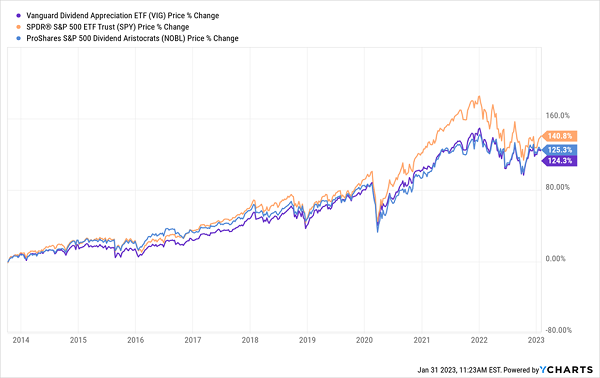 It makes you wonder why you'd bother taking the time to research a dividend ETF—especially when you look at their current yields: both pay around 1.9%, only a bit more than SPY's 1.6%.
Worse, both of these funds (like all ETFs) are locked into an underlying index: NOBL must own all of the Dividend Aristocrats, and VIG is nailed to the S&P US Dividend Growers Index, which aims to mimic the performance of US firms that have raised their payouts annually for at least 10 straight years.
In other words, shackled to indices as they are, neither fund can avoid a dividend disaster like AT&T (T), which we've panned before for its penny-a-year hikes. Then last year it slashed its payout as part of its spinoff of its WarnerMedia business. Its membership in the Aristocrats was revoked soon after.
But the truth is, AT&T had been dragging down NOBL for years—and because the ETF couldn't break with its underlying index, it was powerless to sell!
AT&T Was a Lead Weight on NOBL

This is a major reason why we stay away from dividend ETFs and stick to stocks with accelerating payouts instead. By managing our own portfolios, we can dodge the AT&Ts of the world—and put our money into the Reliances instead.
A VIP Invitation to Buy 2023's Top 5 Dividend Growers—Cheap!
Naturally I'm hoping you'll let Hidden Yields guide you to the best dividend deals on the board in 2023—a year I expect we'll look back on fondly … when we bagged dozens of dividend deals for dimes on the dollar!
Our members have been stockpiling cash as we waited out the market storm. Now we're getting set to deploy that stash, and I want you to join us with a special 60-day trial to Hidden Yields!
Simply click here and I'll give you the chance to download a FREE Special Report revealing my top 5 dividend-growth buys now. When you do, you'll also get to road test Hidden Yields for 60 days—and get instant access to the service's portfolio of fast-growing dividends, too!