When it comes to protecting—and growing—your dividends (and portfolio) in these trying times, there are two sectors you should watch like a hawk: technology and energy.
Both are standouts in this crisis, but in completely different ways. Energy, for example, is a big reason why the second-quarter earnings outlook for the S&P 500 looks so grim:
Take a look at the chart below and you'll see that energy is by far the biggest loser. Along with a few other industries, it offsets other areas where profits are forecast, such as tech, utilities and healthcare—all three of which are also great spots to shop for big dividends now.
It's true that the consumer-discretionary sector is also taking a big hit, as you can see by looking at the Consumer Discretionary Select Sector SPDR ETF (XLY), in orange in the chart below. But XLY is still faring better than the Energy Select Sector SPDR ETF (XLE), in blue:
Energy's 43% Plunge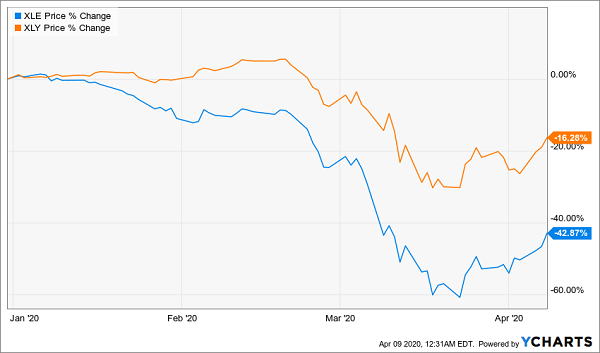 What this chart tells us is that big second-quarter losses are already priced into consumer-discretionary stocks, and the disaster in energy, at least up to now, is priced in, as well. So should the contrarian investor pick both up?
While some discretionary stocks are worth a look—as soon as people get out of their houses, they'll be desperate to enjoy life again—we're still near the beginning of the energy wipeout. Many of these companies will go bankrupt, meaning some of the assets held by XLE and other energy funds will go to zero.
Tech's Little-Known 9.4% Dividend
A better choice? Buying up some of America's leading tech stocks during this pullback.
As I showed you earlier, tech is set to see its profits grow in the second quarter, and the sector is expected to lead all other industries in profit growth for all of 2020, according to FactSet. But the Technology Select Sector SPDR ETF (XLK), in orange below, is still down sharply for the year although it is recovering:
Oversold Tech Stocks Set for Growth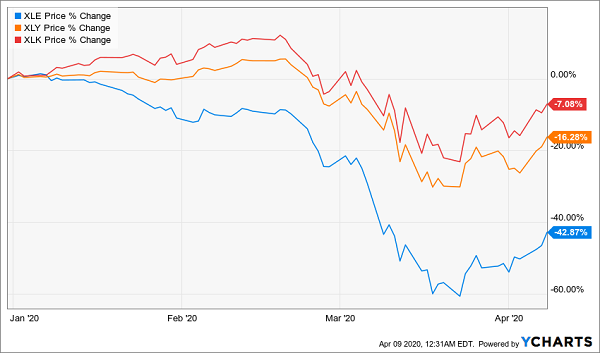 Tech's plunge makes no sense in an age when people are more dependent on phones from Apple (AAPL), e-commerce through companies like Alphabet (GOOG, GOOGL), Amazon.com (AMZN) and PayPal (PYPL), and streaming services from providers like Netflix (NFLX). Many of these companies will also see their costs fall due, in part, to the oil crash, and supply-chain disruptions could mean these tech giants' suppliers will be forced to cut the cost of the goods they sell.
So if you're looking for safety—specifically companies that are likeliest to see strong cash flow and earnings growth—consider tech. For those of us old enough to remember the dot-com crisis, this sounds like madness, but the world has become much more dependent on tech in the last decade, and the market hasn't priced in that dependency during its recent panic.
You can do even better with a fund like the Columbia Seligman Premium Tech Fund (STK), a closed-end fund (CEF) that invests in the tech industry and pays a massive dividend: a 9.4% yield at its current price.
STK not only gets you exposure to Amazon, Google, Netflix, Apple and other tech mainstays, it also gets you those stocks for less than you'd pay if you bought them directly. And you'll grab a nice double-digit income stream, as well.
These 8.4% "Dividend Lifeboats" Are My Top Buys Now
As I just pointed out, now is the time to be buying, not selling, stocks (and especially CEFs). But with the wild volatility we've seen lately, we do have to be extra careful about what we add to our portfolio.
That means dumping perennial losers, like energy stocks, and focusing on businesses poised to soar (and pay healthy dividends!) in the post-crisis world, like tech.
And if we really want to protect our retirement (and grow our income stream), we need to demand a huge slice of our return in safe dividend cash. This is where CEFs like STK, with its huge 9.4% payout, come in.
But as strong as STK is, it isn't among my favorite picks. For those, look to the 4 high-yield funds I'll show you right here. They throw off 8.4% average dividends now, with the highest yield of the bunch clocking in at an outsized 10.3%!
Don't listen to the pundits who say you can't find high, safe dividends in this crisis. Build your income stream (and your nest egg) with the 4 funds I'll share with you now. Click here and I'll give you all the details on these 4 battle-tested 8.4% payers: names, tickers, complete dividend histories and everything else you need to know before you buy.