Exchange-traded funds (ETFs) tend to have low fee structures. And when investors try to combine ETFs with their high yield needs, they usually get what they pay for.
ETFs, simply put, are often "dumb money." Their current yields may look good, but their long-term strategies are usually flawed.
Here are five funds paying up to 8.4% that are too dumb to trust with your retirement money.
iShares International Preferred Stock ETF (IPFF)
Yield: 4.1%
Expenses: 0.55%
International dividend stock funds typically sport similar if not higher yields than their domestic brethren, so you would imagine there would be a similar advantage in foreign preferred stocks.
You would be wrong.
The iShares International Preferred Stock ETF (IPFF) yields a paltry 4.1% right now – lower than almost every domestic preferred-stock ETF. This isn't an outlier, either. The IPFF is a constant under-yielder, delivering less income than the ubiquitous iShares U.S. Preferred Stock ETF (PFF) for most of its publicly traded life.
That's a problem considering preferred stocks rarely deliver much price appreciation; dividends will drive the lion's share of returns. Since inception in November 2011, IPFF has managed to only break even on a total return basis! That makes the PFF's 49% returns since then look almost gaudy by comparison.
iShares' IPFF Is a Loser of Global Proportions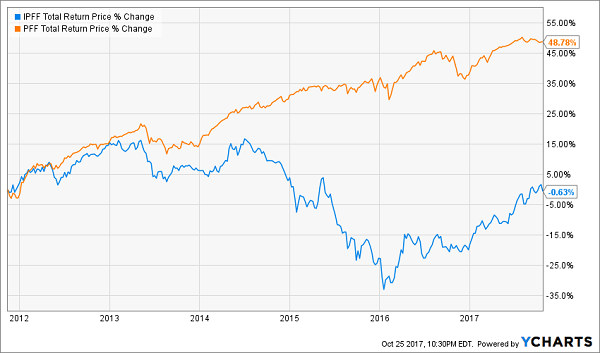 Investors also should know that for all intents and purposes, this is a Canadian preferred-stock fund. Just more than 80% of the ETF's assets are invested in the preferreds of our northern neighbor, and the United Kingdom is the only other significant weighting at 10%. So forget any real international diversification here, either.
Horizons Nasdaq 100 Covered Call ETF (QYLD)
Yield: 7.6%
Expenses: 0.6%
The PowerShares QQQ Trust (QQQ) is a bizarre hybrid ETF that's part broad-index ETF, but because of its nature – it holds 100 of the biggest nonfinancial stocks traded on the Nasdaq – it's also somewhat of a tech fund, with 60% of assets dedicated to the sector. That tech-heavy focus has rewarded investors well over the years, and given the increasing importance of technology in life and commerce, it should continue to thrive.
The Horizons Nasdaq 100 Covered Call ETF (QYLD) is an ETF that holds the Nasdaq-100, but uses a popular hedging technique – selling covered calls – against the index to generate income.
The upside? QYLD can deliver a lot of income; it currently yields 7.6%, and has on occasion yielded in the low double digits.
The downside? QYLD's strategy of selling covered calls provides income and protects against flat and down markets – but also limits upside. It's a nice technique as a short-term trade, but if you believe that American markets will generally trend upward in the long-term, holding QYLD in perpetuity will limit the potential of any money you pour into this fund.
Horizons' QYLD Can Limit Downside … But Also Upside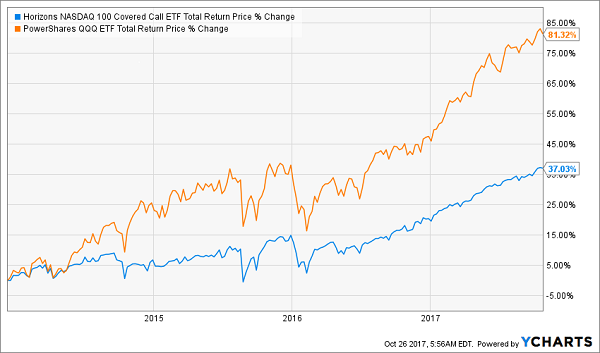 iShares Mortgage Real Estate Capped ETF (REM)
Yield: 8.4%
Expenses: 0.48%
In theory, one of the benefits an ETF provides is keeping one or two bad apples from shredding your returns. If you express bullishness in a sector by owning just one or two stocks, and one of them collapses, you'll suffer devastating losses. But if you own an ETF that holds many stocks, and that same stock collapses, you won't suffer as much because the fund's performance will be propped up by the other components.
The iShares Mortgage Real Estate Capped ETF (REM) essentially the same idea, only in reverse. It's a basket with a lot of bad apples that ruin the upside potential of a few winners. Mortgage real estate investment trusts (mREITs), which invest in mortgage and mortgage-backed securities – are a typically high-yielding equity class, but also a fairly troubled one that's extremely interest-rate-sensitive and prone to dividend cuts when the going gets tough.
Heavy concentrations in stocks such as AGNC Investment Corp. (AGNC) and Annaly Capital Management (NLY) have weighed on this fund in the past, drowning out the positive contributions of a select few. Thus, while many equity ETFs help investors de-risk, REM puts too many losers into your stables.
iShares' REM Is a High-Yield Trap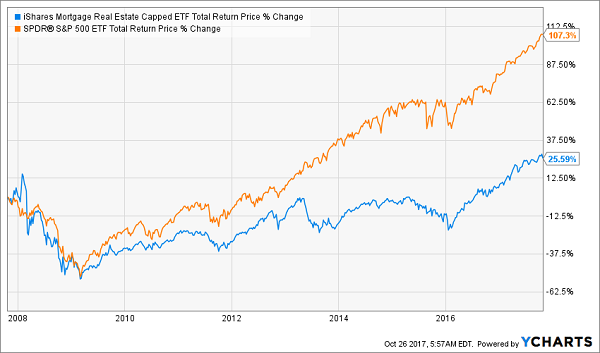 ProShares Ultra VIX Short-Term Futures ETF (UVXY)
Yield: N/A
Expenses: 0.9%
Trying to time the market is typically a losing proposition. Trying to time market volatility doubly so. So figure out the math on your chances of success by trying to get it right while wielding a fund that can produce double the gains … but also double the losses if you guess wrong.
The ProShares Ultra VIX Short-Term Futures ETF (UVXY) is one of a number of funds investors can use to leverage movements in volatility to their advantage. And historically speaking, they are wealth destroyers.
Yes, investors can get rich quick on sudden spikes in market volatility, like what we saw during the 2007-09 financial crisis and bear market. But holding any fund that bets long on volatility has been a long-term loser of epic proportions. This year alone, UVXY is off 90%, and in fact, the ETF has had to execute two reverse splits since Jan. 1 so it wouldn't trade for mere pennies. That's not abnormal – UVXY has had to execute several such reverse splits to keep the fund's price viable thanks to years of stark losses.
Don't play this game. Even Wall Street's greatest professional investors can't consistently time the market, so making a bet on UVXY and similar products is the investing equivalent of playing the lottery. It's a sucker's bet.
ProShares' UVXY: No.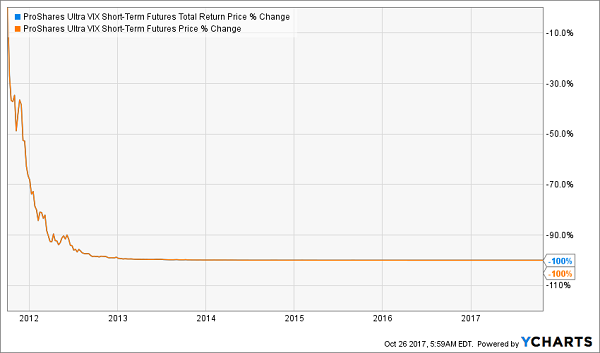 SPDR Gold Shares (GLD)
Yield: N/A
Expenses: 0.4%
Gold funds can indeed perform. In 2017, for instance, the SPDR Gold Shares (GLD) has put up roughly 11% gains – less than the S&P 500's 13% gains, sure, but still a respectable outing. Most investors would be plenty pleased with 11% annual gains.
But as a long-term store of wealth, gold falls flat.
The question is: How do you value gold? The answer is: It's difficult. Campbell Harvey, finance professor at Duke University's Fuqua School of Business, explains to the Wall Street Journal that when looking at a company, "we can look at the fundamentals, the sales, the margins, new investments, debt and dividends, and build a bottom-up valuation." But with gold, "there is not much to work with," he says. And even while analysts' opinions can vary on company fundamentals, "the range of disagreement is (relatively) small. With gold, reasonable people can have sharply different views."
Gold doesn't generate earnings. It doesn't have stores of cash. It doesn't produce regular returns of profits to shareholders. It merely exists, its price fluctuating based on factors such as market volatility, geopolitical worry and the strength of the U.S. dollar.
Again, gold can perform. Consider that the GLD ran up nearly 80% from 2009 through 2011 – not a bad run by any means. But it's a longer-term loser compared to stocks, with the Dow gaining roughly 1,615% in just price performance since January 1915, versus just 173% returns for the yellow metal.
Gold vs. Stocks: It's Not Even Close
Gold Prices – 100 Year Historical Chart


Source: macrotrends.net
Dow Jones – 100 Year Historical Chart


Source: macrotrends.net
And even if you do choose to buy gold as a short-term hedge, you can do better than the GLD. While SPDR's gold fund provides more liquidity and is more useful to institutional traders, the iShares Gold Trust (IAU) is 15 basis points cheaper than the GLD and thus is much more pocketbook-friendly to smaller investors like us.
6 Secure Stocks That Pay 7%+ Dividends
And I'm not suggesting you sell these "problem children" and replace them with commonly held blue chip names either. Sure, their dividends are safe. Problem is, everyone flocks to those safe payouts – and their yields aren't enough to live off.
Even a million bucks in most dividend aristocrats will barely net you a 3% annual yield. That's $30,000 in income annually. On a million dollars.
That's about what your local Starbucks barista is banking!
However, there are nine stocks and funds available today that pay reliable yields of 7% or higher. These issues even have some price upside to boot.
I'm talking about investment vehicles that have market caps between $1 billion and $3 billion. They're plenty liquid enough for you and me, but not for the big institutional investors that hold two-thirds of all shares in public stocks. Combined they make up only a fraction of the stock market's total capitalization – so they don't get much coverage from the financial media.
And that makes these ignored corners of the financial markets ideal places for us to bank secure 7% yields (or better), so that we can actually live off dividend income alone – and pass your friendly barista in earnings! In fact these nine ideal investments can have you thinking about retirement with a little as $500,000 in your portfolio. Click here and I'll share the names, tickers and buy prices of my nine secure 7%+ favorites with you.