Still spinning from Tax Day?
You're not alone: plenty of folks who bagged wins last year are feeling shell-shocked, now that Uncle Sam has walked off with his cut.
Let's face it: it's too late to recoup any of that cash. But you can still take steps to weaken Uncle Sam's grip on from your income stream, before you find yourself in the same boat next year.
And there's an easy way to do it—it actually comes, in a strange way, from the government itself!
"Keep 100% of Your Gains Forever"
I'm talking about municipal bonds, or bonds issued by states, cities and counties to finance roads, bridges and just about any other project you can imagine.
Why muni bonds? For one, they pay a steady dividend that's entirely tax-free for most Americans, meaning you can keep 100% of your gains forever. Second, your muni income won't bump you up into another tax bracket, another win that few folks pay much attention to.
The best way to buy munis is through closed-end funds (CEFs), because CEFs let us buy these bonds at big discounts while enhancing the tax-free dividends they hand us.
With that, let's dive into five cheap muni CEFs throwing off healthy income streams now.
Tax-Free Muni Dividend No. 1
As the name suggests, the Nuveen MI Quality Municipal Income Fund (NUM) focuses on bonds issued by the state of Michigan (or Michigan's counties, cities and other state-level organizations).
NUM is a rare gem in that it has a tremendous track record (it's up 8%, on average, per year over the last decade) and a 4.1% dividend stream. That's way more than the 1.8% you'd get from average S&P 500 stock, and it doesn't even include the effect of NUM's tax-free status!
Amazingly, this one trades at a massive 13.6% discount to NAV as I write, though that deal is fading fast:
Buy NUM Now—or Kick Yourself Later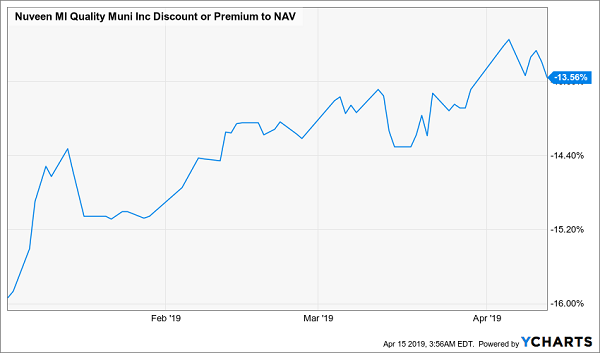 With this narrowing discount, investors are bagging a big profit (for relatively stable investments like munis), with 7.3% total returns for 2019 already.
More gains loom as the tax-weary hordes swoop in over the next few weeks. Beat them to the punch and grab NUM now, while it's still cheap.
Tax-Free Muni Dividend No. 2
Now let's invest beyond Michigan with the DTF Tax-Free Income Fund (DTF). Its multi-state approach means it holds bonds from across the country, with its biggest holding at just 3% of its portfolio. And with a 12.3% discount, it's similarly discounted to NUM.
The yield here is a bit smaller—just 3.2%—which is the price of this diversification. But DTF's track record more than makes up for this: it's returned over 80% in the last decade:
Nice Dividend, Nicer Gain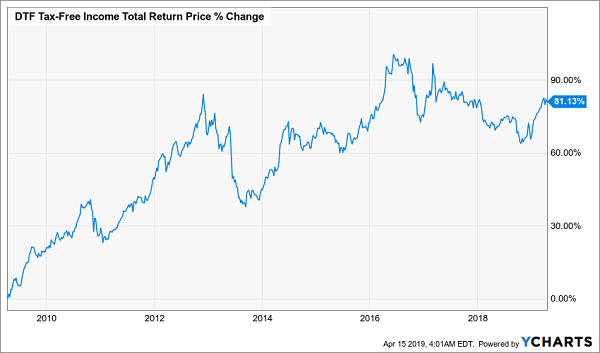 Although not all of those gains came in the form of tax-free dividends, DTF investors are up solidly over the long haul, and they're getting paid tax-free income as their principal grows.
Tax-Free Muni Dividend No. 3
If big income is what you crave, the 4.7% dividend on the Delaware Investments National Municipal Income Fund (VFL) is for you.
Despite the name, VFL doesn't invest in Delaware (that's the name of the company managing the fund); it's a multi-state muni CEF with no more than 2.3% of its assets in any one muni bond. Its 11.5% discount has been gradually slipping, after suddenly widening in February:
Another Sale Ending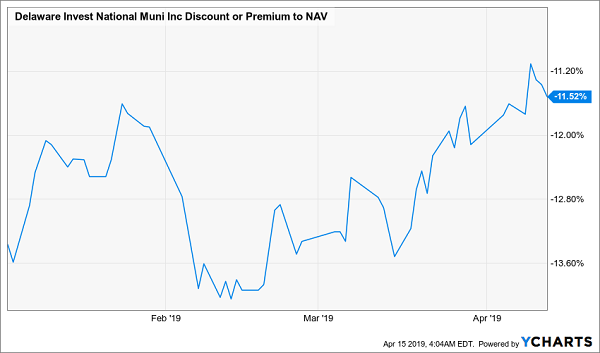 That's all thanks to price gains, as the fund's shares are up 8.4% for 2019—but there's much more to come.
Why? Because VFL's average discount to NAV over the last decade is just 8.5%, and with its income stream stronger than ever, there's little reason for its current 11.5% discount to stick around. Plus, the fund's 6.5% annualized return over the last decade proves it can cover its dividend and hand you some nice gains, as well.
Tax-Free Muni Dividend No. 4
The Western Asset Intermediate Municipal Bond Fund (SBI) boasts a 12.4% discount while handing you a nice 3.8% dividend stream. But its history is what really stands out. This fund goes back to the early 1990s, and its total return has been staggering over that time:
A Solid Long-Term Winner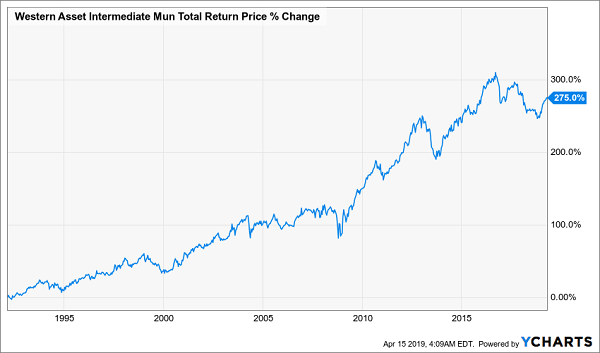 If you want an income stream but you don't want the headache of worrying about when to sell a fund—or if the fund should ever be sold—SBI is a good choice. It has also been outperforming the benchmark iShares National Muni Bond ETF (MUB) since the ETF came out in 2007, indicating that its managers are no slouches:
An Undisputed Muni Champ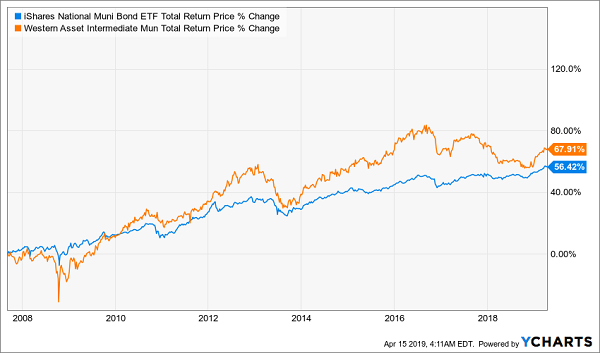 If you need a long-term income stream without tax headaches, take a close look at SBI.
Now let's close out with …
Tax-Free Muni Dividend No. 5
The BlackRock MuniYield CA Quality Fund (MCA) has crushed the market for a long time. Just compare its 10-year return with that of MUB:
Another Muni Standout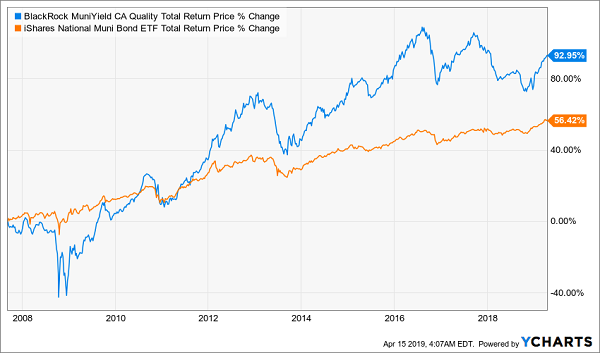 What's more, its 4.6% yield crushes the crummy 2.4% MUB pays out. Such outperformance deserves a premium, but MCA trades at an 12.0% discount to NAV, much lower than its 7% average discount over the last decade. That's a clear indicator that you can grab some upside from MCA if you buy now, in addition to that nice tax-free income stream.
5 More Tax-Smart Dividends Up to 9.8%
These five funds are a great start, but I've got five more throwing off much bigger dividends—up to 9.8%!
These five aren't muni-bond CEFs, so you will have to pay some tax on your dividends. But the upside is that these five funds are all run by managers who have your gains—and your tax bill—at heart. They've structured each fund's income stream to make sure you're paying the lowest amount of tax possible.
Plus, these five powerhouse funds pay dividends that more than double up the highest payer of our muni-bond bunch! I'm talking an 8.3% yield, on average, with three of the funds in this exclusive "five-pack" paying out more than that—massive yields like 8.8%, 9% and even 9.8%.
The kicker? Each of these stout income plays trade at ridiculous discounts NAV, setting us up for fast 20%+ price upside to go along with their huge 8.3%+ dividend payouts.
A "Hidden" 9% Dividend
Take my No. 2 pick now. If you run it through any fund screener, you'll find a payout that's well, pretty disappointing:
Regular Payout Gets Rolled by Inflation!


Source: CEFConnect.com
Funny thing is, this fund pays out a one-time special dividend every year—and when you add this "bonus" payout to this fund's regular dividend, you get a "true" yield of over 9%!
Take a look:
A "Secret" Dividend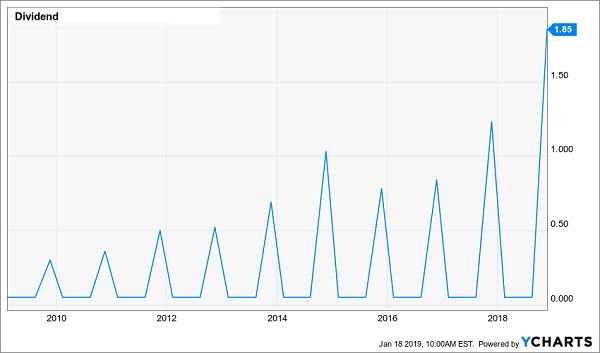 But because most fund screeners don't track the fund's "real" dividend, the herd has no idea it even exists. That lack of knowledge—and this fund's ridiculous 14% discount—perfectly set up our buy window.
And that's not all, because every single year, without fail, this fund's special-dividend announcement takes first-level investors by complete surprise—even though it shouldn't. Check out how the price pops higher with each new "special":
A Profit Pattern You Can Set Your Watch To

The pattern is unmistakable.
I'm ready to give you the name of this incredible 9%-payer now, along with full details on the four other high-yielding CEFs in this exclusive five-fund portfolio (average yield: 8.3%, forecast 12-month price upside: 20%+).
Click here to discover all five of these high-yield funds: names, tickers, buy-under prices and everything you need to know to get in now—and start tapping their huge 8.3% average dividend today.