If you want to retire on dividend income, then you probably need to avoid S&P 500 stocks altogether.
Collectively they yield 1.9% today. This means that a million dollars invested will generate just $19,000 per year. That's "side hustle" money, not an actual full salary.
Another problem with buying popular stocks and "hoping" they appreciate in price? The odds are actually stacked against you thanks to an uneven business playing field. Check out the returns of "safe" S&P 500 stocks year-to-date. Would you like to throw a dart blindfolded at this board?

Source: Contrarian Outlook
If you delved into some of the stocks from this grossly overcrowded index, you …
Had a better-than-50% chance of losing money.
Had a better-than-30% chance of losing at least 10%
Had a roughly 20% chance of gaining, but only around market average or less.
Had a 0.2% chance of actually doubling your money.
Numerous uber-popular growth picks have disappointed wildly, whether it's Alphabet (GOOGL) scraping together low-single-digit gains, Nvidia (NVDA), plunging 17% in 2018 or Facebook (FB) losing a quarter of its value in less than a year.
Momentum giveth, and momentum taketh away just as quick.
Stocks with high, sustainable yields, realistic growth and defensive characteristics might not give you anything to brag about in 2019, but when they help you retire with cash to spare a decade or more from now, you'll have plenty to crow about.
Let me show you a few stocks I think can leg it out not just through 2019, but through 2029 and beyond. These are decidedly under-the-radar picks that you may not have heard of, but they're primed to become popular over time as Wall Street gets wise to their total-return potential.
STORE Capital (STOR)
Dividend Yield: 4.4%
I'll start with a real estate investment trust (REIT) that I highlighted a couple months back when the stock market was busy scraping its knee. That REIT is STORE Capital (STOR), and it was one of a handful of stocks that were printing in green ink when everything else was dripping red.
A quick recap:
"STORE" stands for "single-tenant operational real estate" – in other words, it's a single-tenant commercial REIT. It's a triple-net-lease REIT to boot, which means that tenants aren't just on the hook for rent, but also for taxes, insurance and maintenance costs. The upside for the REIT in this arrangement is that its operational results become a lot more stable and predictable, as they're no longer dealing with the variation in those other costs.
STORE is interesting in part because of its wide tenant list – it spreads out 412 customers in 109 industries across 2,084 properties in 49 states. In fact, its top five tenants only account for 12% of its base rent, which is tiny compared to a lot of its peers. Also, while other commercial REITs such as Realty Income (O) and National Retail Properties (NNN) focus on larger tenants, most of STORE's tenants are smaller in nature; the companies typically generate between $10 million and $1 billion in annual revenues.
I also like STORE's practice of actually buying up properties from many chains, then turns around and rents those facilities back to the selling companies. And naturally, the steady dividend growth since its 2014 IPO.
But the clincher for STORE is the vote of confidence from Warren Buffett and his Berkshire Hathaway (BRK.B) holding company. Buffett became the company's third-biggest shareholder in June 2017 when he spent $377 million on a 9.8% stake in the company – a rare REIT buy for Berkshire, which makes it all the more notable.
Banner Corporation (BANR)
Dividend Yield: 2.7%
Bank stocks typically aren't considered among the juggernauts of dividend stocks, and – thanks in large part to Federal Reserve's careful watch on how the country's financial firms spend their profits – but a couple of more regional banks are indeed true payout performers.
Though they certainly fly under the radar.
Banner Corporation (BANR) – via its wholly owned subsidiary, Banner Bank – is a West Coast financial firm that operates more than 200 locations in its home state of Washington, as well as Oregon, California and Idaho. So it does have some brand power out West, though it's a virtual unknown elsewhere in the country. And as a $2.2 billion "smid-cap" stock, it typically doesn't attract much Wall Street attention.
But Banner packs a one-two punch that makes it worth notice.
For one, the company has been steadily growing for years – its $225.8 million in 2014 revenues have shot up to $463.9 million in 2017, and it's already posted about $370 million in revenues so far this year. It likely will continue expanding as a result of a very recently completed merger. Banner at the start of November finished its acquisition of Washington-based Skagit Bancorp, tacking on $922 million in assets and 12 locations along the I-5 corridor from Seattle to Canada.
The other way Banner is plumping up? The payout. Not only has Banner more than doubled its dividend from 18 cents at the end of 2015 to 38 cents today, but it has paid out a $1 special dividend in 2017 and a 50-cent special dividend this year.
Banner Bank's Dividend Hulks Out

Banner's returns have been surprisingly muted considering its operational results. Expect that to change as more investors become wise to this story … and as it grows into its dividend growth.
Calamos Strategic Total Return Fund (CSQ)
Distribution Rate: 8.2%
The Calamos Strategic Total Return Fund (CSQ) is a closed-end fund, and while it's an oldie – it came to life in March 2004 – it's a goodie.
Even if Wall Street persistently fails to realize it.
Closed-end funds are similar to exchange-traded funds in that they also trade on an exchange. But a few differences that often make them oh-so-much better. For one, they can use leverage to essentially buy more of what they're buying, which when properly done can be used to juice gains and income distributions. They're also actively managed – yes, this makes them cost more than comparable ETFs, which tend to be index-based, but human managers can make use of leverage, as well as pivot more quickly to avoid some dangers that indexes might run into headfirst.
They're typically actively managed, which makes them more expensive, but In fact, I've previously recommended switching out several popular ETFs for higher-yield CEF replacements.
Back to CSQ: Calamos Strategic Total Return is an equity-first CEF that is just more than 60% invested in common stock, with the rest in various debt including corporate bonds and convertibles. At a glance, the stock portion of its portfolio looks like your typical blue-chip mutual fund, with holdings such as Apple (AAPL), JPMorgan Chase (JPM) and Microsoft (MSFT) sitting up top. However, it uses roughly 33% leverage to generate a massive distribution on top of the price appreciation it generates.
And Here's What a CEF Can Do: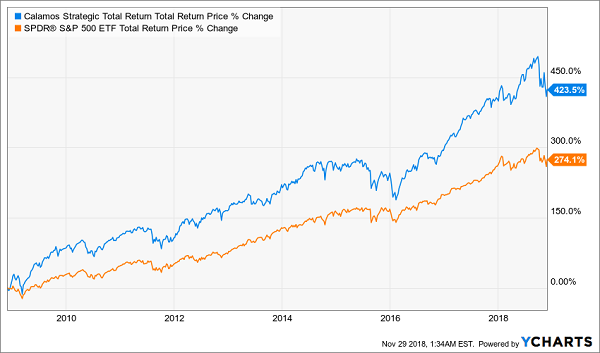 The result is nothing short of astonishing. This little-known CEF has simply "pantsed" the S&P 500 over the long-term. Albeit, there's more volatility because of the leverage, but it's clear that the results haven't garnered the respect they deserve.
That's fine. I don't need an analyst to tell me it's OK to collect nearly 20% annual returns like clockwork.
Earn 28% Returns Every Year From America's Safest Stocks
Calamos hit the nail right on the head: We can have a lot of success by taking blue chips like Alphabet (GOOGL) and Facebook (FB), many of which pay no dividends whatsoever, and finding a way to squeeze giant distributions out of them.
In fact, I've discovered a way to do just that – and generate nearly 30% in annual total returns. This is one of the best income opportunities I've come across in years, and I've already started to put my own personal money to work in it.
Honestly, it sounds crazy on its face. I'm talking about taking some of Wall Street's most growth-oriented blue chips, such as Alphabet and Visa (V), into "double threat" holdings that put traditional dividend payers like Procter & Gamble (PG) and Coca-Cola (KO) to shame. But you and I really can take stocks like Visa (sub-1% dividend) and Alphabet (not a penny in dividends!) and collect both double-digit upsides and 8%-plus dividends out of them.
That's the income-generating genius behind my new discovery: "Dividend Conversion Machines."
These stocks have specialized businesses that allow them to do what other stocks simply can't: They wring high-single-digit dividends from some of the most skinflint companies in America. One of my Dividend Conversion Machines takes Visa's 0.6% payouts and magnifies it to 9.2%. Another one can take Google's 0% and produce a 9.4% yield out of thin air.
And no, this isn't an options strategy, or some dangerous derivative, or the "next Bitcoin." What I'm going to show you is perfectly SAFE – it's essentially the same as buying traditional American blue-chip stocks. In fact, I'll even show you the four steps you'll need right now:
Launch your web browser.
Go to your trading account.
Instead of entering a buy order for, say, Disney by entering the stock's "DIS" symbol, enter the 3-letter code for one of my 4 Dividend Conversion Machines instead.
Instead of getting Disney's 1.6% dividend, start collecting an 8%+ income stream!
That's it!
The incredible investments I'm going to show you in just a second are 100% as safe as investing in "stodgy" blue chips – except you get retirement-enhancing dividends and BIG upside too! In fact, they even have another leg up on traditional blue chips: They pay out their dividends monthly, which is ideal for retirees who need that income to pay their bills – and ideal for investors planning for retirement because those dividends will compound even faster!
Let me show you how to reap 28% in annual returns from miserly blue chips today. Click here and I'll introduce you to these four "Dividend Conversion Machines," including names, tickers, buy prices and full analyses – AND throw in three other income-generating bonus reports – all for absolutely NO COST to you.