It used to be that finding a decent yield in the stock market was easy.
Just seven years ago, all you had to do was buy an ETF in a sector that got income hounds' hearts racing, like the Utilities Select SPDR ETF (XLU) and lock in an easy 4.48% payout:
The "Good Old Days" Are Over for Utility Fans

But do the same today, and you'll get just 3.1% for your trouble, no thanks to the merciless rise in stocks (and shriveling of yields) driven by a decade of near-zero interest rates.
And sure, a 3.1% payout may still sound okay. It is, after all, 63% more than you'd get from your average S&P 500 dividend payer.
But just looking at today's—and yesterday's—yields tells us nothing about how these numbers affect real people. Turn those payouts into dollars and cents and you get a clearer picture—and it's a grim one.
If you'd dropped, say, $500,000 into XLU on June 1, 2010, it would have gotten you 17,799 shares. At 4.48%, that would have translated into a $22,400-a-year income stream. Not bad.
If you held on, you'd be doing even better now, thanks to XLU's dividend hikes: in the last 12 months, the income on your 17,799 shares would have clocked in at $29,867.
But if you were to buy XLU right now, at its 3.1% payout, you'd only get around $15,500 in income on your nest egg.
That's a tough pill to swallow if you're leaning on your retirement account to pay the bills.
And that's not all, because I'm sure I don't have to tell you that stocks in general (and utilities in particular) have risen far faster than the profits backstopping those gains.
Look at what that's done to the trailing-twelve-month price-to-earnings (P/E) ratios on XLU's top three holdings, Duke Energy (DUK), NextEra Energy (NEE) and Dominion Energy (D), which together make up over 25% of the fund's portfolio:
Utilities: Power Failure Ahead?


To put that in context, if Duke were to revert to its June 2010 P/E, its share price would collapse 37%, while NextEra and Dominion would be in for declines of 35% and 16%, respectively.
Where to Find High Yields Now
I'm not saying these drops are going to happen, and I'm not showing you these numbers to scare you. What I am saying is that if we want to build a retirement portfolio that lets us live on dividends alone (more on that in a moment) we need to get creative.
How?
If you've been reading my articles on Contrarian Outlook, you probably know I'm a fan of real estate investment trusts, including the three hotel REITs I recommended on May 6.
I also recommend taking a close look at preferred shares and closed-end funds, two other oft-overlooked corners of the market where high yields abound.
And today I'm going to throw in one more ignored investment (at least in the US): international stocks.
Why?
For one, if you've been shunning global companies, you've missed out on some serious gains this year.
As my colleague Michael Foster pointed out in a May 30 article, global stocks, as measured by the Vanguard FTSE All-World ex-US ETF (VEU) have crushed the S&P 500 since January 1:
America Fades, the World Steps In

Despite its rise, VEU still yields more than SPY: 2.6% to 1.9%. And because the global stock universe is so vast, you can always find reasonably priced companies that will pay you much more than 2.6%.
In fact, today, I've got 3 global stocks (which all trade on the NYSE, mind you) that all boast payouts of 4.8% and up.
The first one is Canadian Imperial Bank of Commerce (CM), our northern neighbor's fifth-largest bank by market cap. CIBC mainly focuses on the Canadian market, but it recently made a big push into the US with its US$4.9-billion purchase of Chicago's PrivateBancorp.
Then we're going to throw in French oil and gas major Total SA (TOT) and Bermuda-based property manager Brookfield Property Partners (BPY), with more than 400 million square feet of commercial space in North America, South America, Europe and the Asia Pacific.
Yield Game Strong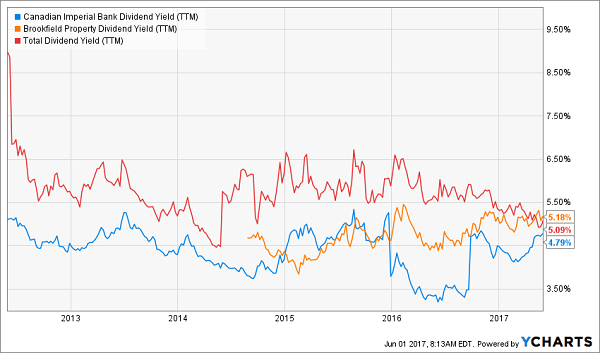 Right away, you can see that our three global all-stars offer high yields—5.0%, on average—with the lowest-paying, Canada's CIBC, yielding more now than our homegrown dividend has-been, the Utilities Select SPDR ETF, paid back in 2010.
Next, let's look at how safe those payouts are, starting with how much of each company's earnings are heading out the door as dividends.
Take These Dividends to the Bank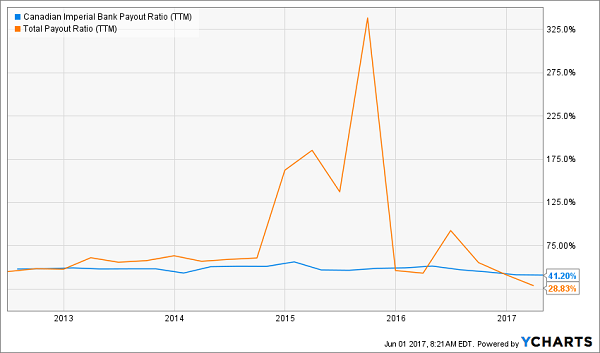 First off, you'll note I left BPY off this chart. That's because funds from operations (FFO), rather than EPS, is a better measure of the partnership's performance and dividend coverage.
And right now, BPY is paying out 81% of its last 12 months of FFO as dividends. That's easily manageable for a company like Brookfield, which gets steady FFO from its properties; as of the end of the first quarter, it enjoyed a 94.7% same-property occupancy rate (excluding buildings opened in the last 12 months) and was signing new leases at average rents 25% higher than those on expiring leases.
The other two stocks, CIBC and Total, are well below the 50% I like to see in a dividend payer, with Total's profits nicely finding their groove post-oil shock, thanks to management's prudent cost cuts and steadier crude prices.
Total's Earnings Rebound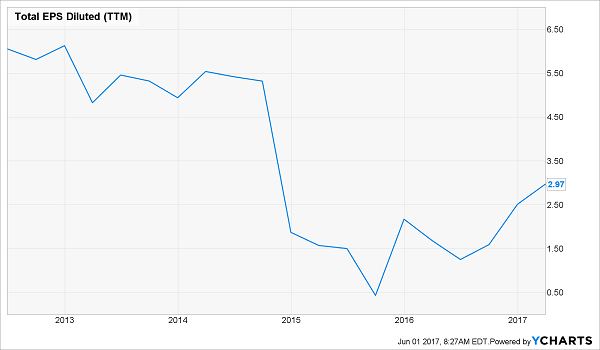 Finally, all three stocks are bargains, with CIBC and Total trading at 8.5 and 17.7 times trailing-twelve-month earnings, respectively, below their five-year averages of 10.4 and 23.1. BPY has only been trading since April 2013—it's a spinoff of Brookfield Asset Management (BAM)—but it's also a great buy at 15.9 times FFO.
Here's How We'll Collect an Easy $40,000 a Year
A 5% average yield is great, but what if I told you I could safely goose that average payout all the way up to 8.0%?
Think about that for a moment.
On $500,000, you'd be pulling in a cool $40,000 a year. In many parts of the country, that's easily enough for you to live on dividends alone—without having to sell a single stock in your golden years.
And if you have more cash saved up—great! On a $700,000 nest egg, my new portfolio, which I'll tell you more about in a moment, will hand you a cool $56,000 (and rising)!
Every. Single. Year.
That's easily enough for most folks to pay their bills and take a nice vacation (maybe two)—all on dividends alone.
Which brings me back to that all-star portfolio I mentioned a second ago. It's built on 6 of the absolute best preferred stocks, REITs and CEFs out there.
And if you're still a little leery of global investing, this portfolio is for you: all 6 of these income wonders are right here in the U.S. of A, so you won't have to worry about skimpy research, translating languages or any of the other headaches you could run into with foreign stocks.
I'm ready to take you inside this no-stress retirement portfolio now. Click here and I'll show you the 6 bargain investments inside it and give you their names, tickers, buy-under prices and much more.