Investors tend to gravitate toward low-dollar stocks for multiple reasons, but they're not usually known for offering high dividend yields. That's why I look for companies trading under $10 that offer attractive "starter dividends."
The current yield might not stand out in these cases, but that's often because the underlying stock has been a steady gainer. If management is growing the business and rewarding investors with a relatively new dividend, these stealth names can quickly build wealth both through higher prices and a growing payout.
Starter Dividend Under $10 No. 1: Recurring Revenue Offers Much-Needed Security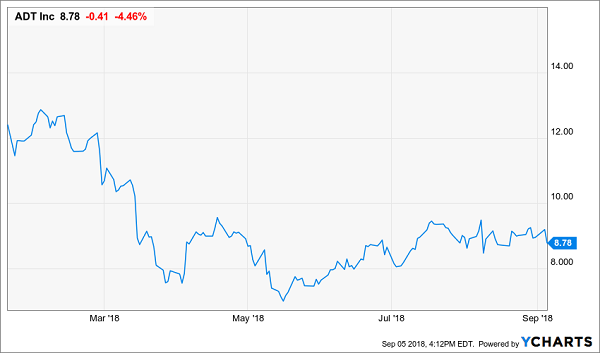 ADT (ADT) offers security monitoring services and was taken public in January at $14, by the private- equity firm Apollo.
The company has a recognizable brand and about 30% of the residential security market, but has posted inconsistent quarterly results since the IPO and faces potential competition from emerging technologies, such as video doorbells.
ADT shares have stumbled out of the gate following the IPO and now reside in the single-digits. Investors were hit with another jab earlier this week, when it was announced that chief executive officer (CEO) Tim Whall is being replaced.
Whall is being replaced by chief operating officer, Jim DeVries. DeVries is an experienced executive that has Apollo's backing and will likely continue to expand ADT's presence with commercial customers (15% of total revenue). The company generates higher margins and sees lower customer turnover with commercial accounts and has acquired two firms in this space since the IPO.
Most of the time, a change at the helm would spook investors when a stock has already dipped under $10. However, in this case, ADT is a business that is seeing lower customer attrition rates and accelerating free cash flow since going public.
The company initiated a quarterly dividend of $0.035 a share (1.6% yield) in March, representing 16% of expected 2018 earnings of $0.87—which is the definition of a starter dividend. ADT has an attractive subscription business model with about 90% recurring monthly revenue that is capable of consistently growing its starter dividend over time.
Starter Dividend Under $10 No. 2: Old Brokerage, New Dividend Growth Streak

Ladenburg Thalmann Financial Services (LTS) has been in the brokerage business for more than 130 years, but only started paying a dividend back in 2017. Management boosted the quarterly payout 25% in August to $0.0125 a share (1.5% yield), augmenting 38% gain in the underlying stock over the past year.
The higher payout is a result of growth in the core business, which saw 15% year-over-year revenue and 95% adjusted EBITDA growth in the most recent quarter. Ladenburg Thalmann has a network of over 4,000 independent financial advisors and is accumulating customer assets at a record pace.
Like ADT, recurring revenue is an important theme for Ladenburg Thalmann About 80% of the company's sales are recurring in nature, stemming from advisory and brokerage services, supporting the idea that management can continue to increase future dividends as the business grows.
Management also sees value in Ladenburg Thalmann, having bought back nearly 500,000 shares in the latest quarter. The company is authorized to repurchase up to 7.4 million shares over time.
From Starter Dividends to Major League Dividend Growers
These starter dividends have attractive upside potential, but still represent the Minor Leagues of income investing. Stocks Under $10 are more volatile by nature and there's no telling if or when these two stocks will ever get called up to the Big Show.
But what if there were a group of stocks that were already suited for the Major Leagues, only flying under the market's radar screen?
It may sound too good to be true, because growth investors and income investors don't usually see eye to eye. Income seekers want the security of 5%-plus annual dividend yields, while growth hounds think that cash should be reinvested back into the business– because a solid earnings report can send a stock up more than 5% in one day.
We're here to tell you it's possible to have the best of both investing worlds, and my colleague Brett Owens can show you how, with his simple (and safe) way to earn 12% a year from stocks with "hidden yields".
At that rate, your money will double every six years, plus you can triple the retirement income that most dividend aristocrats or "safe" fixed income investments currently offer.
How do we accomplish this? Brett has discovered a key relationship between dividends and price gains that allow investors to find both growth and income in "hidden yields".
Companies that consistently grow their dividends over time tend to outperform. The trick is the best dividend stocks almost never show high yields, because stock gains tends to track the size of dividend increases. If a company increases its dividend by 10% and the higher yield brings new buyers in, it often will send the price up and the yield back down toward where it started.
The hard part is finding the right investments to begin with and Brett has created a list of 7 stocks that offer such "hidden yields." These companies provide a solid dividend today, with the potential to keep growing that payout over the next several years. It's easy to fixate on a stock's dividend history or its current yield, but the real value lies in how much that payout can grow in the future.
What starts out as a 2%, 3% or 4% yield today grows each time a company raises its dividends. You could easily end up earning 10% or even 20% a year just from rising dividends … because your original amount of invested money never changes!
Click here and we'll show you Brett's simple three-step process how to earn 12% every year with these 7 "hidden yields" stocks.