It's one of the biggest worries I hear from investors who hold bonds: what's going to happen to my portfolio when the Federal Reserve raises interest rates?
My short answer is always the same: don't worry—it's not as big of a deal as you think.
That's true for many bond funds out there—but there are some that are still ticking time bombs because they're poorly managed. The worst offenders are the ones that aren't managed at all—the "dumb" funds that blindly track the index and keep a ton of bonds from near-bankrupt companies alongside much better issues.
Funds like the iShares iBoxx High Yield Corporate Bond ETF (JNK) and the SPDR Bloomberg Barclays High Yield Bond ETF (HYG) are the worst offenders here. That's why both are leagues behind the MFS Intermediate High Income Fund (CIF), which I flagged as a solid pick for retirement income in May:
"Dumb" Funds Trail Smart Management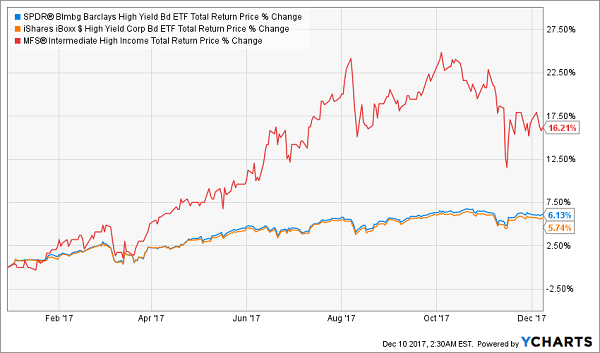 CIF is still performing well—in fact, I spotlighted this fund again less than a month ago—and that's because I know it's well positioned for rising rates.
Why? One simple reason: the market's confused.
I can't say this strongly enough. The market is really worried about rising interest rates, but this is actually a minor issue when it comes to future bond returns.
With high-yield bonds like these, the real number to watch is the bankruptcy rate. And that number is getting better—the number of US companies going bust has about halved since 2015, and most credit agencies expect fewer bankruptcies in the next three years.
Fewer bankruptcies mean more companies are paying their bills, which is extremely good for the high-yield bonds these funds hold.
Another big concern is duration. Bonds aren't like stocks; they're issued for a fixed term, and when they expire, they're gone. When interest rates go up, shorter-duration bonds rise in value. That's why a fund like CIF is a pretty good buy at times like these; its average duration is less than five years, which is short enough for it to survive the increase in interest rates we're seeing in the future.
But it's not the best bond fund for higher interest rates. For that, you want a fund like the Prudential Short-Duration High Yield Fund (ISD), which pays a whopping 7.9% dividend and has average duration of just 1.6 years.
If you build a bond portfolio of ISD and CIF, you'll end up with a nice combined 9.3% dividend yield, thanks to CIF's amazing 10.6% payout. Beyond the income, though, you'll be buying at a great time.
Throughout most of 2017, we've seen incredibly irrational changes to how these funds are priced. Remember that closed-end funds (CEFs) don't trade at their net asset value (NAV), or the combined market value of their portfolio. Mutual funds and ETFs do. And since ISD and CIF are both CEFs, both have been trading at prices far off their actual value.
In the case of ISD, we've seen the discount to its real NAV fall and fall and fall—which is why I first got bullish on this fund at the end of October, when its discount widened to 10%. It's stabilized since then, which means your opportunity to buy at a bargain is still there:
Fire Sale Still On

In the case of CIF, I was first bullish on this fund way back in May, when its absurdly low discount was first starting to disappear. I held off on bringing it to your attention until most recently, when the discount came back:
The Discount Returns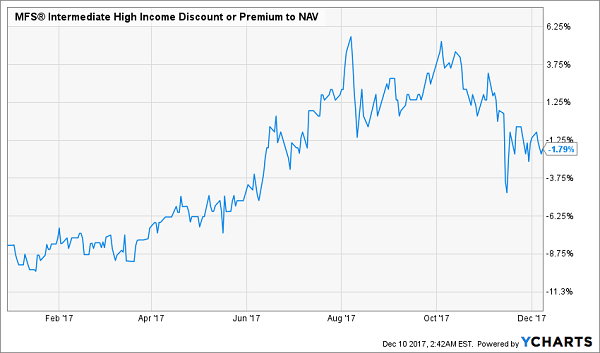 CIF actually traded at a premium to its NAV for much of 2017, a rarity in the CEF world, and something I tend to avoid. But now its discount is back—and so is the buying opportunity, although the fund might see an even bigger discount before year-end. Staggering into CIF may be the way to go.
But CIF is definitely a fund for holding over the long term. Look at how it's performed since JNK and HYG came on the market:
CIF Crushes the Competition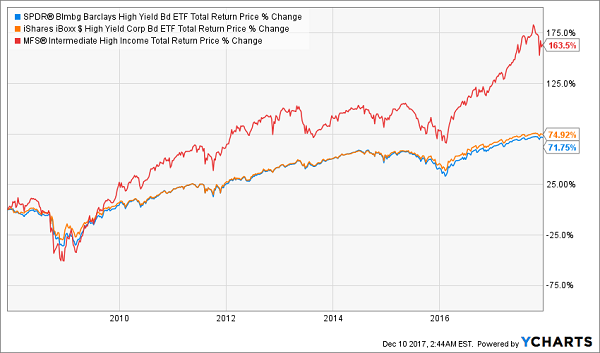 Oh, and if you're worried about how this fund performs when interest rates go up, don't be. Look at how CIF did when the Fed increased rates by over 500% in the mid-2000s:
CIF Does Well With Higher Rates

Want to sleep well at night when the Fed hikes rates? Then CIF might be worth taking a closer look at, especially if end-of-year weakness makes its discount get even bigger.
4 "Hidden" Buys for Safe Yields Up to 17%
One of my favorite CEFs just did something you see all the time in CEF land but hardly ever hear about. It rewarded its shareholders with a huge year-end special dividend … straight out of the blue.
And when I say "huge," I mean it—this fund's $1.35-a-share "special" payout is 10% of its $13.43 share price! So subscribers to my CEF Insider service, who've been holding this overlooked fund since April 2017, are pocketing a mammoth 10% yield from this one-time payout alone.
But that's just the beginning, because this often-ignored fund already packs a 7.0% yield through its "regular" payout. AND it pays dividends monthly, to boot!
Add it all up, and this CEF yields a breathtaking 17.1% now, including its regular and "special" payouts.
Funny thing is, most investors have no idea! Look up this fund on a CEF screener like CEFConnect, and you'll only see its "regular" 7.0% yield.
Special Dividends Don't Show Up on Popular Screeners



Source: CEFConnect
Let's Grab the Next 17% Yielder Today
I'm ready to reveal the name of this cash machine and take you inside my 3 other favorite CEFs now—all of which have histories of paying huge special dividends like this. PLUS these 4 dynamic funds yield 8%, on average, today (and one pays a safe 10.4%!), even if they don't hand us any of these one-time payouts at all.
Don't miss out. CLICK HERE and I'll share the names, ticker symbols and my complete research on all 4 of these must-buy CEFs now.