Fed Chair Jay Powell's overheating money printer has been great for our portfolios—it's sending our dividend stocks through the roof! But where the heck do we invest new-found gains for further payouts?
I know I don't have to tell you that this inflated market has clobbered dividend yields (as yields move in opposition to prices), but there are still bargain-priced dividend payers out there, some throwing off recession-proof payouts yielding over 6%!
Last week, we talked about one "Fed-fueled" corner of the market—energy stocks like ExxonMobil (XOM), payer of a gaudy 6% payout itself. It'll thrive as inflation climbs, driving up oil prices. Oil (and Exxon's profits) will get an assist from rebounding demand, which is squeezing producers, who are racing to reopen the wells they shuttered during last year's lockdowns.
Now let's delve into two other Fed-driven stock investments. One gives you a 6.1% dividend at a nice discount. The other one starts you off with a decent 3.7% payout, but thanks to its incredible dividend growth, you could easily see the yield on your original buy pop to 9% or more over the coming decade!
Fed-Fueled Play No. 1: An Unloved CEF With a Monthly 6.1% Dividend
As income investors first and foremost, members of my Contrarian Income Report service and I love CEFs, for one main reason: huge payouts! The typical CEF yields just over 6%, and plenty pay more.
And these days, "covered-call" CEFs are particularly intriguing dividend plays. They hold the same stocks as you'd find in any index fund, but with a twist: they sell call options on their portfolios, which generates extra income (thereby fueling our dividends) and naturally reduces the fund's volatility, as it generates more of its overall return in cash.
(Call options let an investor buy the fund's holdings at a fixed date in the future, at a fixed price. They pay the fund a cash "premium" for this right.)
Covered-call funds' higher cash returns make them a go-to in a stormy market. But when markets grind higher, as they are these days, we can often find ourselves an out-of-favor covered-call fund trading at a nice discount, and with a healthy dividend, too.
Consider the BlackRock Enhanced Global Dividend Trust (BOE), which holds top US blue chips like Microsoft (MSFT), Texas Instruments (TXN), UnitedHealth Group (UNH) and Visa (V). About 60% of the portfolio is in the US.
That sets you up with some nice "one-click" global diversification while also handing you a healthy dividend: BOE yields 6.1%, pays monthly, and its payout rolled straight through the 2020 nightmare.
The kicker is that we can buy BOE at a 7% discount to net asset value (NAV). That's CEF-speak for saying that the fund trades at 7% below what the stocks in its portfolio are worth. That makes BOE a nice hold for income and a bit less volatility than you'd get from an S&P 500 index fund.
Fed-Fueled Play No. 2: A Regional Bank With "Spring-Loaded" Dividend
Banks live by the "yield curve," or the difference between the federal funds rate (at which banks lend to each other) and the yield on the 10-year Treasury (which governs the rates at which banks lend to you and me).
The 10-year rate has recently corrected, which has weighed on banks' share prices—and set up our opening. If this rate reverses and heads higher, as I anticipate it will, it will be an additional catalyst for bank profits, share prices and dividend growth.
Washout in the 10-Year Rate Opens Our Buy Window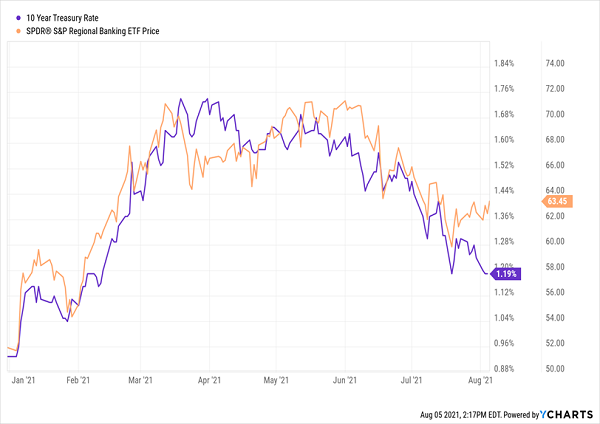 You can see the correlation between the 10-year Treasury rate and regional banks pretty clearly in this chart, which uses the SPDR S&P Regional Banking ETF (KRE) to represent shares of smaller banks.
And smaller lenders are the best place to hunt for undervalued dividend payers (and growers) in the financial space. Consider KeyCorp. (KEY), whose roughly 1,000 branches are mainly in Ohio and New York. It starts us off with a nice 3.7% yield, plus a payout that's surged an incredible 517% in the last decade:
KeyCorp's Payout Explodes

The numbers behind that dividend growth are staggering: if you bought KeyCorp 10 years ago, you'd be yielding 9.4% on your buy now!
And with the bank's payout occupying just 35% of net income, it's got plenty of room for further growth, and that's before accounting for any rise in its loan income due to an increase in rates.
Finally, there's the valuation: KEY trades just a hair above book value (1.18-times, to be exact), or what its physical assets would be worth if they were sold off. That means we're getting KeyCorp's banking business for next to nothing. The historically low P/E ratio of 8.5 is further proof of the stock's value.
Even More "Fed-Fueled" Dividends (Yielding 7% and Paying Monthly)
These aren't the only dividend deals I've scouted out for you. Far from it! My "7% Fed-Fueled Portfolio" gives you an entire collection of stocks and funds that do just what the name says: pay you rich 7% dividends—and send you those payouts every single month!
The whole collection is waiting for you now, and I don't want you to miss the opportunity to buy in before this helium-powered market pulls the prices of these life-changing dividend plays away from you.
Go here and I'll share everything you need to know, including names, tickers, dividend yields best buy prices of each of these cash-rich monthly payers.