There's a way you can buy into today's healthy real estate market without paying full price. In fact, you can get in for a lot less—I'm talking 16% below market value.
This may sound impossible, but it's easy to do with closed-end funds (CEFs). That's because there's a CEF that invests only in real estate, and its market price is actually 16% lower than the value of its portfolio of assets. There's much more to this fund, too. Not only does it hold a diversified real estate portfolio, but it also pays out a 5.9% dividend that's risen 73% in the last decade. 
Let me introduce you to RMR Real Estate Income Fund (RIF) and explain why it's worth considering now.
The REIT Angle
RIF, like many real estate-focused CEFs, invests in real estate investment trusts (REITs). You can think of REITs as a kind of pass-through investment: these landlords collect funds from investors, hire real-estate experts to buy, rent and sell properties with those funds, then pass 90% (or more) of the rents they collect to us as dividends. And if the REIT's real estate portfolio appreciates, we get our big rent-driven income streams, plus capital gains, too.
REITs can also help you diversify your own personal real estate holdings beyond your own house and, say, a rental property. That's because they have hundreds of properties rented to different tenants. A fund like RIF will diversify even further by buying many different REITs, resulting in a portfolio of hundreds (and potentially thousands) of offices, houses, apartments, self-storage units, hospitals and other kinds of buildings.
What's more, RIF (in blue below) has crushed the S&P 500—in orange, and represented by the SPDR S&P 500 ETF (SPY)—for years, thanks to its 16% discount to net asset value (NAV, or the value of the REITs in its portfolio), which has narrowed somewhat over time.
RIF Outruns Stocks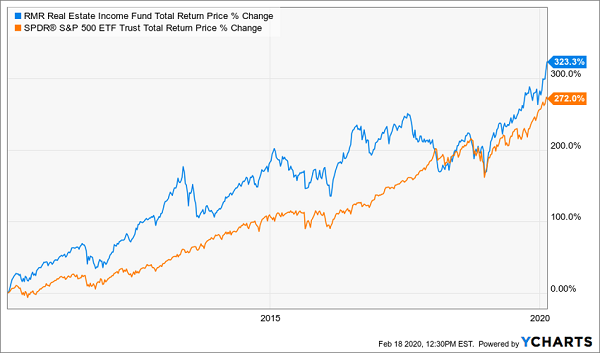 REITs are great on their own for the market-busting profits, but the REIT business model is tailor made for a CEF, thanks to the income angle.
With their focus on maximizing income to shareholders, REITs are an ideal way for a fund manager to get a lot of income. The manager can simply buy shares in a lot of REITs, group them together, manage the portfolio and hand that income to shareholders. That's how RIF can sustain a 5.9% dividend and increase its payouts over the long haul—at a time when safe, high payouts are increasingly tough to come by.
To put RIF's income and share-price growth in dollars and cents, if you put $100,000 in RIF a decade ago, you'd be sitting on $51,300 more than an investor who chose SPY.
Not only is RIF making investors richer a lot faster than the index fund, but it's also giving them a bigger income stream while their investment grows. Put $100,000 in RIF today and your dividend comes out to $1,475 paid quarterly, or $492 if you calculate your quarterly payout by the month. Put that same amount in SPY and your payout (again, paid quarterly) equals just $139 per month.
Here's the best part: RIF isn't even the best real estate CEF out there! There are plenty more worth looking at. Some even pay dividends of 7% and up.
4 Cheap CEFs to Buy Now (20% Upside and 8.4% Dividends Ahead)
Let's talk a bit more about that 16% discount to NAV that RIF is sporting. Buying a fund at a price like that often pays off, because a CEF's discount is proven to slingshot its market price higher as it narrows, handing us a big gain on top of our outsized dividend payout.
The trouble with RIF is that its discount rarely wanders north of 12%, so, even though the fund's portfolio does a decent job of delivering upside on its own, we rarely get that thrilling surge that only a narrowing discount can give us:
RIF's Discount Rarely Ignites the Fund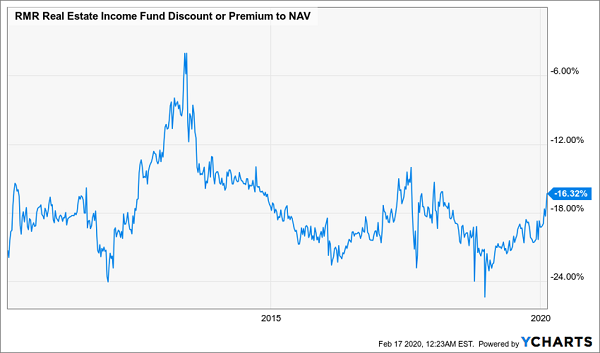 Truth is, the power of a vanishing discount is a force to be reckoned with in the investment world. To show you what I mean, look at what happened with another REIT-focused CEF, the Cohen & Steers Quality Income Realty Fund (RQI). In late December 2018, it traded at a ridiculous—and totally unusual—13% discount to NAV.
Fast-forward just eight months, and that discount had shrunk to just 1%:
Discount Slams Shut …


Source CEF Connect
And RQI—a "conservative" income play, remember—had exploded for a 49% total return!
… And a "Boring" Income Fund Skyrockets

RQI isn't nearly as good of a deal today, but that's no problem, because I've lined up the next 4 CEFs ready to ride their massive discounts to big gains. In fact, these discounts are so ludicrous that I'm calling for 20%+ price increases in the next 12 months, on average, for these 4 funds!
The best part? All 4 of these funds yield an incredible 8.4%, on average, now. So we're already beating the market's historical average return in dividends alone—without even counting the 20%+ price upside we're lined up for!
I'm ready to give you the full story on these 4 elite funds, as well as my complete strategy for how to spot ridiculous CEF discounts—and ride them to big gains—yourself. Click here and I'll share the whole plan and give you the names and tickers of my 4 favorite deep-discounted CEFs (with 8.4%+ dividends) to buy now!