There's a scary-sounding catchphrase making the rounds these days—and it's tricking folks into missing out on big dividends (I'm talking yields of 8.6%+) and upside.
The catchphrase: "earnings recession."
You might have heard these two words. If you take them at face value, you could easily take them to mean that it's time to hold off on stocks, particularly with the market hitting all-time highs on the regular.
That would be a mistake, because now is the time for us contrarians to buy—particularly high-yield closed-end funds (CEFs) like the 8.6% yielder I'll show you below. It holds many of the top S&P 500 names you know well, like Apple (AAPL), Alphabet (GOOGL) and Amazon.com (AMZN).
Before we get to that, we need to talk about this "earnings recession" and why it has many investors tied up in knots.
"Earnings Recession" = Serious Buying Opportunity
An "earnings recession" simply refers to two straight quarters of declining year-over-year corporate profits.
And that's exactly what we're in line for.
In the first quarter of 2019, profits pulled back by 0.4%, marking the first decline since 2016. And while it's early days for second-quarter reporting, earnings have so far declined 1.9%, resulting in profit margins of 11.3%, on average, for S&P 500 companies: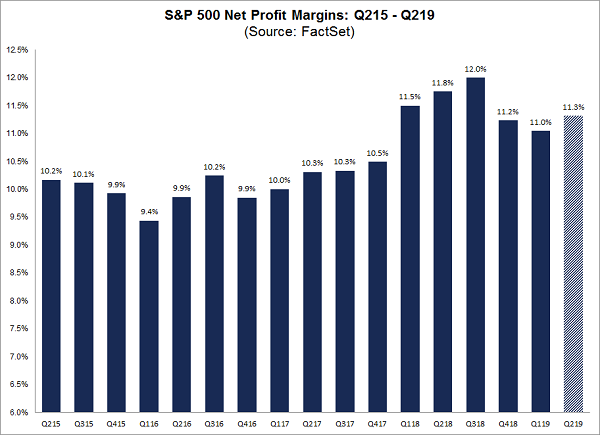 I know what you're thinking: "Michael, how can any of this point to a buying opportunity?"
Stick with me. I'll get there in just a second.
If the Q2 trend holds, we'll get that earnings recession, which as I mentioned off the top, sounds scary, but this first-level catchphrase misses the point.
That's because it ignores revenue—the lifeblood of any company and the clearest indicator of corporate strength we have. Higher revenue means more demand for goods and services, while many different things can affect earnings.
The key takeaway? If earnings and revenue are going down, it's time to worry. But revenues were up in Q1, and so far they're up 3.8% in Q2, easily beating inflation.
In other words, people are buying more stuff, but companies are making less of a profit on those sales.
Funny as it may sound, this is actually good news for us, particularly because stagnating profit margins are mostly about one thing: labor costs.
Several companies reporting in Q2 have said bigger salaries paid to workers are cutting their margins. This isn't surprising; many companies said the same thing in Q1, and evidence from the Federal Reserve indicates that wage growth is accelerating:
Wages Are Soaring


Source: Federal Reserve
Bigger wages mean consumers can buy more stuff, so this is ultimately good for the economy and good for those companies that can keep their revenues growing and cut costs elsewhere to make up for higher labor costs (or better yet, be in a business where labor costs are a smaller portion of their total expenditures, which is where I'm going with the fund I'll show you in just a few more seconds).
The news gets better.
Usually, higher wages come with higher consumer prices, because people have more money to buy more stuff, which drives up prices. That isn't happening now—in fact, inflation is slowing.
Wages Up Big, Prices Stay Low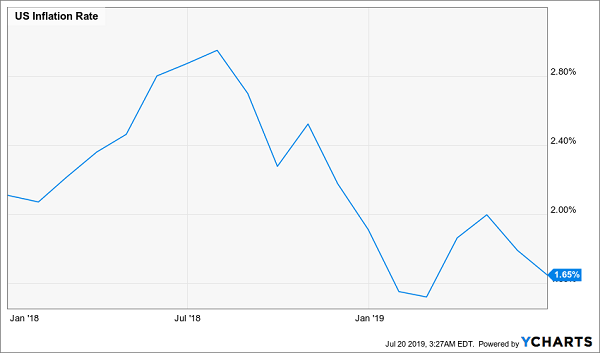 With weak inflation and accelerating salary gains, Americans and the American economy are getting to have their cake and eat it, too—which is yet again good for companies.
And that's why this "earnings recession" is a time to be bullish.
Betting Against the "Smart Money"
Even though a deep dive into the economy suggests you should be buying stocks, professional money managers are more cautious. According to a survey from Bank of America (BAC), a record number of fund managers are hedging against a decline in stocks:
The Pros Are Worried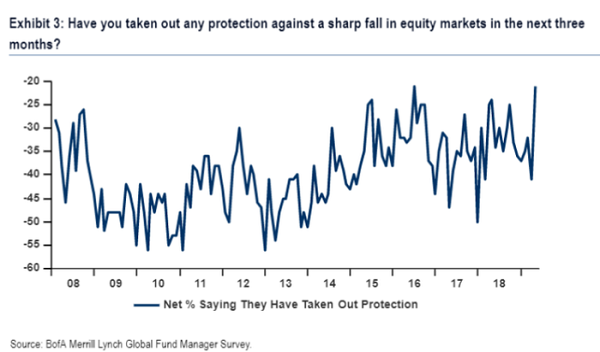 And they're hedging for one reason: they expect profits to go down.
Here's where you need to take the contrarian view.
Because everyone already has low expectations, there's a greater chance of a surprise to the upside than to the downside. So long as the pros are worried, we shouldn't be—especially since revenues keep climbing, which says the fundamentals of the economy remain strong.
You can play the contrarian and buy stocks now with a simple index fund like the S&P 500 SPDR ETF (SPY), but the problem with that is you'll be saddled with many companies that depend on a lot of expensive employees.
For instance, JPMorgan Chase (JPM), Exxon Mobil (XOM) and Bank of America are top components of the index, and they require huge numbers of expensive workers (many pulling in six figures). And now that the labor market is tight, those workers will demand more.
Which brings me to the fund I want to show you today: the Eaton Vance Tax-Managed Buy Write Opportunities Fund (ETV), which, thanks to its tech focus, gets you companies that require fewer workers while also holding many of the S&P 500's darling stocks.
With its top holdings of Microsoft (MSFT), Apple, Amazon.com, Cisco Systems (CSCO) and Intel (INTC), ETV is benefiting from less exposure to labor-intensive companies (JPM, XOM and BAC aren't top holdings), yet that potential isn't priced in, since ETV is up 19.8% year to date, nearly the same as the S&P 500's 19.7% gain.
The best part? ETV's whopping 8.6% dividend.
Put it all together and you're getting the best companies for the economic moment, S&P 500 exposure and a huge income stream that yields nearly five times what SPY pays.
20 More Rock-Solid Dividends—Up to 10.4%—Waiting for You Here
Steering you toward safe—and growing—7%+ payouts is exactly what I do in my CEF Insider service. 
And right now I'm ready to share my very latest high-yield picks with you: I'm talking about a fully stocked portfolio of 20 CEFs yielding 7.3% on average (with two throwing off monster payouts of 9.7% and 10.4%!).
This portfolio is the beating heart of CEF Insider—and you should not miss this special invitation: you get to "kick the tires" on all 20 funds in my portfolio with no obligation whatsoever!
The buys you'll discover are poised to hand you 7% to 15% price upside in the next 12 months, along with their outsized dividends. That puts the total returns (including dividends) on many of these picks at 20% and even more, thanks to the incredible discounts they're trading at now.
Good luck finding a gain-and-income punch like that in your typical S&P 500 stock!
There's more: because I've distilled my 4 very best CEF buys now into an exclusive Special Report you'll also get FREE. These high yielders (paying amazing 8.7% dividends, on average) are the "best of the best"—the funds I see as absolute musts for every investor's retirement portfolio.
All you have to do is click here to learn all the details on my CEF-picking strategy. Plus I'll show you how to get your free Special Report and kick-start your trial to CEF Insider, giving you VIP access to the 20 high-yielding CEFs in our portfolio now.