Chinese stocks have cratered, and that might have you wondering if there are bargains to be had.
If you invest in closed-end funds (CEFs), which regularly offer yields north of 7%, you may also be wondering if CEFs that focus on China might be worth a look now, too—especially as these funds' yields have popped as their prices have faded.
Let's dive into the current state of play in China and answer these questions. Further on, I'll give you my verdict on a China-based CEF throwing off an outsized 6.6% yield today.
Chinese Stocks Plunge: Value or Trap?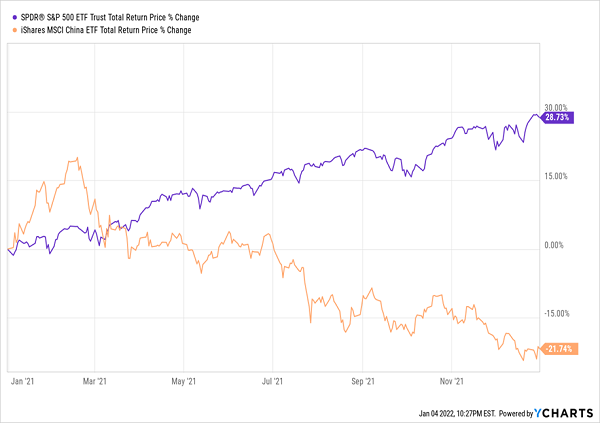 If you're wondering where the pull some value investors are feeling toward China is coming from, this chart explains it. It compares the iShares MSCI China ETF (MCHI), a good benchmark for the country's stock market (in orange), to the popular S&P 500 ETF (in purple).
Here's the problem, though—back in early 2021, I wrote that the country's regulatory issues, in which the Chinese Communist Party has severely impeded its companies' ability to make a profit, were getting worse.
And as if on cue, Chinese stocks took the header you see in the chart above.
And over the past year, the Chinese government has gone even further, telling private education companies they couldn't make a profit, for example, and forcing gaming companies to be available to minors only for an hour a day on weekends and holidays. The government has implemented several other tech crackdowns, too, such as limiting how much data tech companies can store.
This has been terrible for the big Chinese tech companies, such as Baidu (BIDU), Alibaba (BABA) and Tencent (TCEHY).
Regulations Handcuff Chinese Techs

How could these stocks recover? Obviously, a relaxation of regulations could help spark a reversal, and the prospect of that happening might make them worth speculating on. Too bad the crackdown is worsening, not getting better.
Take, for instance, ride-sharing firm Didi Global (DIDI), yet another hedge-fund darling. The so-called "Uber of China" at one point sounded like the perfect stock—a nation of still relatively poor but increasingly mobile people where suburbanization was firing on all cylinders could use a service like Didi.
Lots of investors bought in on that narrative, then got sideswiped:
Didi Veers Into the Ditch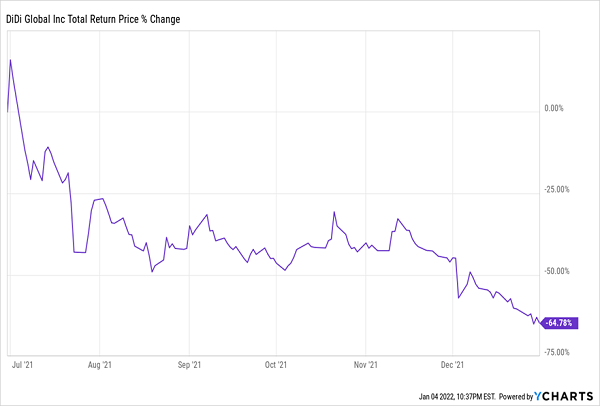 Why the crash? Chinese regulators demanded the app remove itself from app stores as it investigated Didi's use of customer data—a pretty thin excuse, to put it mildly, to dethrone a powerful private enterprise.
That Chinese regulators would go that far in restricting their most profitable and powerful companies is evidence enough that Didi likely has more downside than upside from here.
This 6.6% China Yield Is a Trap
So at this point, you're probably not surprised to hear that my view is that the dip in China stocks is NOT a buying opportunity—and if you hold any of these names right now, your best bet is to sell and look for a country that's more friendly to foreign investment.
Thing is, plenty of folks haven't gotten that message. And that's where the CEF I mentioned earlier comes in: the Morgan Stanley China A Share Fund (CAF), which, as I mentioned, yields 6.6% and holds a wide range of Chinese shares of a variety of sizes.
If we look at CAF's total market price return (or the performance of its shares on the open market, including dividends) and its total net asset value (NAV) return (or the performance of its portfolio holdings—these two values can vary widely with CEFs), we see investors still holding firm to their Chinese assets.
CAF Investors Teeter on the Precipice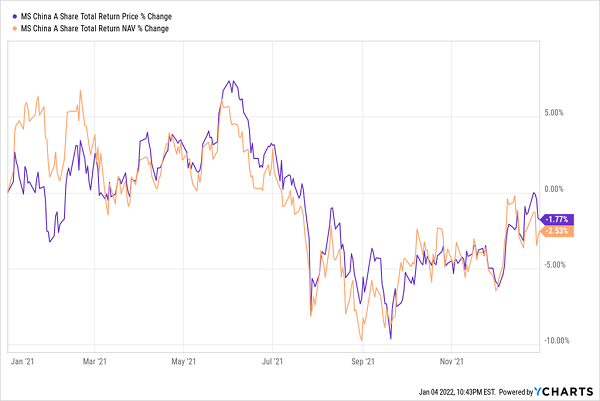 Sure, the fund has fared a lot better than Chinese tech companies, but it still ended last year in the red (while the S&P 500 nearly returned 30%!). But what's really important is that the fund's fundamental performance (its NAV return) and market demand for the fund (its market price return) were nearly identical. This means that investors are still mostly holding fast to their Chinese assets, despite the ever-increasing risk of doing so.
That, in turn, means there's still much more downside ahead for these folks in the coming year (and years) if, as I expect, Chinese regulations continue to get harsher.
But it's not too late for us. If you own CAF or, for that matter, any big China-focused stock or fund, it's time to sell.
4 Top Income Picks for 2022 (With 7.5% Dividends, 20% Gains on Tap)
My 4 top CEF picks for 2022 beat CAF on every front: they focus on rock-solid American companies; they pay a much higher 7.5% dividend; and they're true-blue value plays—so cheap I'm calling for 20%+ price upside in 2022!
I've got full details on all 4 of these must-own CEFs waiting for you now, and I can't wait to share them. Click here for full details, including names, tickers, current yields, best buy prices and more.