Something weird is happening in the housing market, and it's handing us an outstanding opportunity in stocks (including the 8%-yielding pick we'll dive into shortly).
I know that's an odd statement. After all, how can housing and stocks really be that connected? And how can we be so optimistic about housing when it has already soared in the last 18 months, and bubble warnings are everywhere?
The answer is that, as we contrarians know, the way the headlines make things appear in the markets is often very unlike how they actually are.
Look at the chart below, which shows, on the right, the average monthly mortgage payment over the past 45 years, in five-year increments, on the typical home (using the median average house price for each year, minus a 10% down payment). At the top, you'll see the numbers for the latest quarter. All payments are adjusted for inflation.
Housing Costs Soaring? Not for the Average Consumer


Source: Simplifyingthemarket.com
The findings are pretty shocking—even though housing prices have shot up over the last year, this hasn't caused housing to be too expensive for most Americans. In fact, monthly housing payments are lower in 2021, on an inflation-adjusted basis, than they've been in any year since 1975, except for last year and 2010.
This is where stocks come in, because 2020 and 2010 have something else in common: they were great years to buy stocks. Since a year ago, the S&P 500 is up 30%. Since 2010, it's up 397%!
That's a strong signal that lower monthly housing costs are bullish for stocks, even when stocks are comparatively expensive. Many people avoided stocks in 2010 because they saw the previous year's returns, coming out of the 2008/'09 crash, and thought it was too late to profit. Funnily enough, that was after the market had a one-year return that was almost identical to what we're looking at over the last year now.
Too Late at the Time? Hardly.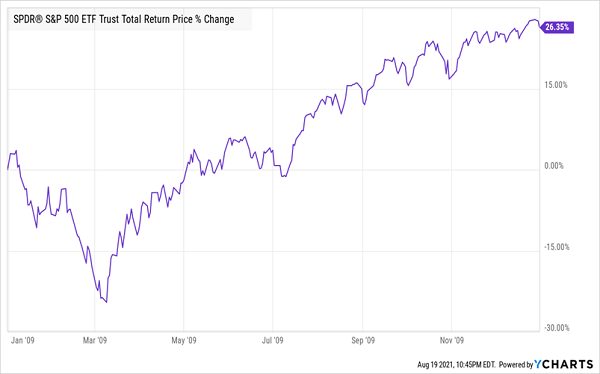 Of course, that one-year return over a decade ago is a blip on a much longer chart today, and we'll be saying the same about last year's one-year return a decade from now.
And the signal that history is repeating itself points back to housing payments. That's because, with less money going to the mortgage every month, there's more freed up for other things, including stocks and the goods and services that drive corporate profits.

Source: Simplifyingthemarket.com, Federal Reserve
Using household-income data from the Fed, we see that the amount of income the average American household needs to spend on mortgage payments is at an all-time low of 22%. Combine that with the economic reopening and we get a nice setup for more to be spent on all sorts of things (unlike 2020, where lower housing costs didn't spur much spending because of lockdowns, quarantines and a general hesitancy among Americans to go outside).
This 8%-Yielding CEF Is Dialed in to the Cash-Flush US Consumer
The way to profit from this is simple: buy US stocks. But as CEF investors, we're not going to buy through an ETF or individually—the dividends are too low! Instead we're going to look to a CEF like the Liberty All-Star Growth Fund (ASG), which yields 8% now, far more than you'll find in just about any other corner of the market.
Its portfolio is also packed with household-name US companies like Amazon.com (AMZN), Microsoft (MSFT) and insurer UnitedHealth Group (UNH). Plus, for additional growth, it holds a variety of smaller firms, like educational-services firm Chegg (CHGG) and property manager FirstService (FSV).
That combination of big and small firms, many of which deal directly with the American public, is a powerful mix as the economy continues to reopen and historically affordable housing costs put more money in consumers' pockets. And this housing cost/stock market relationship is something the market is only dimly aware of (at least for now). That gives us a nice opportunity to pounce.
The 5 Best CEFs to Buy for Guaranteed Profits, 6.9% Dividends
Here's something else few folks realize: CEFs boast a level of safety that your typical stock or ETF just can't match.
Get this: of the CEFs that have been around for a decade or more, fully 96% have made money in the last 10 years. And when you strip out the CEFs in the hard-hit energy sector, that number jumps to an amazing 99%!
That's as close to a no-lose investment as you can get! And due to CEFs' massive yields, you'll be collecting most of your return in dividend cash, too.
Right now, I'm sharing my top 5 CEFs with the public, and I want you to start collecting their massive payouts (I'm talking a 6.9% average dividend here) and get in position for big upside, too. My latest forecasts call for 20%+ price gains from these funds in the next 12 months!
Click here to get instant access to these 5 proven money-making funds, including their names, tickers and best-buy prices.