If there's one thing you can be sure of in investing, it's this: alarmists—whether they're bulls or bears—almost never get it right. And playing the contrarian angle is a great way to grab big gains and 7%+ dividends.
Think back to the days before the election: brokerages were warning of unprecedented volatility following the big day. I heard from some investors who sold most of their holdings right before voters went to the polls, terrified that uncertainty over the results would cause a crash.
Then something weird happened. The election ended, the result was close—and stocks surged.
Close Race = Big Gains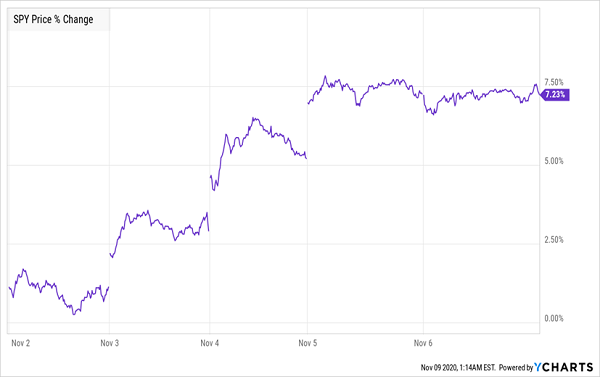 Why did everyone get it wrong?
Well, not everyone—in my CEF Insider service and in my articles on Contrarian Outlook, I've continued to recommend stock-focused closed-end funds (CEFs). For example, in my October 8 article, I highlighted two I saw as well-positioned for the post-election period: the Liberty All-Star Growth Fund (ASG) and Gabelli Equity Fund (GAB).
Both have outperformed since (and I have another 7%+ paying CEF for you further on):
Big Gains for Ignoring Election Fears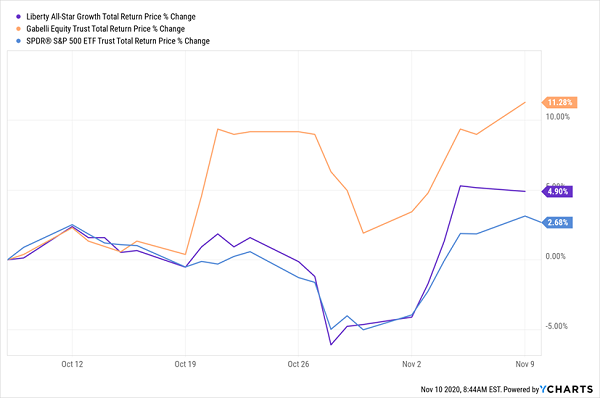 The reason I was confident we could ignore the nervous Nellies and pick up stocks (and better yet, CEFs) came down to the facts (I should say here that we always set aside politics at Contrarian Outlook—we approach every situation as investors first and foremost).
Let me share my thinking with you, so you can learn to tune out—and better yet profit from—the fear peddlers next time.
Reason 1: The Legal Challenge Won't Succeed
A concern among investment bankers whose reports cross my desk was that a close race with Trump losing would result in a legal challenge. That's happened, but it's unlikely to have any meaningful impact on the result.
The reason why is simple, and it has nothing to do with Republicans, Democrats or Trump himself. The only way a legal challenge can result in a reassessment of the electoral process (a robust and heavily regulated process across the country, thanks to 200 years of trial and error) is if the election came down to a very close race in just one state.
We saw this happen in 2000, when fewer than 600 votes separated the candidates in Florida. That was a legal challenge that changed US political history, but the chances of this election coming down to 600 votes or less in just one state were minuscule this time around.
As more ballots are counted and Biden's lead likely widens, there is less reason to think a legal challenge would result in a recount that would change the total count by hundreds of thousands of votes. That's just too high of a margin of error for a too-robust process.
Reason 2: Not Much Will Change
Before the election, too many investors failed to consider that, no matter who won, there was little chance of major change in US policy. There are two runoff elections still to come in Georgia, but a Republican victory in just one of those, which is a strong possibility, would let the party maintain control of the Senate. That means Biden wouldn't be able to pass legislation that radically deviates from the status quo.
Business likes the status quo. So does the stock market. Hence the results in Congress, the Senate and the presidency all pointed to little changing. Again, this is not surprising because constituents rarely vote en masse for new Congress members. The status quo had great odds before the election, and it's won out.
Reason 3: Stimulus Is Coming Soon
The final reason why stocks surged is the most important and the most predictable, which is why it amazes me that it had little bearing on investors' actions before the election.
Now, with Joe Biden as president and a Republican-led Senate, both sides have strong incentives to pass a stimulus bill for businesses and people affected by the pandemic. Both sides blamed each other for stopping stimulus from going through before the election, and it's not my place to say whose fault it was. Besides, it doesn't matter; what matters is it never came.
But now it can come, as there's no election for either party to fret over, and both sides know that something needs to be done. More stimulus will be a big plus for publicly traded companies.
This 7.2% Dividend Wins Either Way
These three reasons are why you shouldn't have sold before the election; and if you did, they're why you should buy back in. If you held strong throughout, congratulations: your contrarian ways have made you richer!
And if you're still not convinced this split political situation and forthcoming stimulus are good for markets, I've got an answer for you: instead of sticking with an index fund like the SPDR S&P 500 ETF (SPY), go for something like Nuveen S&P 500 Dynamic Overwrite Fund (SPXX).
SPXX is a CEF that, like SPY, holds the companies in the S&P 500—Apple (AAPL), Microsoft (MSFT), Visa (V) and Johnson & Johnson (JNJ) among them.
But there's a twist: unlike SPY, SPXX both invests in the market and writes call options on its portfolio as a way to hedge in case the market does sell off. That strategy is a nice way for the fund to generate extra cash, which it hands to you in the form of a 7.2% dividend yield. That's 4.5 times what SPY pays, so you'll get a rich dividend just for being in this market, while protecting yourself from a selloff.
SPXX's strategy makes it a great play for the period we're entering now, thanks to its "win-win" option-selling strategy and solid portfolio of S&P 500 names.
And there's something else you should know about CEFs that makes them perfect "safety + growth" plays for the next couple months, couple years—and beyond:
Buying These CEFs (Paying 7% or More) Is One of the Safest Moves You Can Make
My team and I recently made a shocking discovery about CEFs: of the 326 CEFs that are a decade old (or older), only 16 have lost money in the last 10 years. 
That amounts to a 95% win rate!
There's more: of the 16 CEFs that did lose money, all but 5 were in the energy sector. Dump those 11 laggards and these CEFs' win rate jumps to an incredible 98.4%!
That's right: this group of amazing, little-known investments made money 98.4% of the time! And because these statistics include dividends—and the typical CEF pays an outsized 7% as I write this—you're getting much of your return IN CASH here.
My 5 Top CEFs Could Pay You $41,000 in Dividends in Just 12 Months
The best news is, my 5 top CEFs to buy now yield in outsized 8.2% today. And thanks to their bizarre discounts, they're primed to jump 20%+ in the next 12 months.
A $500K nest egg generates $41,000 in dividends! And that's on top of the $50,000 in projected GAINS I'm calling for here.
I think you'll agree that this kind of income and upside looks pretty appealing in a world where Treasuries pay a pathetic 0.8%, and S&P 500 stocks aren't much better, at 1.7%.
Don't miss your chance to pick up these 5 "safety-first" funds while they're cheap. Get everything you need to know—names, tickers, complete dividend histories and more—right here.