Dividend growth is back. And we have a great opportunity to "front run" 26 upcoming dividend increases.
And if you're wondering what exactly is so exciting about a 9% dividend hike. Well, it's the secret to 900% total returns—I'll explain in a moment.
First, let's appreciate the payout raise trend, which is currently our best friend as dividend investors. This "hike-to-cut" ratio has rallied to its highest level in years:
As I alluded to, payout increases have a habit of making their investors wealthy beyond their wildest dreams. We can think of this as "the dividend magnet."
Here's how the magnet produced 900% returns over a decade. UnitedHealth Group (UNH) has clobbered the broader market over its publicly traded life. Pay attention to how UNH's price seems to react to its dividend hikes time and time again—the payout is pulling the stock along for the ride.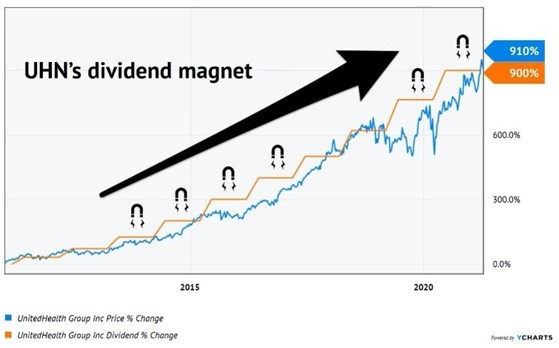 When we go looking for dividend growers, we're not just looking for a chance to gain a percentage point or two in yield. We don't necessarily care about that next 9% hike. It's the 900% total return we are after.
26 Big Dividend Hikes Coming Soon
The second-quarter earnings season is upon us, which means we can expect a slew of dividend hikes over the coming weeks. Here are the 26 most likely companies to dish a serious dividend increase.
Group 1: Blue-Chip Dividend Growers
Featured Stock: Apple
Apple (AAPL) shares certainly took their lumps in the midst of the COVID-19 downturn last year, but their pain was short-lived. Apple's operations remained resilient through the worst of the economic slump, then came out swinging in the fall with its iPhone 12, launching a much-anticipated "upgrade supercycle" that rejuvenated its results.
In fact, Apple's financial strength has been so strong that some analysts are outright predicting the company will lavish investors with cash.
"Our positive view on Apple's continued ability to generate strong free cash flow supports our view that the company could return its annual dividend growth trajectory into the double-digit percentage range," writes Wells Fargo analyst Aaron Rakers. If so, that would actually surpass Apple's five-year average annual growth of 9.5%.
Rakers also thinks AAPL will announce an additional $50 billion authorization to its share repurchase program.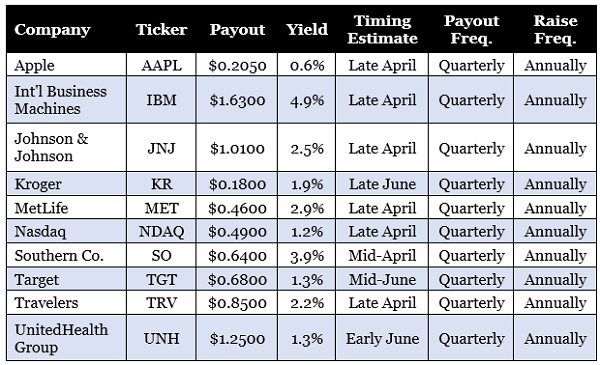 Group 2: Hidden Dividend Gems
Featured Stock: Pool Corp.
Pool Corp. (POOL) has benefited from Americans being homebound, and its stock has definitely popped off—by about 80%, in fact. That was driven by record 2020 net sales and earnings, and operating cash that quadrupled from 2019.
Better still: Pool doesn't expect the good times to dry up, guiding 2021 earnings growth of about 5% at the midpoint.
Pool typically announces its dividend hikes around late April or early May. And if it does decide to spread some of the wealth with investors as a massive dividend hike, it wouldn't be out of character. POOL's payout has jumped by 87% over the past five years–an annualized rate of 13.3%.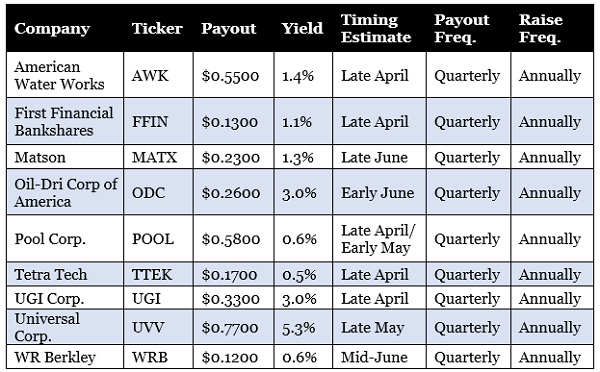 Group 3: Companies That Raise Early, and Often
Featured Stock: Bank OZK
For these firms, an annual dividend increase isn't enough. They prefer to hike their payouts as often as once a quarter.
Typically, these companies tend to come out of the acronym spaces—real estate investment trusts (REITs) and master limited partnerships (MLPs), for the most part.
That's why Bank OZK (OZK) stands out.
Bank OZK, formerly Bank of the Ozarks, is just that—a bank. It's a regional bank, to be specific, headquartered in Little Rock, Arkansas, and boasting $27.1 billion in assets while serving customers across more than 250 locations in 10 states.
The bank has been demonstrating steady growth for years and sharing the wealth along the way. Bank OZK has been upgrading its dividend every quarter for years, and it's likely to announce another uptick sometime in early July.
How to Make a PREDICTABLE 20% Gain in 2021 (Bull or Bear!)
Riding robust dividend growth to red-hot total returns is a staple of my investing plan, and if it's not already one of the pillars of your retirement strategy, you need to fix that—today.
And you can start right this second with my "Recession-Proof Retirement Plan."
Consider this: Right now, I've identified 7 recession-proof dividend growers—and I call them "recession-proof" because they have the perfect mix of qualities that enable them to deliver reliable, predictable returns of 12% to 20% every year, regardless of whether we're in a bull market or a bear.
This 7-stock "mini-portfolio" puts the power in your hands. Each of these picks checks off the most important boxes for any retirement investment. They can:
Predictably double or triple your investment every few years.
Protect your portfolio from wild swings so you can enjoy a stress-free, secure retirement.
Let you hold them for years without the "can't sleep at night" worries you no doubt lived with over the past year.
And unlike the stocks above, all 7 of these low-key dividend growers are bargains right now. However, I don't expect that to last for long. The market has started keying in on value after squeezing every drop of profit from growth, so these low-volatility dividends are about to become en vogue again.
Get full details—names, tickers, complete dividend histories, best-buy prices and more—on all 7 of these stout dividend growers now. You have everything to gain and nothing to lose by giving them a look.