These days, I'm hearing from a lot of investors interested in monthly dividend stocks.
It's easy to see why: monthly dividends line up nicely with our bills, something that's very helpful in a crisis like this one. And if you're reinvesting your payouts, monthly payers give your returns an extra lift in the long run because you can put your dividend cash to work faster.
There's only one problem with these stocks: they're few and far between.
Monthly Payers a Fraction of the Market

Source: CEF Insider
As you can see above, if we limit ourselves to monthly payers, we're literally shutting out almost all of the market. (We're also picking stocks solely based on the frequency of their payout—a recipe for disaster if there ever was one.) What's more, we're ignoring plenty of stocks that pay low, or no, dividends that regularly outperform monthly payers.
If only there was a way to turn those occasional payers and no-payers into monthly payers …
Well, we're in luck because there is—and it couldn't be easier.
The Monthly Dividend CEF Solution
That would be closed-end funds (CEFs), which give you a high income stream—there are about 500 CEFs out there, and they yield 7%, on average. CEFs buy a basket of investments, collect dividends and gains from them, then hand those returns to us, often as a monthly dividend.
Because of this structure, CEFs can (and do) select stocks not based on the frequency of their dividend payouts but based on how likely they are to go up over time. Meanwhile, CEF shareholders get that consistent monthly income stream and a shot at price gains, thanks to the appreciation of the fund's shares.
Here are two monthly paying CEFs that are more than worthy of your attention now.
The first is the Eaton Vance Tax-Managed Global Diversity Equity Income Fund (EXG), a 10.1% yielder that holds some of the best low- and no-dividend payers out there: Microsoft (MSFT), Apple (AAPL), Amazon (AMZN), Facebook (FB) and Visa (V), for example.
A Diversified Portfolio

Source: Eaton Vance
This fund turns these low-dividend stocks into a 10.1% income stream paid out monthly. It also trades at a 7.9% discount to net asset value (NAV), another way of saying that units of this fund trade for less than the per-share value of its portfolio. These discounts are unique to CEFs, and they tell you exactly when these funds are undervalued and ripe for a big move up.
In the case of EXG, we're getting its portfolio of tech and pharma-focused names for just 92 cents on the dollar!
Another option is the AllianzGI AI & Tech Opportunities Fund (AIO), payer of a 6.8% monthly dividend. Not only does AIO get you tech darlings like Microsoft, it also gets you more aggressive tech stocks like Micron Technology (MU) and Tesla (TSLA), as well as healthcare names like Anthem (ANTM), UnitedHealth Group (UHG) and Danaher Corp. (DHR), all three of which are investing in artificial intelligence to improve their profit margins.
AIO: Riding the Tech-Recovery Wave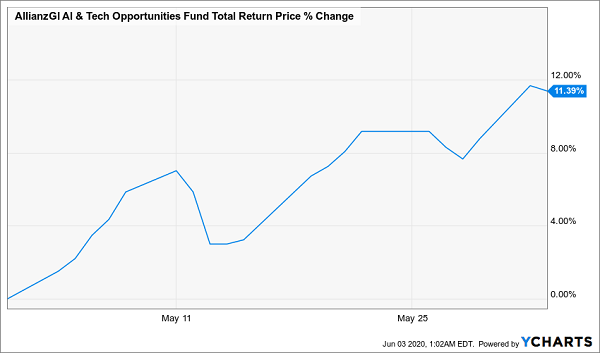 AIO trades at a 11.7% discount, making these tech and healthcare stocks absurdly cheap.
These are just two of the many CEFs that pay big monthly dividends. And with many CEFs easily beating their benchmark indexes, you can get both a big monthly check and grow your net worth, too.
My 5 NEW Buys Yield 8.7% (and they're built for this crisis)
I've just released my 5 best CEFs to own throughout this crisis—and beyond.
I can't wait to share what my team and I have uncovered: this collection of income powerhouses yields an amazing 8.7% on average. Drop $500K into them and you'll get $43,500 in yearly dividends, starting within weeks!
When we set out to find these picks, I demanded at least an 8% dividend. That way, you can live on your dividend stream on a reasonable investment—without having to sell a single stock from your portfolio.
That's the only way I'll invest for retirement—and the only way you can be sure you won't outlive your nest egg!
There's more, though. Because even with the fast rebound we've seen in the market since March, these 5 funds still boast huge discounts that simply can't last!
When these deals disappear, I expect these funds' market prices to soar 20%+ in 12 months or less. That's in addition to the 8.7% dividends we'll receive!
And if the market does plunge back toward its March lows, these big discounts will buffer our 5 picks, helping shelter our investment while we collect our outsized income stream!
These 5 income plays are waiting for you to climb aboard now. Click here to instantly access their names, tickers, dividend histories and my just-released analysis on each one. You'll be so glad you did.