Sometimes, picking the best contrarian stocks can be fairly straightforward.
For instance, back in early spring, it seemed obvious to anyone who went a bit deeper than the daily headlines to see that the market wasn't giving tech stocks their due, given its importance during the lockdown and its potential for big post–COVID-19 growth.
So in April I wrote an article that highlighted the Columbia Seligman Premium Tech Fund (STK), a closed-end fund (CEF) primed to benefit from surging online shopping, rising mobile data use and the fast shift toward working from home. Plus, STK yielded an outsized 9.4%, so you were getting a large part of your profits in dividend cash.
Fast-forward five months, and STK has returned more than 20% in gains and dividends.
Quick Profits for the Savvy Contrarian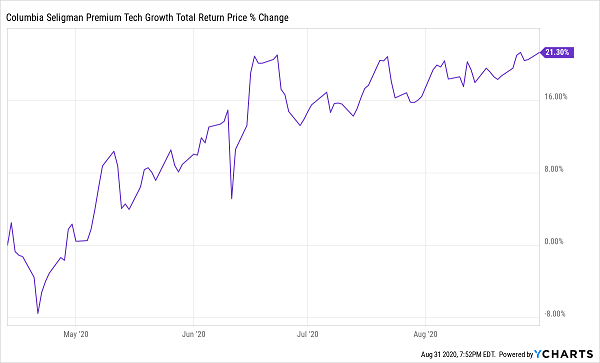 Picking the Best Contrarian Stocks a Tough Job Today
Sometimes, like in today's market, being a contrarian is much harder. Most people have now realized that tech is a big winner, and that's led to a new crop of contrarians saying the sector is now overvalued, and it's time to return to the beaten-down companies in the bargain bin.
Unfortunately, those contrarians are mostly wrong. That's because there's an art to being a contrarian investor; you can't simply buy the worst stocks when they're beaten, even if the numbers look favorable. Warren Buffett has warned about these "value traps" for years—companies that have depressed stock prices and low P/E ratios but otherwise appear to be great businesses. Except they're not, because the market has correctly identified the company's declining value and priced it in.
Of course, no one's perfect, and even Buffett falls for value traps sometimes. International Business Machines (IBM), which he bought in 2011 and held until 2018, fell 10% in that period because the market correctly identified the company's declining relevance.
Buffett's Contrarian Mistake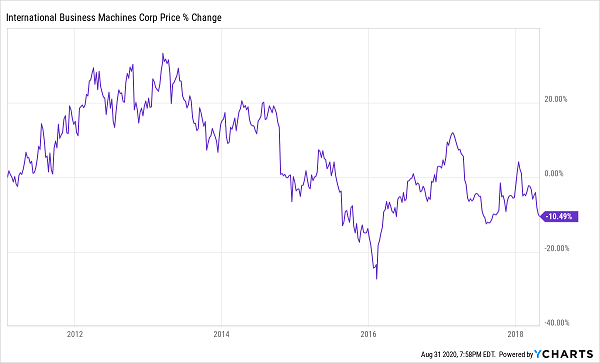 And now there's a new contrarian mistake popping up that looks a lot like Buffett's IBM move: buying heavily hit stocks because they're "so cheap" while tech leaders—Facebook (FB), Apple (AAPL), Amazon.com (AMZN), Netflix (NFLX) and Alphabet (GOOGL)—are "too expensive." I've recently written about why those stocks are not too expensive, so today we're going to look at the other side of the story: why you need to avoid many of the "cheap" stocks out there.
The S&P 500's Biggest Value Traps
Below I've listed some of the worst-performing stocks of the S&P 500. As you can see, these stocks are really hurting. In most years when the index has a positive return, as it does for 2020 so far, the worst performers are down by perhaps 10%; this year, they've been slashed by more than half.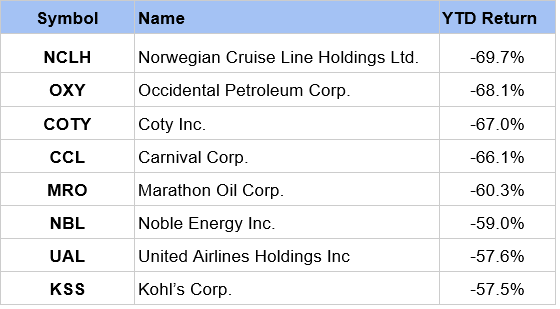 These price drops may tempt you to pick up one or more of these stocks because they're "cheap." But they're down for a good reason: the ground has shifted beneath them.
As you can see, there are a couple dominant themes here: energy and travel. It's no surprise that Occidental Petroleum, Marathon Oil and Noble Energy are down so much, considering still-suppressed oil demand due to quarantines, working from home and physical distancing. And since oil has basically been in a downward price trend since 2014, it will take a lot of patience to buy into energy and make a profit.
So buying those stocks now, even if your contrarian instinct tells you they look like bargains, would be unwise. Remember, ExxonMobil (XOM) was kicked out of the Dow Jones Industrial Average just last week. It used to be the world's most valuable company, and if Exxon can't make it, how can a smaller company like Occidental?
Then there's the travel side.
Buying Norwegian Cruise Lines and Carnival now is essentially a bet that a post–COVID-19 world will see more people returning to cruise ships. That may or may not happen—no one knows the future, after all—but until it does, these companies will have to keep paying down their massive debts ($13.2 billion for Norwegian, $11.9 billion for Carnival) while earning next to zero revenue. That's discouraging, even if you think a cruising renaissance is on the horizon.
But people will want to fly again, so surely United is a good bet. And the beauty business has been a mainstay for centuries, so why not pick up shares of Coty? And surely Kohl's can't completely disappear, right?
The problem with these companies is that they all suffered from serious problems before COVID-19. United, for example, has been through plenty of customer-service (and PR) woes (including a passenger who was physically dragged off an overbooked flight in 2017), and Coty was spun off from Proctor & Gamble (PG) in 2013 because of fundamental weakness in its operations.
Coty in Trouble From the Start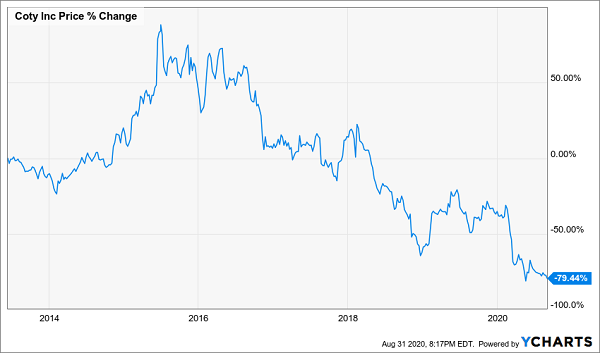 The bull case for Kohl's is arguably the silliest. With big department-store chains like J.C. Penney and Sears going out of business, it's obvious that Kohl's is next to face a reckoning.
The takeaway is that sometimes a stock goes down because it should go down, and that's been the case with many of the S&P 500's worst performers. That's not a sign of hidden value; it's a sign of rapidly changing tastes and new consumption habits.
Urgent BUY Alert: These 4 Disrespected Funds Yield 9.4% (and Are Set to Soar)
My 4 top CEFs to buy now have steered well clear of these laggards. Not only that—the managers in charge of these 4 rock-solid income plays have perfectly positioned them for big gains in the new world we find ourselves in, too.
Better still, these funds pay a 9.4% dividend, on average! PLUS they all trade at totally undeserved discounts to NAV (CEF-speak for saying their unit prices are well below the value of the stocks and bonds in their portfolios).
That gives us no less than 3 ways to get paid:
From these funds' huge 9.4% dividends. (That's more than 5 times what the average S&P 500 stock pays!)
From a jump in the value of their well-crafted portfolios, and …
A big price surge as their discounts to NAV (inevitably, in my view) shrink, pulling these funds' prices up along with them.
The bottom line? My proven CEF-picking system has these unsung funds pegged for 20%+ price upside in the next 12 months. That's in addition to their rock-solid 9.4% cash payouts!
Now is the time to buy these 4 funds, and I don't want you to miss out. Click here for the full story on each of them—names, tickers, dividend histories, my latest review of their management teams and everything else you need to know before you buy.