Mortgage payments. Car payments. Cell-phone bills. Power bills. Water bills. Credit card bills.
Yuck. They're the only downside to being retired!
These bills show up (or debit our accounts) every single month. That's OK when we have a normal j-o-b that pays us every couple of weeks, or every month. But this regular bill gets really old when we retire.
Like you, I prefer to retire on dividends (and leave my nest egg alone). Problem is, most dividends are paid out every quarter, not every month.
So, dividend cash flow is (unfortunately) often out of sync with every-30-day expenses.
Some income investors build out complicated dividend calendars that get knocked out of whack whenever they ever have to sell certain stocks. May's dividend check might be enough, for instance but June won't be, forcing the investor to withdraw from his retirement fund, shaving away future income-generating potential.
But those in the know have it so much simpler thanks to the rare but revered breed of monthly dividend stocks.
Today, we'll discuss the safest, most convenient dividend payers on the planet. We can buy them and bank $3,125 each and every month.
Why Monthly Dividends Make Perfect Retirement Sense
Monthly dividend payers that truly have their finger on our pulse as income investors. These companies know that many of their investors require these passive payments. They also know that the electric company doesn't start sending you bills every three months when you hit age 65.
It's not difficult. Traditional quarterly dividend stocks will, every three months, announce a future payment with amount and dividend dates. Some monthly dividend stocks will do the same thing, just every month. Some, like Main Street Capital (MAIN), will "pre-plan" in three-month increments so that it dishes these monthly dividends:
There's nothing stopping companies like Coca-Cola (KO) and Johnson & Johnson (JNJ) from doing the same thing. They just don't.
By the way: Even if you're decades away from retirement, monthly dividend stocks have a little something for you. They compound faster:

If all else is equal, you'll come out slightly better with a stock that pays you more frequently. So why not favor the monthly payers?
Who Pays Monthly Dividends?
While just about any company that wanted to could distribute income to shareholders each and every month, it typically boils down to a few specialty assets:
Real Estate Investment Trusts (REITs): REITs are among the most income-friendly assets out there just by virtue of waking up in the morning. But several of them are monthly dividend payers – including "the Monthly Dividend Company" itself, Realty Income (O).
Business Development Companies (BDCs): BDCs are extremely similar to REITs in that they were created by Congress and are required to pay out at least 90% of their taxable income as dividends. The business is obviously different – BDCs help provide financing to small and sometime midsize companies, which often will have difficulty obtaining liquidity from larger financiers. They also tend to sport massive yields, often in the high single digits and low double digits.
Master Limited Partnerships (MLPs): Most people immediately think "pipelines" when they think about MLPs, which is fair considering most of them are indeed energy transportation companies. But occasionally, you get an oddball such as Carl Icahn's diversified holding company Icahn Enterprises LP (IEP). Yes, MLPs can be an enormous tax headache, and the Tax Cuts and Jobs Act of 2017 took away some of their advantages, but they still sport stellar yields, and from time to time, they pay their dividend-esque "distributions" monthly.
Royalty Trusts: Royalty trusts are as niche as they come. These companies simply exist to own the mineral rights to things such as oil fields and iron mines. They collect royalties from the operations, which they then distribute to shareholders, typically until the trust itself expires or a certain amount of proceeds are distributed. There's only a handful of these companies, and they exist primarily in the U.S. and Canada.
Preferred Stocks: These stock-bond "hybrids" are an income-happy asset that represent ownership in a company. They pay out dividends like a stock, but they're fixed, more like a bond's coupon payments. They also trade around a par value like a bond, so most of their returns come from their massive payouts, often between 6% and 7%. You can invest in individual preferreds, but investors typically opt to own them through …
Exchange-Traded Funds (ETFs) and Closed-End Funds (CEFs): Hundreds of ETFs and CEFs distribute income every month. But while a handful of these funds are simple baskets of stocks, the lion's share of monthly dividend-paying ETFs and CEFs hold either bonds or preferred stocks.
None of these include mega-cap blue chips, but that's OK. These still are ample hunting grounds for high-quality high yields.
How to Start Collecting $3,125 Every Month
Let me quickly introduce you to 17 "first-level" stocks and funds to give you an idea of just how powerful monthly dividend payers can be before we move on to a more elite tier of picks.
Each of these stocks yields more than the benchmark–occasionally by a little, but typically by more than double and up to four times as much. In all but a couple cases, their returns have handily beat basic benchmarks … and a few of them have outright walloped them.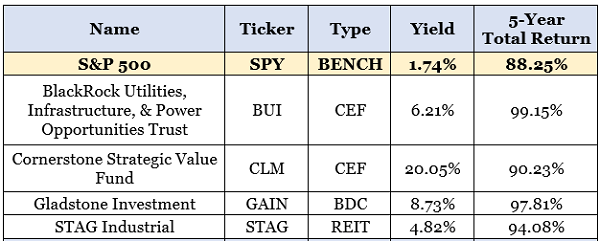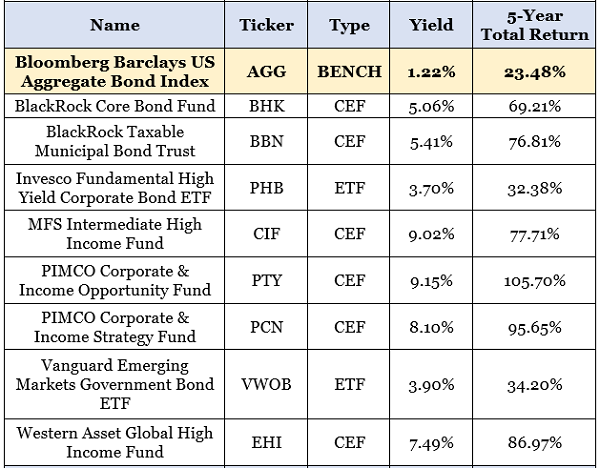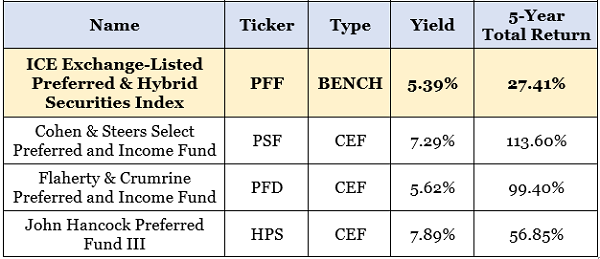 And look at what this group of dividend dynamos is delivering. The average portfolio yield is 7.5%, which is well more than 4x the S&P 500 right now. That translates to $3,125 every month on a mere $500,000 portfolio.
Not to mention you're getting outstanding diversification. You've got bonds. You've got preferreds. You're exposed to equities, and even a BDC that acts like a mini-private equity firm.
And that's just the B squad!
Don't Miss My "Crisis-Ready" 10% Monthly Payer Portfolio
The A-team—a group of my favorite monthly payers—are delivering $4,166 a month in regular income checks! 
That kind of monthly dividend income provides you with an edge most other retirees can only dream of: Living in retirement off of your investments while actually building your nest egg!
With my 10% Monthly Payer Portfolio, not only can you enjoy a comfortable retirement without ever needing to eat away at your savings—you can collect your income checks just as frequently as your mailman delivers your regular bills!
These stocks and funds make up an "all-weather" portfolio that doesn't need a perfect economic environment to churn out all-star income. But they're not just dividend payers—they're total return machines that have delivered (and can continue to generate) market-beating gains, allowing you to maintain and even build your nest egg even after you're kissed your cubicle goodbye!
Best of all: These high-income picks are nestled perfectly within my "buy-in" range.
I've personally hand-picked and safety-checked this unique portfolio, from every angle, for maximum safety. That includes a can't-miss 7%-yielding preferred-stock fund that is actually increasing its cash distributions.
It's a combination of stocks and funds that are so cheap that they could easily hold their own, even if political tumult and a COVID "second wave" put the market's recent rally on ice—but if the rally does pick up steam, watch out above!
Either way, we'll be soaking up 10% average yields the whole time!
These picks deliver truly life-changing dividends: In fact, if you drop $500K into this powerful portfolio right now, you'll kick-start a $50,000 income stream.
That's $4,166 a month in regular income checks! 
Now is the time to get in, while you can still do so at a bargain. Click here to get everything you need—names, tickers and more!