If you feel good because your S&P 500 index fund has taken off like a rocket in 2017, you may not want to read this article.
Because the S&P 500 is, in fact, not doing well this year—at least not compared to its peers.
Don't believe me?
Take a look at the SPDR S&P 500 ETF's (SPY) performance relative to a global stock fund like the Vanguard Total World Stock ETF (VT):
The World Races Ahead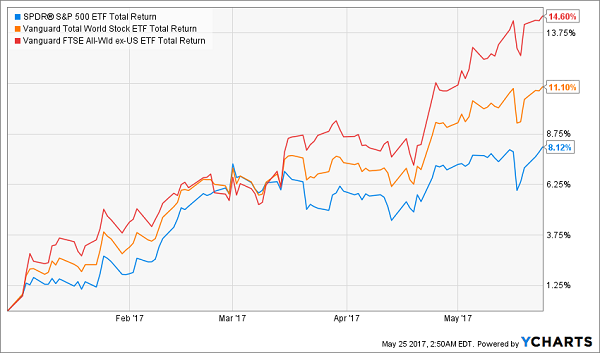 Not only is a global stock portfolio crushing the S&P 500, but US equities are actually dragging the world's returns down.
Notice how, in the chart above, the Vanguard FTSE All-World ex-US ETF (VEU) is up 14.6%, versus VT's 11.1% return for 2017?…
Read more