Preferred stocks are in the doghouse, and you just might be wondering whether this is the start of a buying opportunity.
Let me put that question to rest: it is.
Today we're going to look at what's behind this superb chance to buy, as well as 3 preferred-stock funds to consider: the Flaherty & Crumrine Dynamic Preferred & Income Fund (DFP), Flaherty & Crumrine Preferred Securities Income Fund (FFC) and John Hancock Premium Dividend Fund (PDT).
As you can see, all 3 of these funds are in the dumps.
A Steep Slide Down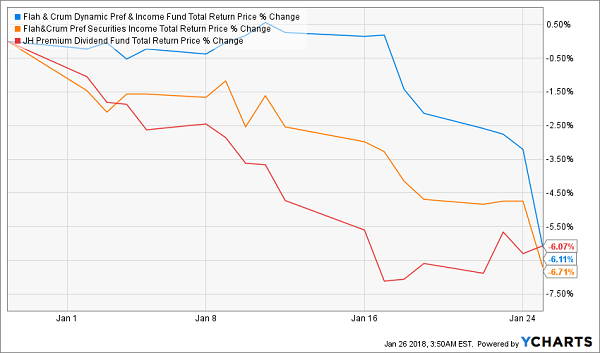 But these are great funds, not only because of their sustainable 7% dividend yields and diversified portfolios, but also because this preferred-stock selloff is misguided.…
Read more